Update: Two key updates:
I did not receive the targeted email about the $10 credit toward my next order, but I signed up for DoorDash today and added my Freedom Unlimited. When I added the card, it prompted me to activate my free 3-month DoorDash membership. That screen noted the $10 credit toward my first order. It appears this may not be targeted.
The $10 discount on my first order noted in this post caused the $15 Summer of DashPass promo not to show up. I placed an order with the $10 discount for activating my DoorDash membership and then immediately went to place a second order from the same restaurant and the $15 off Summer of DoorDash promo was available to apply. I was therefore able to save $25 on dinner by signing up and splitting it into 2 orders (actually, my wife placed a third order from her account to save another $15, so we saved $40 total). As a reminder, that $15 off Summer of DashPass promo ends Sunday.
Original post follows.
~~
Chase is sending out targeted emails to some Chase Freedom and Chase Freedom Unlimited cardholders prompting them to register for 3 free months of DoorDash's DashPass by 9/30/20 and get a $10 credit toward their next order. One comment we received earlier indicates that this credit may be conflicting with the Summer of DashPass promo (which includes $15 off of $15 this week), but YMMV.
31
The Deal
Chase is targeting some Freedom and Freedom Unlimited cardholders to activate their complimentary 3-month DoorDash DashPass subscription by 9/30/20 and receive $10 off their next order
Key Terms
DashPass provides unlimited deliveries with a $0 delivery fee and reduced service fees on eligible orders over $12.
After 3 months, you are automatically enrolled in DashPass at half off for the next 9 months.
Quick Thoughts
While free DashPash into 2022 for Chase Sapphire Reserve and Chase Sapphire Preferred cardholders stole most of the headlines when Chase announced the DoorDash benefits a few months ago, they had at the time simultaneously announced a 3-month membership for Chase Freedom, Freedom Unlimited, and Slate cardholders (then half off for nine months after thatWho s). The DashPass membership Requires registration and does not begin until a cardholder has registered. It seems that Chase / DoorDash is encouraging members to register for the free 3-month membership by offering a $10 DoorDash discount.
As noted at the top, we had a reader who commented earlier indicating that this $10 credit may be interfering with the $15 off of $15 "Summer of DashPass" deal that we reported earlier today. I'm not sure whether that may be true and/or if you can get both discounts but are limited to one per order. YMMV.
Personally, I don't have a Sapphire card but do have a Freedom Unlimited. I had not signed up for DashPass because my wife has the longer complimentary membership on the Sapphire Reserve and the $60 credit this year and next year (which we haven't yet used up for this year since there are no participating restaurants in our area). However, I may have a chance to use this for pick up. Unfortunately, I did not yet receive an email about the $10 credit, so I'll hold off and see if I get targeted before activating DashPass.
H/T: Doctor of Credit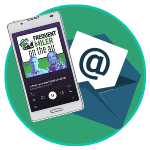 Want to learn more about miles and points?
Subscribe to email updates
 or check out 
our podcast
 on your favorite podcast platform.