Update: This post includes offers that were valid at the time of publication, but have since expired. Please click here to see the best offers currently available.
I previously described my plans for earning airline elite status in 2017.  In this post, we'll talk about hotel status.  With a few exceptions, meaningful hotel elite status is much easier to get than airline status.  So, even if you hate the idea of playing into a corporate marketing department's hands by chasing status, you may find that it is worthwhile to do a status match or hold a credit card to get status.  Depending upon the hotel chain or brand within a chain, hotel status can mean perks such as free breakfast, lounge access, room upgrades, suite upgrades, welcome gifts, etc.
Let's look at my plans for many of the top hotel brands, sorted alphabetically…
Club Carlson: Gold
I don't stay in Club Carlson hotels often enough to care about my status, but I still have the Club Carlson Premier Rewards credit card which conveys Gold status automatically.  I actually have two of these cards: the personal version ($75 annual fee) and the business version ($60 annual fee).  Both automatically give you 40,000 points each year when you renew.  At the current Reasonable Redemption Value of .36 cents per point, that works out to $144 of travel value.  I keep the cards because I believe that the annual point bonus is worth significantly more than the cost.  If the annual fee and bonus value was roughly equal, I'd cancel because there would be no benefit in locking in my annual fee "investment" other than Club Carlson Gold status, which isn't worth much.
In the future I may consider spending $10K per year on each card in order to get a free night at any US property.  Since the cards offer 5X points per dollar, that $10K spend will also generate 50,000 points — almost enough for a second free night at any property.
Gold benefits include: 15% food discount, room upgrade when available, 35% point bonus, in-room welcome gift (often gummy bears, in my experience).
Fairmont: Premier
You may remember that my wife and I each recently signed up for the Chase Fairmont Visa card (no longer available).  Thanks to this card, we each automatically get Premier status.  As you can see here, AwardWallet already shows my Premier perks:
Premier status benefits include: a free room upgrade and a free suite upgrade each year, $50 in dining credits, and a free third night on a 3 night stay.
IHG: Platinum
Remember that I re-signed up for the IHG card recently?  For $49 per year, this is the one card that is a no-brainer for almost anyone.  And, fortunately, it is not subject to Chase's 5/24 rules.  In addition to giving you IHG Platinum status automatically, the card offers a free night at any IHG hotel worldwide each year upon the card's anniversary, and an automatic 10% point rebate on awards.  To be clear, the card is not very rewarding for spend.  I keep it filed away.  It's simply a great card to have for its perks.  If you don't already have the card, make sure to read: How to find the best IHG signup offer: 80K points plus $50.
Platinum status benefits include: 50% point bonus for paid stays, and free room upgrades when available.  Some individual hotels offer extra benefits such as free breakfast, lounge access, arrival gifts, etc., but none of those benefits are guaranteed.
Intercontinental: Ambassador?
Even though Intercontinental Hotels & Resorts are part of IHG, they have their own loyalty program known as Intercontinental Ambassador.  The first elite level, Ambassador, can be bought for $200 or 32,000 IHG points.  As I discussed in the post "How to buy elite status with points," the net first year cost is only 27,000 points, and 19,000 points to renew each year after that.
If or when I have plans to stay at Intercontinental hotels, I may go for it.
Ambassador status benefits include: Guaranteed room upgrade, fresh fruit, in-room water and gift, 4pm late checkout, free pay-TV film per stay, free weekend night certificate (buy one get one free), and 5,000 bonus IHG points.
Hilton: Diamond
Last year, Hilton briefly offered no-strings-attached status matches to top tier Diamond status, and the status is good through 2018!  If it wasn't for the status match I would have been perfectly content in keeping Gold status.  Gold status, which offers free breakfast, can be had just by holding any one of several credit cards (Amex Hilton HHonors Surpass, Citi Hilton HHonors Reserve, or any Amex Platinum).  Or, if you really want Diamond status, simply spend $40K per year on the Amex Hilton HHonors Surpass, or Citi Hilton HHonors Reserve.  Another option to get status is to do a status challenge (found here).  This will give you status for 90 days.  To keep status, if you're matched to Gold status, you'll need to complete 4 stays. If you're matched to Diamond, you'll need 8 stays.
Gold status benefits include: 25% point bonus on paid stays.  Bonus points, room upgrades, welcome gifts, and free breakfast (details vary by hotel brand).
Diamond status benefits include: All Gold benefits, 50% point bonus on paid stays, free premium internet, and executive floor lounge access (where available).
Hyatt: Explorist
Explorist is the new mid-tier status introduced with Hyatt's loyalty program change from Gold Passport to World of Hyatt (See "5 things I love about the World of Hyatt," and "5 things I hate about World of Hyatt").  My wife currently has Hyatt Diamond status and is expected to get a soft landing to Explorist status when the new program kicks in on March 1.  I currently have Hyatt Platinum status that expires at the end of this month, and so I expect to be dropped down to lowly member status (AKA no status at all).  But, I also previously matched to M Life Platinum, and I hope to turn that into Hyatt Explorist status in March, as View from the Wing suggested may be possible.
The main benefit of Explorist status is that it gives you 4 upgrade certificates for club lounge access per year.  And, with the new program, upgrade certificates can be used with award stays.  So, if my wife and I both have Explorist status, we'll be able to upgrade 8 times between March 1 2017 and Feb 28 2018.
If we stay at a Hyatt that does not have a club lounge and does not automatically offer free breakfast, we would want to do a Guest of Honor stay.  That is, we'd find a friend with Globalist status to book the room for us, so that we could enjoy top-end elite benefits even though we wouldn't have that status ourselves.  See: How to get Hyatt Diamond benefits without status.
Explorist status benefits include: 4 Club lounge access awards, room upgrade at check-in (excluding suites), free premium internet, 2pm late checkout, 20% point bonus on stays.
Kimpton: Nothing
Kimpton has sadly ended their courtesy status match program, so I don't know of any good way to get Kimpton status other than actually staying at Kimpton hotels the required number of stays or nights (details here).  Given the large number of hotel points and free night certificates we have with other brands, I'm pretty sure we won't achieve any form of Kimpton elite status anytime soon.  Our main hope (and fear for those who do enjoy Kimpton status) is that Kimpton's program will roll into IHG Priority Club now that they are owned by IHG.
Marriott: Platinum
I completed Marriott Platinum Challenge late in 2012.  That gave me status through February 2014.  Since then, each year I've renewed status by buying it back.  Marriott charges 40,000 points to buy back Platinum status.  I find it well worth the points.  Not only do I get perks when staying at Marriott hotels, but I also get free United Silver status, and now SPG Platinum status.
Platinum status benefits include: 50% point bonus on stays, Platinum arrival gift, 4pm late checkout, United Silver status, free enhanced internet, lounge access / free breakfast (resorts excluded), etc.
SPG: Platinum
Thanks to my Marriott Platinum status (see above), and the Marriott SPG merger, I now have SPG Platinum status.  While SPG Gold status has been easy to get, Platinum status has long eluded me.  I'm looking forward to taking advantage of its perks!
Platinum status benefits include: 50% point bonus, choice of welcome gift (continental breakfast is one option), an upgrade to best available room upon check-in — including a standard suite.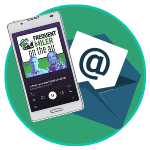 Want to learn more about miles and points?
Subscribe to email updates
 or check out 
our podcast
 on your favorite podcast platform.