On Saturday morning I published "Freedom Unlimited plan thwarted."  Since I now have the top-end Sapphire Reserve card, I wanted to downgrade my Sapphire Preferred to Freedom Unlimited.  This way, I could continue to earn 3X travel & dining with my Sapphire Reserve card, 5X office supplies, cable, internet & phone, and 2X gas, with my Ink Plus card, 5X on rotating categories with my two Freedom cards, and 1.5X everywhere else with the Freedom Unlimited card.
My plan was temporarily thwarted.
When I had originally called, I had been told that my Sapphire Preferred card was too new to change to the Freedom Unlimited.  So, I waited until the card was a year old and tried again.  I then learned that Chase's computers had not made the Freedom Unlimited a valid product change option for me.  They seem to have a magical formula that decides who can change to what and when, so you may have different results.
I went ahead with the only option I was given: I product changed from the $95 per year Sapphire Preferred card to the no-fee Sapphire card.  I didn't want the Sapphire card, but I figured that it might be possible to product change later from that card to the Freedom Unlimited.  And I published my experience: Freedom Unlimited plan thwarted.
In reaction to the post, people commented, Tweeted, Facebooked, and emailed to let me know the following:
There was no need to wait for my Sapphire Preferred to be a year old.  You can product change from the Sapphire Preferred to the no-fee Sapphire card, any time.
Immediately after product changing to the Sapphire card, you can product change to the Freedom Unlimited.
So, at 9:45am Saturday, I sent a secure message to Chase to ask to product change from my new Sapphire card (which hadn't yet been delivered to me) to the Freedom Unlimited card.  At 10:57 they responded, roughly with: "yep, we can do that. Here are the terms. Reply with acknowledgement that you want to continue."  I replied, and by 12:50 in the afternoon it was done.  I am now the proud owner of a Freedom Unlimited card!
Thank you to everyone who tipped me off to this quick and easy trick!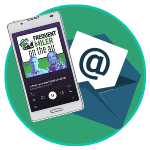 Want to learn more about miles and points?
Subscribe to email updates
 or check out 
our podcast
 on your favorite podcast platform.