An easy way to increase credit card rewards is to go through a cash back portal to buy American Express gift cards. In that way, you can earn credit card rewards for the purchase, plus cash back from the portal. For example, if you average 2% cash back from your credit card and 2% cash back from portals, you can effectively earn 4% cash back for all purchases made with Amex gift cards. Full details about this technique can be found here: The complete guide to Amex gift cards.
Last year, American Express stopped allowing portal cash back for gift card orders that included promotion codes for free shipping or fee free gift cards. As a result, the best approach has been to get free shipping through Amex's Premium Shipping Plan (you can always cancel before the free trial ends), and to reduce fees by buying the maximum $3,000 denomination cards. Except in special circumstances each card has a $3.95 fee. When you purchase a $3,000 gift card the fee becomes insignificant as a percentage: $3.95 / $3000 = 0.13% (approximately one eighth of one percent).
Recently, though, cash back portals have introduced language suggesting that only denominations of $2,000 or lower would earn cash back:
BeFrugal's terms say:
Only denominations between $25 and $2000 are eligible for cashback. Denominations over $2000 are not eligible for cashback
And, TopCashBack says:
Please Note: Denominations over $2K are not eligible for cash back (Business Gold and Consumer Gold products.)
You might be curious about TopCashBack's phrasing: "Business Gold and Consumer Gold products". What does that mean? I assume it refers to the name of a particular type of gift card, ORIGINAL GOLD:
There are other types of Amex gift cards available, but the maximum denomination of each one (besides the Gold one) is only $200:
Is the limit enforced?
My recent orders of $3000 personalized Gold gift cards show cash pending on BeFrugal. There are a number of possibilities:
It's possible that I placed the orders just before this new limit was in place
It's possible that personalized cards are not affected by this new limit
It's possible that this new limit is not being enforced… or, not yet.
It's possible that even though the cash back currently shows as pending, it may never get confirmed as payable.
Recommended Approach: $2K or less
Since we don't yet know if or when the new terms are/will be enforced, the safe approach is to go with $2K or smaller denominations. $2,000 denomination gift cards are still a very good deal. The $3.95 fee is only $3.95 / $2000 = .2% (one fifth of one percent).
Some people prefer to buy $1,000 denomination cards because those orders seem to get approved more often (Amex mysteriously denies many orders). Even that is a good deal. The fee there is .4% (less than half a percent).
Note that there is nothing in the terms preventing you from buying multiple $1K or $2K cards at a time. Keep in mind, though, each person is limited to buying no more than $10,000 worth of personal cards or $100,000 worth of business cards per 14 days.
Questions?
For more details about Amex gift cards, please see: The complete guide to Amex gift cards.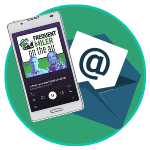 Want to learn more about miles and points?
Subscribe to email updates
 or check out 
our podcast
 on your favorite podcast platform.