I've written many posts in the past about ways to earn 5 miles per dollar everywhere. The trick is to buy gift cards at stores like Staples or Office Depot and pay with a Chase Ink card which offers 5X at office supply stores (up to $50K per year with Ink Plus or Ink Bold; up to $25K per year with Ink Cash or Ink Classic). That way, even if you don't need office supplies, you can earn 5 points per dollar at any merchant that accepts those gift cards. For a list of gift cards available at Staples in-store and online, please see "Staples Gift Cards" (note: the list is slightly out of date, but still mostly accurate).
It used to be possible to earn 5X by buying $500 Visa gift cards and even $500 Vanilla Reload cards (which will soon be history) at Office Depot, but Office Depot has long since stopped allowing credit cards for those purposes. The best you can now do with Visa gift cards is buy $200 fixed value Visa cards at Office Depot or Staples. Unfortunately, these have a hefty $6.95 fee with each card.
The Staples $200 gift card deal is still good. You could theoretically use your extra Ultimate Rewards points to pay yourself back for the fees and still clear 1.7 points per dollar. That said, dealing with lots of $200 Visa gift cards can be a pain. Another great opportunity is to use a Citi Forward card that earns 5X at bookstores to buy gift cards (often found at campus bookstores, for example). Unfortunately, that card is no longer available to new applicants.
So what are the alternatives? Enter a slew of 3X opportunities…
3X Opportunities
There are plenty of 3% cash back opportunities, and there are a few easy 5X or better hotel point opportunities (e.g. Club Carlson and Hilton), but I'm going to focus on cards that offer 3 points per dollar where those points can be transferred to airline miles or used to purchase airfare at a rate better than 1 cent per point.
Diner's Club Card Elite: 3X grocery, drugs, gas
This card earns 3 points per dollar at grocery stores, drug stores, and gas stations (pay at the pump only). The grocery and drug store category bonuses are awesome considering that both types of stores tend to have fantastic gift card selections (including $500 Visa cards). Plus, some Target stores code as grocery stores, so this could be a huge winner for those with a REDbird card (see "REDcard changes everything"). In particular, with the card's very large selection of transfer partners, this would be the ideal card for those who prefer miles over cash back. There are, though, two little snags:
Diner's Club has temporarily stopped accepting new applications. They told me on the phone, though, that the application should be live again in a few weeks… or so.
The $300 annual fee is quite steep and there is no signup bonus or travel reimbursements to offset that fee.
See also: How to earn 1.8 SPG points per dollar, or 5.76 Choice points per dollar
American Express Business Gold: 3X choose your own category
Via MileCards, beginning January 30 2015, this card will let you choose your own 3X category from these options (you will receive 2X for the others):
Airfare purchased directly from an airline
US purchases for advertising in select media
Shipping
Gas stations
Purchases made directly from select computer hardware, software, and cloud computing providers
This is not quite an uncapped benefit, but it is close: 3X and 2X earnings apply to purchases up to $100,000 in each of the 5 industry categories per year. It seems to me that the gas station category has the most opportunity for those looking for gift cards and gift-card-like opportunities.
Amex EveryDay Preferred: up to 3X gas + more
Officially, this card offers 3x points at US supermarkets and 2x points at US gas stations. The problem with the 3X supermarket category is that it is capped at $6,000 per year in purchases (then it goes to 1x). Where this card really shines, though, is when you make 30 or more purchases in a billing period. In that case, you will earn 50% more points (less returns and credits). So, if you always make sure to make 30 or more purchases every billing period, the card's earning structure becomes:
4.5X at U.S. grocery stores, up to $6K spend per year (then the rate drops to 1.5X)
3X at US standalone gas stations
1.5X everywhere else.
If you don't mind ensuring 30 purchases per month, this card's opportunities edge out the Business Gold card since you can get the same 3X gas station earnings, plus 27,000 points per year from grocery stores! And, unlike the Business Gold card, the 3X gas benefit is uncapped.
See also: Amex's powerful new EveryDay cards
Citi ThankYou Premier: 3X dining and entertainment
This card offers 3X dining and entertainment and 2X for airlines, hotels, and travel agencies. To be honest, I haven't found a good source of gift cards in any of those categories, but it seems to me very likely that opportunities exist, especially in the entertainment category. According to Citi:
Entertainment is defined broadly as purchases made for live performances (e.g., concerts, theater), movie theaters, amusement parks and cultural events (e.g., zoos, museums). Entertainment merchants include sports promoters, theatrical promoters, movie theaters, amusement parks, tourist attractions, record stores and video rental stores.
That's a pretty broad list! There must be a movie theater, record store, tourist attraction, etc. that sells gift cards, right? If you find a good one, please let me know!
See also: Citi Prestige vs Premier vs Preferred
Other 3X opportunities worth noting
Here are a few more worth considering: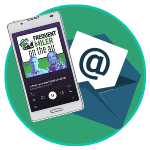 Want to learn more about miles and points?
Subscribe to email updates
 or check out 
our podcast
 on your favorite podcast platform.