I'm a big fan of the on demand car service Uber.  I love that I can call a car with my smartphone and actually watch its progress as it makes its way to wherever I am to pick me up.  This came in extremely handy this past winter (which was brutal!) since it meant being able to stay inside until the car arrived.  And the best part is that payment is automatic.  There's no need for the usual taxi experience in which the driver pretends that their credit card machine is out of order.
One criticism of Uber is that it is often quite a bit more expensive than a taxi (although, if you use UberX, the prices are often competitive).  Fortunately, there is now a way to prepay for Uber credit and get 40% off!
American Express is currently offering a $10 statement credit when you spend $10 or more with Uber after enrolling your Amex card in this promotion.  Please see details here: $10 off Uber with Amex Sync.  The intended way to use this offer is to add your Amex card to your Uber payment profile and then use it to pay for an Uber ride costing $10 or more.  With that approach, in order to get your $10, you'll have to take that ride by December 31, 2014.  Another option is to prepay for your rides…
Here's how to prepay for 40% off Uber rides:
1) Sync and enroll all of your Amex cards
Amex Sync offers are available to all Amex credit cards and all Amex Serve cards.  This includes authorized user cards and Serve Subaccounts (see: More free cash from Amex via Serve subaccounts).  For details showing how to sync multiple cards, please read: Maximizing Amex Sync offers. Part 1: sync multiple cards.
UPDATE: Serve cards do not seem to be working with Uber for some reason.
Make sure to enroll all of your Amex cards in this promotion by tweeting: #AmexUber.
2) Sign up for Uber
If you're not already an Uber member, please consider using my referral link here.  We will each get a free ride worth up to $30.
3) Buy $25 Uber gift cards with each Amex card
One by one, do the following:
Add your Amex card to your Uber account here: riders.uber.com/payment/
Buy a $25 Uber gift card with each Amex card.  Gift cards are available here: riders.uber.com/gifts.

UPDATE: This link isn't working for some people. If it works for you, please comment below.  Let us know if you've taken Uber rides in the past and/or if you've referred people in the past. I'd like to figure out why it works for some but not for all.

UPDATE 2: We still don't know why some people don't see the "Gifts" menu item when they log into their account, but multiple people have reported success by emailing Uber and asking for access to that page.

Apply the gift card code to your account.  You will receive the gift card via email.  The gift card includes instructions for how to apply it to your account.
Make sure to use each Amex card only once!
4) You should receive a $10 statement credit from Amex for purchase
Assuming this works as expected, you will have paid a total of $15 for each $25 gift card ($25 – $10 = $15).  That's a 40% discount!
I tested the above process and immediately received an email acknowledgement from Amex:
Congrats! You just used your Amex Offer


Dear Frequent Miler,




Thank you for using your American Express® Card ending in XXXX at UBER.
In my experience, when you receive an email acknowledgment like this it does mean that statement credit will be forthcoming.  Note that it usually takes a few days (at least) to receive Amex Sync promotion statement credits.
5) Gift card credit applied to your account will be used automatically when you use Uber
When you take your next Uber ride, payment will first come out of any free rides you've accumulated (such as through a sign up offer).  If the cost of the ride exceeds the free ride benefit (e.g. if it is more than $30), Uber will next draw from your Uber credits (e.g. the gift card credits).  Only once the Uber credits are exhausted, will Uber charge your primary credit card.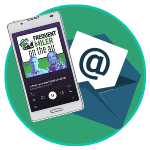 Want to learn more about miles and points?
Subscribe to email updates
 or check out 
our podcast
 on your favorite podcast platform.