Yesterday, Running with Miles, One Mile at a Time, and View from the Wing wrote about a rare 20% off sale on Tumi products — but by Extreme Stacking, I will show you how to end up with 42.2% off a wide range of Tumi bags.
In a nutshell, most (though not all) Tumi bags are on sale for 20% off at almost any authorized Tumi retailer through March 19th. This gives us many opportunities to stack for maximum savings.
For illustration purposes, we are going to look at one specific bag: The Tumi Alpha 2 Continental Expandable 4 Wheel Carry-On
This bag is currently 20% off at most retailers, including Amazon.com:
As you can see, the bag is available fulfilled by Amazon for $540. But is that a good deal? I know that there are many passionate Tumi lovers who extol the longevity of the bags — but over five hundred bucks for a carry-on bag still sounded a bit high to me. Did this bag ever really sell for $675?  Many products have artificially high MSRPs, but are always offered far below those prices. Before I went any further, I needed to do some bench-marking to see how the $540 price compared to everyday pricing. Fortunately, camelcamelcamel.com tracks pricing on Amazon.com, so we can examine the historical pricing to get an idea as to whether this is truly a deal or just a pumped up retail price:
In the line graph, the green line represents Amazon prices while the blue line represents 3rd party pricing (new products only, no used pricing shown).  Starting with the Amazon pricing, we see that the actual price of the bag has been $675 for quite some time.  The Amazon price history below the chart shows us current pricing as well as highest, lowest, average, and the last 5 price changes.  The lowest price ever was $470 around Black Friday 2015. Apart from a 9-hour stretch June 2-3 last year, the Tumi Alpha 2 Continental has been $675 since April 25th of last year.  But that's just the Amazon direct price.  Let's look at third party historical data:
We can see that the bag has been either $645 or $675 since last September 30th.  The lowest third party price ever was $426, though we don't know if that seller was an authorized Tumi dealer selling legitimate products. At any rate, overall, these numbers showed me that $540 is indeed a very good price on the bag, even if not quite the best ever. Most people would probably be pretty satisfied with getting a very good price.
But not us.  We want the best price ever.
When I realized that the Tumi sale was across almost all dealers, I immediately went to eBags.com.  I chose eBags for a number of reasons:
Portal payouts on eBags.com purchases are consistently high 
eBags offers 5% back in eBags rewards money on Tumi purchases
There is currently an Amex Offer for $15 back on $75 at eBags.com
To find the best portal rate, I went to CashBackMonitor.com:
Down at the bottom, I almost missed Top Cashback at "up to 20%".  I clicked through to see what that meant, and sure enough purchases of Tumi products offer a cash back payout of 20%:
I know from past experience and from most reports in the Frequent Miler Laboratory that portals usually do not pay cash back on the purchase of gift cards.  In my experience, the portal initially tracked cash back on the purchase of the gift cards, but later clawed back the cash before a payout was possible.
Furthermore, some shopping portals exclude cash back on purchases made using a gift card.  Top Cash Back does not say anything in its terms about the use or purchase of gift cards, but several other cash back websites had nearly identical terms, as follows:
No cash back on the following brands: AAXA Technologies, Amazon Products, Amcrest, Ankr, Asante, August Home, Canon, EzViz, Fujifilm, iBoost, Merkury Innovations, Microsoft, Nest, Optoma, Panasonic, Rivacase, Samsung, and Seagate.
No cash back on the purchase or redemption of gift card value.
eBags reserves the right to cancel any orders that appear to be intended for reselling purposes. Electronics excluded from cash back.
While Top Cash Back does not have this language, it does have a catch-all sentence in its terms:
From time to time the information displayed here may be out of date.
That was enough to convince me not to mess with gift cards.  If you do choose to purchase gift cards to take advantage of multiple Amex Offers, your savings may be greater (as long as they don't claw back your cash).  Noteworthy is that if you do buy gift cards, eBags sends them instantly. Also note that you can only use one eBags gift card per order, but I have always been successful at getting my gift cards combined via eBags chat support, but YMMV.
Back to our extreme stack, let's run the numbers and see how we can do on the Tumi Alpha 2 Continental Expandable 4 Wheel Carry-On. I started at Top Cash Back and clicked through their link to be sure I'd earn 20% cash back on this purchase.  That brought me to eBags, where I found the Tumi Alpha 2 Continental was available for the same $540 price as on Amazon.com:
On a $540 purchase, we would earn $108 cash back.  But wait — there's more.  eBags has a rewards system.  On Tumi products, they offer 5% rewards points. As you can see to the right of the add to cart button, this purchase would earn $27.00 in eBags rewards points.  That is in addition to the $108 cash back from Top Cash Back.  What can you do with $27.00 in eBags rewards?  Buy packing cubes. Seriously. My sister got us a set a couple of years ago. Best. travel. gift. ever.
Note that a maximum of $300 in eBags rewards can be earned in a 12-month period.
So now, we're at $540 for the bag, minus $108 in cash back and $27 in eBags rewards. But wait — there's more!  Right now, there is an Amex Offer for $15 back on $75 or more at eBags.
As I said, you could theoretically stack these by buying multiple gift cards and getting chat support to help combine them, but since many portals exclude the use of gift cards, I decided to play it safe and just pay with my Amex using one offer.  The final numbers:
$540 purchase price
-$108 cash back from TopCashBack
-$27 eBags rewards
 -$15 Amex Offer
   $390 final price
Not only is that $150 less than the current Amazon price, it is also $80 less than the lowest price ever direct from Amazon or $36 lower than the lowest 3rd party price ever on Amazon. Instead of 20% off the original price of $675, we have a net of 42.2% off.
If you have the Amex Offer on multiple cards and you gamble at buying $525 worth of gift cards to maximize the number of offers you can use, you could potentially save another $90.  However, I don't recommend this as it comes at the risk of invalidating your portal cash back if TopCashBack claims that their terms simply "weren't updated".  While some may wonder whether Tumi products are excluded from cash back sites, they are not excluded in any of the terms I found.  Last May, I bought several Tumi bags when ShopAtHome was offering 36% cash back at eBags and I received my cash back payouts.
However, as this is Frequent Miler, we like to earn miles without flying. Let's quickly go back to that CashBackMonitor payout list:
We see that both British Airways and Delta SkyMiles are currently offering 15 miles per dollar at eBags. According to Frequent Miler's Reasonable Redemption Values, at 1.4 cents per mile, Delta SkyMiles are worth a bit more than the Avios.  Buying the above bag, we would spend $540 and earn 8,100 Delta SkyMiles — worth $114.40 based on the reasonable redemption value. Personally, I would take $108 in cash over $114 in miles, but if you can stretch your miles beyond 1.4 cents per point, you may prefer to go that route.
Either way, there are nice deals to be had on Tumi bags by Extreme Stacking discounts and leveraging your Amex Offer.  This was only one example; these savings should be repeatable on a wide range of Tumi products.  Note that this sale runs through March 19th.  There is a chance that portal payouts could improve, but past experience tells me that eBags does occasionally "sell out" of items during sale periods (that then magically reappear days after the sale ends).  If there is a bag you want, I suggest getting it sooner rather than later.
If you do buy something in this sale, I'd love to know what you scored. Let me know in the comments!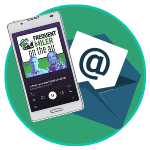 Want to learn more about miles and points?
Subscribe to email updates
 or check out 
our podcast
 on your favorite podcast platform.