I've written a number of posts in the past about stacking deals on Tumi luggage (See: 42.2% OFF Tumi – Extreme Stack for max savings! or (EXPIRED) Triple stack on Tumi: Sale + 24% back + Offers = big savings for examples). Today, Thrifty Traveler reported that a deal is back that is ripe to be stacked. If you're looking to buy today, you can get a very good deal. It's possible we may even see a better deal in the coming days, but you certainly wouldn't go wrong buying today.
The Deal
Quick Thoughts
Tumi typically runs 2 sales a year and the models on sale typically go on sale at all sites that sell Tumi (all authorized retailers, anyway). When they do, you really have your pick as to places to stack a deal.
Ebags tends to make for the best stacking opportunity as there is often a current Amex Offer for Ebags (as there is right now) and cash back portals often offer a great payout on Ebags. Right now, TopCashBack is offering 26% cash back specifically on Tumi products at eBags.com. That stacks well with Amex Offers for either $20 back or 2,000 Membership Rewards points on $100 or more in purchases.
Ebags no longer allows you to combine gift cards via chat, so the best way to stack this is to use two Amex cards loaded with the Ebags offer. Use the first card to buy a $100 Ebags gift card. Those gift cards are typically delivered instantly (or within an hour or two in my slowest experience). Then, click through TopCashBack to Ebags, add a Tumi bag to your cart, and check out using that gift card and one more Amex card loaded with the offer.
As an example, you could click through TopCashBack and buy the Tumi T-pass business brief backpack. The bag costs $395 (normally $495 everywhere). Actually, the blue camo looking color is only $295 — but let's assume you want black or grey ($395). Your final cost would look like this:
$395.00
– 102.70
–   40.00 (1 Amex Offer when buying the Ebags GC + 1 Amex Offer when paying the balance with a second Amex)
$252.30 (and you'll earn $19.75 in eBags rewards points)
Alternatively, use cards loaded with the Membership Rewards version of the offer to earn as many as 4,000 Membership Rewards points for $40 more, essentially buying Membership Rewards points at a fairly cheap rate.
That's a very good deal on this particular bag. The CamelCamelCamel Amazon price history shows that the lowest price on this bag since the beginning of the tracking data in 2014 is $345.99, with that price last available in June of 2017.
Paying $252 for that bag looks like a fantastic deal overall.
That said, the semi-annual sale will be on for a bit and we've seen airline portals offer as much as 20 miles per dollar on eBags purchases.
If an opportunity arrives for 20x miles per dollar during this sale, you could earn 7,900 airline miles instead of $102.70. That's a price of 1.3c per mile — that might appeal to some more than the cash.
A third option would be to bide your time and see if Saks 5th Ave offers any decent portal payouts over the Black Friday weekend. They have a Black Friday deal advertised to spend $150 and get a $75 gift card. That's probably a little misleading — last year the "gift card" was only valid for six days. Still, if you can find a use within those six days (maybe Nespresso capsules?), Amex Platinum members may find it to be a good use of the semi-annual $50 Saks credit.
Bottom line
Whether you're using up your annual Saks credit, holding out for a mileage payday, or stacking for Tumi at eBags today, there are some solid deals to be had. Honestly, I never got the fascination with Tumi until I bought a Tumi T-Pass backpack. I bought mine used on Craigslist and it isn't even exactly what I want and I still love it. The zippers are extremely sturdy, the bag holds up to being overstuffed, and it's got plenty of pockets to keep myself as organized as I can be. I don't feel like a 5th grader when I show up for a meeting or to speak at an event carrying it and I can pack everything I need for a two week trip — including my laptop, clothes, chargers, etc — and carry it on my back. My only complaint is that I bought an older model that does not have the slit to carry on a roller bag. I definitely want that….someday. I've also bought and sold a number of Tumi carry-ons and have them on my "eventually" list when my current bags bite the dust.
If you're buying, make sure to use one of the Best Credit Cards for Black Friday Deals.
H/T: Thrifty Traveler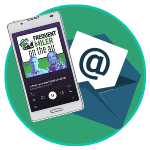 Want to learn more about miles and points?
Subscribe to email updates
 or check out 
our podcast
 on your favorite podcast platform.