We're all about maximizing deals, so we write a lot about extreme stacking here at Frequent Miler.
It's been a while since we covered exactly what extreme stacking is, so here's an overview of how it works, along with several examples of extreme stacking opportunities.
What Is Extreme Stacking?
Extreme stacking is where you take advantage of many different opportunities to save money and/or earn additional rewards when making a purchase. This can make a significant difference in how good you can make a deal.
There are lots of factors that can go into a good extreme stack, although each opportunity is different depending on which retailer you're buying from, whether you're buying online or in-store, how you're paying for it, etc. Here's a list of all the factors to consider.
Shopping Portal
If you'll be making a purchase online, start by clicking through from a shopping portal. A good place to start is Cashback Monitor as they check the rates daily for nearly every shopping portal out there which makes it easy to see at a glance which portal offers the best return.
When checking Cashback Monitor, keep an eye out for variations of a retailer name. For example, Spa Week sells Spa & Wellness gift cards and often runs promo card deals and you can click through from a portal to earn cashback/rewards when buying them. When typing 'Spa' into the search bar on Cashback Monitor, several retailers show up – three of which are all the Spa Week website.
Merchant Rewards
Numerous retailers offer some kind of rewards program. Best Buy, Office Depot/OfficeMax, Staples, Bloomingdales, Uber Eats, Panera Bread, REI and many more all offer some kind of rewards when buying from them, so be sure to sign up for their loyalty programs.
Price Matching
Similar to how hotel chains offer a Best Rate Guarantee where they agree to match a room rate if you find a better rate elsewhere (and possibly throw in an additional discount or bonus points), some retailers offer to match a lower price you find elsewhere. If a price is lower elsewhere – but other stacking opportunities mean you could earn far more cashback/rewards by buying from a different retailer – you might be able to match the price with them.
Sales & Coupons
Some store sales are sales in name only as they jack up the price for a week before dropping the price back down to where it was before in order to announce "50% off this week only!" Other store sales are more legit though, particularly around the holidays but at other times of the year too.
Coupons can be another great way to save. Retailmenot tends to be a good resource for coupon codes, but be sure to look for those in a completely different browser(or incognito window to the one you're planning to make a purchase from. They only display the coupon codes when you click through to the retailer from their site which adds a tracking cookie; seeing as you clicked through from them first, it'll likely invalidate any cashback you'd earn from a portal if you happen to make a purchase using the same browser, hence why you should look at Retailmenot on a different browser or incognito window.
Another option for seeking out discount codes is Honey, a browser extension that's now owned by PayPal. When you visit a website, Honey pops up to let you know if there are coupon codes. I've never installed it though because I suspect it adds its own tracking cookies which will likely conflict with earning cashback/rewards from a shopping portal.
Gift Card Deals
When it comes to paying for your items, you'll often have two main payment options – gift cards or a credit/debit card. Both of these options have their benefits, with the best option for each purchase depending on what other saving/earning opportunities you have available to you on those fronts.
With gift cards, you could buy a discounted gift card on Raise after clicking through from a shopping portal to earn additional cashback. Alternatively, you could buy a gift card at a grocery store with a card that earns more at grocery stores. If the grocery store has a rewards program that offers savings on gas and/or groceries, that's even better.
There are often gift card sales too. For example, your grocery store might sell $50 Lowe's gift cards for $40, or a retailer might offer a $25 bonus card free when buying a $100 gift card. With that latter kind of deal the bonus card can only be used during certain dates, but if that's when you know you'll be wanting to make a purchase, it can be a great way to save.
Credit Card Rewards & Rebates
While paying with a gift card can save you money due to discounts or additional rewards available, paying with a credit card also offers the potential for additional discounts and rewards.
Card-Linked Offers
There are dozens of apps and websites that have card-linked programs. This is where you link one or more of your credit/debit cards to their program and when you pay with that card at a participating retailer, you earn cashback or rewards.
Some card-linked programs run on the same tracking network and so you can only earn with one of those, but other card-linked programs stack nicely with each other. Check out this post for more about all of the different card-linked programs that are available: Card-Linked Programs & The Networks They Run On (AKA Which Programs Stack).
Category Bonuses
Depending on what retailer you're buying from, you might be able to pay with a card that earns more in that particular category. For example, for purchases from Staples or Office Depot/OfficeMax, paying with a Chase Ink Cash or Ink Plus card will earn you 5x Ultimate Rewards.
Spend Offers
Credit card offers like Amex Offers, Chase Offers, BankAmeriDeals, etc. can help save you a lot of money when buying online and/or in-store. These offers come in a few varieties, from a percentage back as a statement credit to a fixed amount back when spending $x amount to earning bonus Membership Rewards points (in the case of some Amex Offers).
Always check the terms of those types of offers as some are only eligible in-store or online, others require that you spend a minimum amount, etc. Where possible, add an offer to a card which also offers a category bonus for that type of purchase.
Free Shipping
When buying items online, the cost of shipping has the potential to be expensive. Some retailers offer free shipping when signing up for their free loyalty program, while others offer free shipping when spending a minimum amount. If you're close to that free shipping spending threshold, it can be worth adding a cheap filler item to your basket if the cost of that item puts you over the threshold to get free shipping as that could save you money overall.
Also be sure to check if the online retailer offers free 2-day shipping with Shoprunner. Many American Express cards provide free Shoprunner membership, as do any cards that are World Mastercard or World Elite Mastercard.
Some Extreme Stacking Examples
Below are a few examples of how extreme stacking can work in the real world. While different opportunities come and go (e.g. Amex Offers, eligible retailers on Dosh, shopping portal rate fluctuations, etc.), the overall principles will always be valid and will hopefully give inspiration for what to look out for any time you're planning on making purchases in-store or online.
Example 1 – Staples
Let's say you have an Amex Offer giving you 10% back at Staples on up to $500 of spend. If you spend exactly $500 you'll save $50 which is a nice discount, but you can do so much better.
For starters, if ordering online you can click through from a shopping portal. Cashback Monitor is a great resource for comparing rates when buying online to ensure you pick the portal offering the best payout. In the case of Staples, other than the occasional day here and there, you're usually looking at earning 3-4% or 3x depending on what kind of portal you click through from.
That's 10% back from the Amex Offer and ~3% from a shopping portal, but that's not all. Staples sometimes has coupon codes that are eligible for certain products and, at times, on a wider variety of items such as the 10% off coupon you can get when signing up for emails for the first time.
In the past, the Dosh app offered 2% cashback for Staples.com purchases with a limit of $5 per day when paying with a card linked in the app. At the time of publishing this post they're no longer offering cashback at Staples, but that might return in the future and, if nothing else, that's another example of the possible kind of stacking opportunities you should keep an eye out for.
Bitmo is another option. That's an app which sells gift cards, but they also have a card-linked element to their Perk Points program. You connect your cards to the app using Plaid, then any time you spend money at a retailer in-store or online which Bitmo sells gift cards for in the app, you earn 1 Perk Point per dollar. That's only worth 0.1%, but it has the potential to add up over time if you do a lot of spending at eligible retailers and/or restaurants.
Many retailers offer their own rewards program and Staples is no exception. If you're a Staples Rewards member you earn 2% or 5% back in rewards depending on what status level you have in the program.
Here's a quick roundup of the possible stacking opportunities from this example:
10% back from Amex Offer
~3% cashback from a shopping portal
10%+ off from using a coupon code
0.1% from Bitmo
2-5% rewards from Staples Rewards
Rewards on your credit card
Example 2 – CVS
CVS has the ExtraBucks Rewards program which gives 2% back in rewards on your purchases. They frequently offer bonus ExtraBucks Rewards depending on the products you buy (e.g. $10 ExtraBucks Rewards when spending $30 on eligible items).
CVS also has a separate CarePass program. You pay a $5 per month subscription but receive a $10 promo reward each month which can save you money on your purchases each month.
For online purchases, you can click through from a shopping portal with the common rate being ~2.5%. CVS sometimes offers coupon codes which are only valid online. For example, at the time of writing this post they're offering $20 off online orders of $70+ when using a promo code.
If you're buying your products in-store, those previous two options won't work. However, in-store you might have other savings options such as manufacturer coupons in your local paper or printed off from a site like Coupons.com.
Depending on the items you buy, it might be possible to earn additional cashback with the Ibotta app by buying eligible items and uploading your receipt.
Card-linked programs can be a great way to save and/or earn more. The Payce app currently offers 5% cashback at CVS when paying with a linked card, with a limit of $5 cashback per month.
Similar to the previous Staples example, paying with a card linked in the Bitmo app is another earning opportunity.
SimplyMiles – a card-linked program which earns you bonus American Airlines AAdvantage miles – often has offers for CVS. The number of bonus miles is targeted; for example, my wife and I both have an offer when spending $45+ in-store, but she'd earn 1,000 miles whereas I'm only targeted for 250 miles.
SimplyMiles only allows you to link Mastercard credit and debit cards. That's not necessarily a problem though as a good card to pay with at CVS is the Chase Freedom Flex card. That's a Mastercard and earns 3x Ultimate Rewards at drugstores.
As an alternate payment method, you could buy a gift card from an app or site which offers discounts or rewards for gift card purchases. For example, rather than paying with a card linked in the Bitmo app, you can buy CVS gift cards from Bitmo and, at the time of writing this, earn 30x Perk Points which are worth 3% towards a future gift card purchase.
Another option is to buy discounted gift cards from Raise where the discount might be even greater than 3%. You can click through to Raise from a shopping portal to earn additional cashback/rewards. One thing to bear in mind when paying with CVS gift cards bought from Bitmo, Raise, etc. is that it means you can't stack with card-linked programs like SimplyMiles and Payce. Here's a list of all the different ways you can buy instant gift cards which can be particularly helpful if you're buying in-store because depending on the app you use to buy the CVS gift card, you can buy a gift card for the specific amount charged at the register.
Here's a quick roundup of the possible stacking opportunities from this example. Not all of them will be applicable for every transaction, but many will be available to you.
2% ExtraBucks Rewards
Bonus ExtraBucks Rewards
$10 promo reward from CarePass
Shopping portal
Online coupon codes
Manufacturer coupons
Ibotta
Payce
Bitmo (card-linked)
SimplyMiles
Bitmo (purchasing gift cards)
Discounted gift card from Raise
Shopping portal cashback from gift card purchase on Raise
Credit card rewards
Example 3 – Outback Steakhouse
It's not only retailers where you can stack offers – even restaurants can offer the opportunity to put your extreme stacking muscles to work.
Outback Steakhouse is a great example. Groupon frequently sells discounted Outback Steakhouse gift cards, such as $50 cards for $44 right now. You can click through to Groupon from a shopping portal and, because the gift cards are listed as Local Deals, you can often earn ~10% cashback on the purchase.
Groupon allows you to purchase those gift cards with their own gift cards which you can in turn buy at a discount or earn bonus rewards on. For example, you could buy a Groupon gift card from Kroger or one of its affiliate stores when it's offering one of its regular 4x fuel points promotions. That can save you up to 14% on gas and you can pay with a card that earns more at grocery stores. Many other grocery stores have their own fuel points/grocery rewards programs, so it's not only Kroger where that kind of stacking opportunity is an option.
When it comes to ordering food at Outback Steakhouse, AARP members can get 10% off which can be used for dine-in, curbside takeaway and orders placed on the phone. You can be any age to get an AARP membership and it only costs $12 in your first year; its benefits beyond the Outback Steakhouse discount can more than pay for itself each year.
Bloomin' Brands – the company which owns Outback Steakhouse, Carrabba's, Bonefish Grill and Fleming's – has a Dine Rewards program. When you spend $20+ on three separate occasions within six months, you'll earn a reward taking 50% off your fourth visit.
Here's a quick roundup of the possible stacking opportunities from this example:
12% off gift card purchase from Groupon
~10% cashback from a shopping portal
Up to 14% off gas by buying Groupon gift card from Kroger
Bonus points by paying for the gift card with a card that earns more at grocery stores
10% off from AARP membership
Dine Rewards savings after fourth visit
Other Examples
Those are just three extreme stacking examples, but there are many more. Here are some of our other posts detailing how you can stack deals in multiple ways. As with the examples above, not all stacking opportunities are available all the time, but they're a good guide as to what's possible:
Question
What's the best stack you've ever come up with? Let us know in the comments below to give us even more inspiration as to what's possible.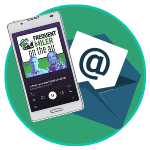 Want to learn more about miles and points?
Subscribe to email updates
 or check out 
our podcast
 on your favorite podcast platform.