When Drew, author of Travel is Free, offered to write a guest post for Frequent Miler, I jumped at the opportunity.  I'm a big fan of Drew's blog, and it complements my blog perfectly.  Where I tend to write about ways to earn miles & points efficiently, Drew writes mostly about the best ways to spend miles & points.  Without further ado, here is Drew's "6 amazing secrets of Flying Blue miles":
---
I recently wrote about some of the details of Air France's Flying Blue program, and in the process decided to make the first complete Flying Blue award chart, and track fuel surcharges for partners. Excited about some of the incredibly cheap findings, I'm eager to share some of them with the Frequent Miler community.
Besides Flying Blue having potentially some of the best redemptions to Europe, Hawaii, Tahiti, Sydney and more, earning Flying Blue miles is easy too. Flying Blue miles can be transferred 1:1 from American Express Membership Rewards points, Citi ThankYou points, and SPG points. After reading this, I think you'll find Flying Blue potentially has the best earning and burning combo in the frequent flyer game for the majority of people.    
1) Israel and North Africa for 50,000 miles roundtrip
When you look at the Flying Blue award chart I made, you may notice that roundtrips to Europe are 50,000 miles… which is already really good. In fact, 50,000 miles to Europe is already better than most. However, what Flying Blue doesn't do for you is define the region "Europe".
You would assume the region "Europe" would be made up of the countries that make up the continent of "Europe". But with Flying Blue, they are a bit more generous in the definition.
The first thing I noticed is that Israel prices out at 50,000 miles roundtrip. This is no small thing either. 50,000 miles to Europe is great, but 50,000 miles to Israel is likely the cheapest flight to the Middle East, period. The second cheapest flight will be 60,000 miles with ANA's new program, and then after that the cheapest would be 75k with AA miles. Of current options, AA is the cheapest besides Flying Blue and it's still 50% more!
But then, the natural thing to look into is which other countries in the Middle East also price out at 50,000 miles from the US. Surprisingly nothing in that area, but basically the entire North African region. What I found is that not only is Israel included in the Europe pricing, but also Morocco, Algeria, Tunisia, Libya and the Canary Islands. Again, this makes Flying Blue probably the cheapest option to go from the US to Northern Africa in economy, by far. Great for Europe, even better to Israel and North Africa.
2) Tahiti for 60,000 miles
Those of you who have looked into award flights to Tahiti know that the pickin's are slim as there aren't that many flights to choose from. But one of the best routes in terms of award availability is Air France's flight from LAX to Tahiti. Therefore it was neat to discover that Korean Air offers discounts on that route, making LAX to Tahiti 60,000 miles. However, the problem was that it would cost you extra miles to connect to LAX.
However, Flying Blue has the award price for US to Tahiti always set at 60,000 miles. Your connecting flight on Delta or another partner will be no extra cost. This way you still get the great low price of 60,000 miles for a roundtrip to a pacific island, but can connect on partners other than Air France. Not only is this one of the cheapest ways to get to Tahiti, it's probably one of the flights to Tahiti with the best award availability.
3) "Promo Awards": 50% off Award tickets on Air France and KLM
Take the already great price of 50,000 to/from Europe and mark it 50% off. Sounds too good to be true, but it's actually a regular sale with Flying Blue. They release a list periodically of routes that can be taken for 25% or 50% off. The sale is called Promo Awards and can be found here: flyingblue.com/promo-awards.html.
At the moment, if you go to the Promo Awards website you'll see multiple flights from North America, and to/from other regions, for 50% off.  There are great examples with flights to/from Houston, Chicago, New York, and DC to Europe for 25,000 miles roundtrip in economy, or 62,000 miles for Business Class.
This does include all the extra countries I said that were included in Europe as well. To show an example, you can choose to fly with Delta straight from NYC to Israel with $23 in taxes and fees, or connect in Paris on Air France and end up paying $124, because of a few more taxes and $62 in fuel surcharges.
This brings up a major point with Flying Blue: they do pass on fuel surcharges, but they can be surprisingly low. $62 is a lot less than what they are supposed to be, but almost all flights to and from Europe have only $62 in fuel surcharges. Therefore paying the little extra to fly on Air France or KLM instead of Delta ends up being a more minor fee than one would expect.
I should also note that another incredible thing about this sale is the number of routes that it includes. Not just US to Europe, but flights within Europe for super cheap (6,250 miles oneway), and flights to all regions that Air France and KLM reach… which is basically everywhere.
4) US to Hawaii for 30,000 miles roundtrip
Another route that Flying Blue has the best possible award price on is from the US to Hawaii. In terms of economy routes from anywhere in the US to Hawaii, Flying Blue has the best price with roundtrip for only 30,000 miles.
Most other airlines charge 40,000 to 45,000 miles for a roundtrip, which is 33% to 50% more. When you start talking about multiple people on a trip to Hawaii, the savings can really add up.
5) 25k for flights in "North America" includes Alaska, Mexico, Puerto Rico, and US Virgin Islands
Another fun fact with Flying Blue's award region definitions is their definition of "North America". Most airlines include US (lower 48, and maybe Alaska) and Canada. However, I noticed that Flying Blue also includes Mexico. This means flights to Cancun from the US are 12,500 miles each way, the same as a domestic ticket. That means flights from Alaska to Cancun would also be 12,500 miles. Quite a large region.
But upon further testing I realized that North America also includes the US Virgin Islands and Puerto Rico. In other words, all flights within the US (including Alaska), Canada, Mexico, Puerto Rico, and the US Virgin Islands are all 12,500 miles each way. Once again, for many routes, these will be the cheapest miles to use.
6) The 30,000 Miles to New Caledonia Trick
Since I already shared this finding publicly once, I'll share it once more here. Now the flight earlier I mentioned about US to Tahiti being only 30,000 miles, that's true for all French islands in the Pacific. Flying Blue has the intention of being discounted to their French territories. Yes, this is an incredible discount and I'd consider 30,000 miles to New Caledonia as good of a redemption as 30,000 miles to Tahiti, if not better. However, there is no direct flight from US to New Caledonia like there is for LAX to Tahiti, and it must route through Sydney. So really you could use this as a oneway to get to Sydney for a discount (30k instead of 50k). This is a tricky way of routing to an "unintended" destination that could save lots of miles here and elsewhere. If you find any more things like that though, make sure you tell me.
Conclusion
Above are 6 examples in which Flying Blue offers the best deals on award travel, and sometimes by a significant amount. Plus, Flying Blue miles can be transferred from Amex, Citi, and SPG (FM edit: see The Transfer Partner Master List).  For most people, this is a great program with which to start collecting miles.
---
Drew writes the blog "Travel is Free".  He and his wife Carrie travel full time and pay for their travel mostly with points and miles.  As a result, it has been critical that they make the most of those points & miles.  Via his blog, Drew shares their secrets for stretching every point and mile to its fullest.  And, while the two can usually be found in foreign countries most of us have never heard of, they have been spotted, at least once, visiting Frequent Miler in Ann Arbor Michigan (photo, above).
---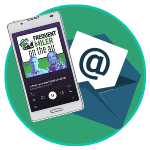 Want to learn more about miles and points?
Subscribe to email updates
 or check out 
our podcast
 on your favorite podcast platform.