This week around the web we've got the real reason to consider that Wydnham point sale (hint: it's not for hotels), a sweet suite opportunity, a hint of nostalgia for a time long gone (bye bye Super Shuttle), and a creative play for Amazon that I personally don't recommend. All that and more in our week in review around the web.
Andy at Lazy Traveler's Handbook points out a good reason why you may consider the Wyndham Rewards promo: lounge access at Caesar's properties. If you've jumped on the status-match-go-round and you're planning a trip to Las Vegas or Atlantic City, this can be well worth the money. In fact, I feel like the sale may also be useful for nights at Caesar's palace when cash rates justify the award cost. That said, I'll probably stick with MGM for my stays — but I wouldn't be opposed to food and drink in one of the nicer lounges if I had a trip on my radar where this would fit.
I don't know if any of this increased award space on Singapore's new first class suites is still available, but this post from Mainly Miles is a good reminder that many sweet opportunities exist when you're connecting dots on complex multi-destination trips. Most of the best premium cabin flights I've experienced have been on routes connecting other parts of the world. As Greg and I discussed in this week's Frequent Miler on the Air, the glut of miles and points that exist in the US market can make awards to and from the US more expensive and scarce — so I often look for opportunities connecting markets where there is less competition for the seats. That doesn't necessarily apply to a Singapore-to-London route in general, yet your chances of snagging first class on that route are still likely quite a bit higher than on the JFK-to-Frankfurt route — and as you can see in this post, there are times when you might even be able to score the best suites product they have.
I flew American for the first time in a while last week and watched a guy near me fill out an application for the Aviator card. My wife could tell I was listening when the flight attendant gave the credit card pitch and she asked me if they were getting the details right. On my flight, they mostly did…it was still a bit misleading in the way it was presented, but much better than it has been other times. So when I saw this post from One Mile at a Time, it gave me a chuckle — until I read on View from the Wing later that it was a false alarm: no new direction has been given regarding the credit card pitches. In my mind, there's nothing wrong with an in-flight sales pitch — and from a consumer perspective, I'm glad to have Citi and Barlcays competing on these AA cards, so if this is what makes it possible all the power to them — I just don't like it when the details are misrepresented and when questions about the cards are answered incorrectly.
The iconic blue and gold vans are going away: SuperShuttle will cease operations at the end of the month. This made me feel nostalgic. I didn't grow up traveling by airplane and I remember that on one of my early solo trips in the late 90's or early 2000's, I hadn't considered how I'd get between BWI airport and Washington, DC. I'm pretty sure I took the train one way but that for some reason I couldn't on the way back to the airport. Someone told me about SuperShuttle. It was slow and felt inefficient, but it was my cheapest option for an early AM flight. I only used them a couple of times and likely not since the early 2000's, yet for some reason I'll miss their presence at the airport. It's one of those things you get used to seeing — though, like Blockbuster movies and Toys R Us stores, I'm sure I'll eventually get used to its absence. The LA TImes has the scoop for those looking to take a trip down memory lane.
This post from Middle Age Miles sounds like an awesome play on the surface, and maybe it'll work. That said, we published a post several months back that included info from an email exchange with Rakuten over missing cash back for in-store gift card purchases (one of the missing cash back claims was from JCP). In short, I think that doing this at any sort of volume is going to lead to purchases not tracking/paying out at best and risk of account closure at Rakuten at worst. I don't think it's worth the prospect of losing the chance to earn MRs for online purchases. Besides, there are Happy cards that work at JCP.
---
That's it for this week around the web. Check back soon for this week's last chance deals.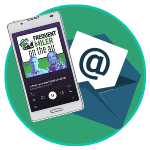 Want to learn more about miles and points?
Subscribe to email updates
 or check out 
our podcast
 on your favorite podcast platform.