A few weeks ago, we reported on incredible widespread first class availability to fly first class Etihad A380 apartments, one of the most luxurious first class experiences in the sky, between London and Abu Dhabi. Many readers booked itineraries with Etihad through Aeroplan. Unfortunately, this week several readers reported having their itineraries inexplicably canceled. If you were in that situation, there's good news: a reader reports success in having her itinerary reinstated and an Aeroplan source reports that they will be working to automatically fix this for those affected by sometime next week.
Change email & cancellation on Aeroplan.com
A few days ago, many (though not all) readers who had booked Etihad A380 first class awards through Aeroplan for travel this winter reported receiving an email about a change to their itinerary. The subject line said "Your Etihad Airways flight reference [number] has changed". The email said that the flight was changed, but didn't indicate what change there had been. However, upon logging in to Aeroplan, readers were discovering that Aeroplan's website said their itinerary had been cancelled.
That was obviously a huge concern for those who had by now made plenty of other travel plans around their first class redemption (which would be necessary for U.S. based readers since this first class availability was only between London and Abu Dhabi).
We heard specific details from one reader that we examined and it was an odd situation: their flight was still being sold by Etihad in economy class and business class and it was still listed to be served by an A380, but Etihad wasn't selling first class tickets at all on the flight (neither awards nor revenue fares). That was a weird data point: it sounded like a possible equipment swap since they were no longer selling first class seats, but they still advertised it as being operated by an A380.  Other readers reported the same experience with flights on different dates.
Reader success reinstating an Etihad A380 first class itinerary through Aeroplan
The good news is that a reader who provided a detailed account of what happened with their reservation was able to get it reinstated yesterday. I enjoyed reading this story too much to paraphrase, so here is the reader's story in her own words:
I finally had a break in my schedule today and decided it was time to call Aeroplan, fully prepared for this to be an "all day on the phone" type thing. It took 2 hours to get through to an agent, but boy was the wait worth it. I was connected with Lisa who is, I can only assume, an actual goddess.

I explained to Lisa that I had an award booked via Aeroplan for an Etihad flight and that I had received notice from Etihad that my flight was cancelled, but that I was aware that the flight itself was still operating. Without missing a beat Lisa replied with "Oh, yeah. I dealt with one of these other day." Without further explanation, she started hammering away at her keyboard. Occasionally she would mutter under her breath "alright, let's go into revenue" "fourteen, fifteen" "seats." I had no idea what was going on, but I know not to interrupt an artist when they're working. After a few minutes of this Lisa piped in with, "now do you remember which seat you had booked?" I told her, 1H. She responded with "then 1H you shall have again." More typing, more muttering. Then, "alright, you should have an email in your inbox."

I checked my email. I did indeed have an email from Aeroplan with a confirmation rebooking me on the same flight, somehow even under the same booking reference (I have since been able to pull up the booking on Etihad's website as well).

I was speechless. When I regained my ability to speak, I thanked Lisa profusely.
Cheers to Lisa! And congrats to our reader on getting the itinerary reinstated. I was genuinely happy to hear that Aeroplan fixed this.
Aeroplan plans to automatically reaccommodate affected passengers
We were happy for that reader, but we reached out to Aeroplan to find out what happened here and what other affected passengers should do. The good news is that we were told that those affected do not need to do anything — it sounds like Aeroplan intends to fix broken itineraries without customer intervention. Here's the statement we received from Aeroplan:
We've learned from Etihad that they processed several schedule changes in anticipation of potential aircraft substitutions in some markets. For example, on the LHR-AUH route, some A380 flights were schedule changed to only have a Business Class cabin. This then triggered a schedule change on our end, which resulted in many customers being reaccommodated onto different flights.

We are going to take all these impacted reservations next week and work directly with Etihad to reaccommodate them as best we can so that individuals won't have to reach out to act on their own.
Aeroplan went on to say that they will keep us posted, so we hope to have more information as it becomes available.
In the meantime, if you were affected by these changes, it appears that your options are to sit tight or hope that Lisa is the agent who answers after two hours on hold. It sounds like Aeroplan and Etihad are working to make the situation right, so you might save yourself the time on hold and potential frustration. You may get lucky and find an agent like Lisa who can fix things for you, but I could also imagine an agent who is unfamiliar with the situation seeing that the itinerary was cancelled and refunding your miles while saying there is nothing else they can do. I might rather sit tight and wait for Aeroplan to fix this than chance that an uninformed agent fixes it the wrong way, but the somewhat unsettling piece is that Etihad has started selling first class seats again on some of these flights. If I had four or five or six seats reserved in a first class cabin that only holds 9 passengers, I could imagine being more nervous about getting the seats back before they are sold to someone else. In that case, I might fee; tempted to follow up sooner rather than later. With one or two passengers on my itinerary, I might be more inclined to wait.
Unfortunately, it sounds like Etihad may intend to make at least some equipment changes. That certainly could end up being a huge bummer for those who have first class booked and get swapped for a plane without a first class cabin. Sadly, that is how the cookie crumbles sometimes in this game as schedule and equipment changes do happen. I would be massively disappointed if I had planned a trip around a first class apartments redemption only to be downgraded to business class (which surely isn't bad if you are primarily viewing your booking as comfortable transportation, but in this case I imagine that for many people Etihad apartments is like a destination in itself). Hopefully Aeroplan and Etihad will be able to accommodate passengers somehow.
Bottom line
Etihad recently had wide-open A380 first class availability for up to 9 passengers. Unfortunately, some readers received a change email this week and Aeroplan.com is showing their itineraries as cancelled. The good news is that Aeroplan is aware of the situation and reports working with Etihad to reaccommodate those who are affected. Overall, I'm glad that Aeroplan has recognized the issue and is working to resolve it rather than passing it off as something out of their control. I do wish that they would have communicated this directly with those affected passengers before anyone cancels for a refund thinking that they have no recourse, but hopefully most readers either didn't realize that the change emails showed up as cancellations and/or didn't act to refund their itineraries yet.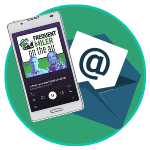 Want to learn more about miles and points?
Subscribe to email updates
 or check out 
our podcast
 on your favorite podcast platform.