Albertsons and other stores using Just For U (Safeway, Shaw's, Tom Thumb, Vons & more), have a bunch of new digital coupons available today for various types of gift cards. The two for Visa gift cards can save you up to $25 – both of which are profitable – while there are also coupons for Google Play, AutoZone and Happy gift cards that can save you up to 20-25% on gas.
The Deals
Albertsons & other Just For U stores have the following digital coupons:
Visa gift cards:
Happy gift cards – Earn 8x Reward Points:
Third party gift cards – Earn 10x Reward Points:
Key Terms
Visa gift cards – limit 1.
Happy, Google Play & AutoZone – unlimited use.
Expiry dates:

Google Play – August 28, 2019.
Visa – August 31, 2019.
AutoZone – August 31, 2019
Happy – September 7, 2019.
Quick Thoughts
Both of the Visa gift card digital coupons are profitable. The $15 coupon for two $100 VGCs should make you $3.10, while the $10 coupon for two $50 cards should make you $0.10. Not huge moneymakers, but it's almost $300 of grocery store bonused spend for better than free.
The Happy, Google Play and AutoZone coupons are excellent deals for anyone with a large gas tank or for those of you with two or more vehicles in your household that can be filled at the same time. That's because Just For U Reward Points can be used to save on up to 25 gallons of fuel in one transaction.
With the Happy gift card deals, you'll earn 8x Reward Points. Buying a $125 gift card will earn you 1,000 Reward Points which is good for $1 off per gallon. If you can fill to that 25 gallon limit, you'll be saving $25, so 20% back based on the value of the gift card you'd have bought. Even though MetaBank added terms excluding third party gift card purchases at Home Depot and Bed Bath & Beyond with certain brands of Happy gift cards, that doesn't seem to be hard coded. It should therefore be possible to use brands like Happy Guy and Happy Lady to save 20% on a wide range of other gift cards – including Visa and Mastercard gift cards – at those stores.
The Google Play and AutoZone deals are offering 10x Reward Points which means you'll save up to 25% back which could make one or both of those profitable for reselling.
Even better, the Happy, Google Play and AutoZone gift card deals are unlimited use, so your overall savings are only limited by the expiry dates of the digital coupons and how much you need to spend on gas before the Reward Points you'd earn from them would expire.
With the deals offering Reward Points, the 20-25% savings are predicated on you being able to fill your car with 25 gallons. I think the most we've ever filled our car with was 12.5 gallons and that's when even the fumes were running on fumes. (Side note: doing that while driving through the middle-of-nowhere Texas isn't recommended. It's also not a great relationship enhancer with your wife who hadn't wanted to let car fall below 1/4 tank along the way.) That means the most we'd be able to save from this deal would be 10-12.5% which isn't anywhere nearly as good.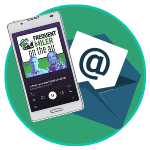 Want to learn more about miles and points?
Subscribe to email updates
 or check out 
our podcast
 on your favorite podcast platform.