Amazon has a new promotion that offers a 50% discount off of the first order using a new business account. This is one of the best Amazon Business offers that we've seen, as the maximum discount is $150 (on a $300 order). The offer is targeted and only applicable to the first order after registering a business account, so not all business account holders will be eligible.
The Deal
Amazon Business is offering a 50% discount off of the first order using a business account, up to a total discount of $150.
Also offers one year free of Business Prime Duo which is an add-on for small business owners already shopping on Amazon.com with an Amazon Prime membership, to add work benefits to their Amazon Business account.
If registering for a new account you need to wait 72 hours after registration in order to redeem the coupon (but the discount comes off at checkout, so if you see the $150 off, it's working)
Must register by 9/30 and redeem by 10/30.
Direct Link to Promotion Page (our affiliate link)
How to redeem
Sign-up for a business account using the log-in on the promotional page.
Login with your Amazon Business account.
Add item(s) shipped by Amazon to your basket
At checkout enter the promo code SBM50 and a discount of 50% up to $150 USD will be applied on eligible items.
Terms and Conditions
The maximum benefit you may receive from this offer is 50% on your first purchase up to $150 USD.
The maximum benefit you may receive from this offer is $150 USD.
This is a limited time offer. Offer valid for selected Amazon Business customers for 30 days since receiving your promotion code.
Promotional code only applies to customers that has less than 30 days since they registered to Amazon Business and for its first purchase.
The client would need to wait 72 hours after registration in order to redeem the coupon.
Offer can be redeemed by applying the promotional code SBM50 on a verified Amazon Business account. This is an invitation-only offer.
Offer only applies to all physical products fulfilled by Amazon.
Taxes, shipping and handling, and gift wrap charges do not apply when determining minimum purchase amount.
Items must be purchased in a single order and shipped at the same speed to a single address.
Offer limited to one per customer and account.
Promotional code expires at 11:59 p.m. (PT) 10/30/2022
The promotional code expires 30 days after registration. (The last registration can be made on the 9/30/2022 and could be redeemed until the 10/30/2022)
Offer discount will be allocated proportionally among all promotional items in your order.
If any of the products or content related to this offer are returned, your refund will equal the amount you paid for the product or content, subject to applicable refund policies.
Unless an Amazon Gift Card is the stated benefit of the promotion, promotional codes (including those placed directly in accounts) may not be redeemed for Amazon Gift Cards.
The offer does not applies on products from the BOSE brand.
Quick Thoughts
This is a nice discount…if you are targeted and can get it to work. Note that it is only valid for the first order on a business account (which is free to create) but the discount won't work within the first 72 hours of registering a new account. So, if you have a business account, but haven't yet made an order in it, just use the code and see if it works. Otherwise, open a new business account and wait 72 hours before attempting to redeem the code. Also worth noting, if you add Amazon Business on a Prime account (without registering for Duo), you lose Prime on that account and get a prorated refund.
I don't have any experience with Business Prime Duo, but from the comments on this DOC post, it sounds like folks were able to register for Duo AND use the promo code.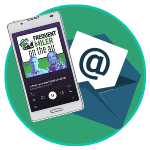 Want to learn more about miles and points?
Subscribe to email updates
 or check out 
our podcast
 on your favorite podcast platform.