On last weekend's Frequent Miler on the Air podcast, Greg and I fieled a reader question about our apparent reluctance to book advance purchase, nonrefundable hotel rates. The reader asked whether we had considered using a credit card with travel protections (like trip interruption or cancellation) in order to "have our cake and eat it too". But as we answered on the show, our preference for booking flexible rates extends beyond a fear of something unexpected derailing our trips. Indeed, flexibility is one of the things I have grown to love the most about this game — and you don't necessarily need to pay for it.
Why I hate to book nonrefundable rates
For years now, I have rarely ever considered booking a nonrefundable hotel rate. There was one time in 2018 when I booked the Hyatt Ziva Los Cabos on a nonrefundable rate in order to make a low price guarantee and stack it with the old Citi Prestige 4th-night-free benefit. I did that in part because if it were successful it would be so cheap thanks to the stack and in part because whether it were successful or not, I would write about it. Absent any of those pieces, I probably wouldn't have done it. That's how rarely I book something nonrefundable: I can tell you the time more than 4 years ago when I last remember doing it.
There are a number of reasons why I am not interested in nonrefundable hotel bookings. Why do I want the flexibility to cancel? There are a lot of reasons:
Maybe someone in my family will get sick and we'll need to cancel the trip
Plans may simply change (like a family event falling at the same time or availability will pop up for a different trip that we'd rather take, etc)
I may find an even better deal on some other hotel that I'd rather book.
I may find an even better deal on the same hotel. Hotel prices often fluctuate and I'd like to be able to rebook when prices drop.
That's not an exhaustive list but rather just a few examples. The third point above, that I may find a better deal on some other hotel, is fresh in mind thanks to the incredible flash sales we've seen from IHG a couple of times recently. Just a few weeks ago, I was able to book a room at a nice-looking IHG property for about $125 worth of points per night at a property where the cheapest flexible rate is €387. The cheapest non-refundable rate is €348. I sure am glad that I didn't have a booking for a nonrefundable rate like that when the IHG flash sale came around! We saw an even better deal when most IHG properties sold for 16K points for a single Saturday night next year. In my post about that deal, I showed properties going for north of $500 per night that could be booked with points often purchasable for $80.
Point #4 above is another one that certainly matters to me. I frequently search my existing reservations for better deals. Back in July, I stayed at the Westin Dragonara Resort Malta. I originally booked my stay for a total of €1779. A few says later, I cancelled and rebooked the same dates for €1637. A couple of weeks after that, I rebooked the same dates for €1183. A few days before check-in, I cancelled and rebooked again for a total of €1050. I had also made an award booking for the same dates, but by the time the price bottomed out the value using points wasn't very good; I was glad to pay and earn points instead. I don't know what the nonrefundable rate was the day that I originally booked a flexible rate of €1779, but it definitely wasn't as low as €1050. I use this same strategy all the time; earlier this week, I rebooked a Fine Hotels & Resorts stay for my 3 Cards 3 Continents trip because it dropped in price by $12. You may not find it worth the hassle to rebook for $12, but I don't find it worth the hassle to be nonrefundable and let those $12 wins slip away.
On the flip side, I know that I've overspent at times by booking a flexible rate rather than a nonrefundable one. There are times when my plans are pretty firm and I'm booking travel pretty close-in and even then I'm hesitant to book something that locks me in (we both admitted this on the show). However, I'm not sure I've come out very far behind thanks to commonly-available discounts that can approximate nonrefundable rates.
Can you get the same discount without overpaying?
In addition to my fear of committment outlined above, one of the key reasons that I rarely consider booking nonrefundable rates is because I find it is often possible to match or beat the nonrefundable discount with other commonly-available discounts.
Let's take a completely random hotel and market for example: let's imagine I want to spend a night in Chicago, Illinois on Saturday, October 22, 2022 (coincidentally the weekend of the Chicago Seminars). Here are some example cheapest nonrefundable rates vs "member rates" (for members of the hotel's loyalty program) chosen at random (I tried to pick properties that were well-reviewed in each chain but didn't otherwise cherry-pick these examples).
Renaissance Chicago Downtown (Marriott)

Nonrefundable: $375
Member rate (3-day advance cancellation policy): $417
AAA flexible rate (same 3-day advance cancellation policy): $395

SpringHill Suites Chicago Downtown River North (Marriott)

Nonrefundable: $332
Member rate: $351
AAA flexible rate: $314

Ambassador Chicago (Hyatt):

Nonrefundable: $360 (Members Advance Purchase)
Member Rate: $380
Freelancers Union (free to join, flexible until 24hrs in advance): $340
AAA (flexible unter 24hrs in advance): $370
AAA flexible: $340

Hyatt House Chicago / West Loop-Fulton Market

Nonrefundable: $320
Member Rate: $355
Freelancers Union: $314
AAA nonrefundable: $320
AAA flexible: $355

Holiday Inn Chicago Downtown Wolf Point (IHG)

Nonrefundable: $307
Member Rate (7 day advance cancellation): $341
Member Rate (1 day advance cancellation): $365
AAA Rate (1 day advance cancellation): $323

InterContinental Chicago (IHG)

Best Flexible Rate: $450 (3 day advance cancellation)
AAA Rate (3 day advance cancellation): $407

La Quinta Inn & Suites Wyndham Chicago Downtown

Member Rate (flexible): $142.10
AARP rate (flexible): $130.50

Wyndham Chicago O'Hare

Member Rate: $131.42
AARP rate: $119.20
As you can see above, on a single night in a single city, my success rate in getting the best deal via flexible rate wouldn't be 100% — in some cases, the advance purchase rate would save me some money. However, in other situations, there are competing flexible rates that are the same or better than the flexible rates. Indeed, I had one outlier in Switzerland a couple of years ago where the AAA rate was about 30% less than the standard rates at the hotel (I didn't complain).
There are a number of commonly-available flexible rate discounts. The most obvious is AAA. Membership in AAA will cost something around $50 per year for the cheapest plans. T-Mobile customers can currently get a free year of AAA, which is something that I recently did. Otherwise, my wife has been on a family AAA plan with her parents since she started driving as a teenager, which is why I hadn't bothered getting my own membership until T-Mobile came out with the free one. We've never had a problem using her card even in cases where the room was in my name and the desk agent asked to see the AAA card (which hasn't happened often, but has happened to us a handful of times). The Hilton website requires that you enter your AAA number to search for AAA rates, but once you connect a AAA number to your account it sticks in there for a long time, so you don't need to re-enter it.
But AAA isn't the only game in town for flexible rates. AARP offers rates with a number of chains (more info here) and is very cheap to join (they often run a sale around Black Friday where you can get a couple of years for around $12). You may note the Freelancers Union discount in the Hyatt examples above. That one was new to me recently; I stumbled upon it on the Internet and found that the Freelancers Union is free to join, requiring just your name and email address. Many chains also offer discounts for veterans and of course there are many other corporate codes and government rates for which you may qualify depending on your work (I'll note that a government employee recently reached out to note that Hyatt has made a change in its government rate supposedly requiring hotel front desk agents to check for official work orders, making it impossible for government employees to use the government rate for leisure travel, though I haven't yet heard DPs of front desk agents asking for additional information. YMMV for government workers).
The bottom line for me is that I can often approximate the savings of an advance purchase rate without locking myself in to a rate I can't change.
Awards offer the ultimate flexibility
Flexibility is of course one of the things I love most about using miles and points. I love being able to book a stay for a trip that we might take knowing that I have the freedom to change plans later for any of the plethora of reasons that they may change. One of the things I found most compelling about award travel when I began to dip my toes in these waters was the newfound sense of freedom in being able to book and change trips. Before getting into miles and points, I only ever booked nonrefundable flights and hotels (and usually through online travel agencies rather than direct). I had no flexibility at all on travel plans, so perhaps some of my love of the freedom of flexibility is a response to years of inflexibility.
With young kids at home, flexibility matters to me now more than ever. Kids get sick, school events come up, etc. There are plenty of reasons I may want to cancel. Some of them may be covered by credit card travel insurance (like illness), but others will not be. Even in cases where credit card travel insurance may have covered me, I highly value the flexibility of being able to change or cancel without having to contact the credit card company to file a cancellation claim.
For many reasons, as they say, you'll have to pry my flexible bookings out of my cold, dead hands. Thankfully, hanging on to my love of flexibility probably won't cost me much more with a combination of award travel and the right flexible rates.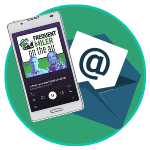 Want to learn more about miles and points?
Subscribe to email updates
 or check out 
our podcast
 on your favorite podcast platform.