Update 12/16/19: Doctor of Credit reports that funds are being returned to Mastercards gift cards affected with the line item noting "Missing MasterCard Settlement Credit'", though it's unclear whether this has only happened for those who filed a dispute or for everyone. It's worth checking any cards you had caught up in this. Personally, I've been overly cautious in leaving a few cents on all of my GCs lately (both VGCs and MCGCs) and likely will continue to do that going forward based on DPs from the comments on this post. (H/T: Doctor of Credit).
Many users are reporting a new major issue over the past week with Mastercard gift cards. Reports are indicating that when users attempt to use the cards at some stores, the payment terminal is showing a "Not Authorized" error, but the card is being drained anyway. Comments at Doctor of Credit and reddit indicate the issue has happened at a wide range of stores, including Kroger (and affiliates), Winn Dixie, Publix, Harris Teeter, Walmart, Dollar General, Family Dollar and more . This one looks messy and I've not yet seen any reports of resolution, so I would recommend laying low with Mastercard gift cards at the moment (and certainly keeping your receipts even when purchases do not go through).
While there have been noted issues in the past with Mastercard gift cards (particularly from Office Max / Office Depot), the issue there has long been fraudulent draining shortly after activation and before the purchaser is able to use the card. This new issue is different: people are reporting that they attempt to use their Mastercard gift card at a store where it is expected to work (specifically for money order purchases at a number of different grocery store chains or for Bluebird / Serve loads, but I've seen at least one report of this happening with a regular purchase at a grocery store) and the payment terminal is showing a "not authorized" error but draining the card anyway. As you can imagine, that puts the customer with the gift card between a rock and a hard place, with the gift card issuer saying that the retailer charged the card and to follow up the them and the retailer showing that the transaction was declined.
Many people specifically note the issue happening with Metabank cards, including those purchased at Staples during the recent fee-free promotion and with $500 Mastercard Gift Cards purchased elsewhere. Blackhawk has apparently been telling people to wait 5-7 business days for the funds to be automatically returned and if they are not after that time to then file a dispute with the retailer, but reports I've read indicate that each retailer has reported that the transaction shows as "declined" in their system and to contact the issuer (Blackhawk). Some speculation is that the cards are auto-draining to zero when the system goes to authorize payment and that perhaps using them for a transaction of less than the total card value might not cause the same issue (i.e. using a $200 card for a transaction of $199.98 may not drain the card, whereas using a $200 card for a full $200 swipe is draining the card). Note that I haven't seen enough data points to back that up as fact.
It is possible that this is just some sort of lag in returning the funds to the cards that will happen automatically, but I've seen reports of this happening as far back as 10/22 to some folks with no resolution reported yet. I'm hopeful that this one will resolve itself, but if you're sitting on unused Mastercard gift cards, you may want to avoid the grocery store / Walmart / Dollar General and associated stores with them for now. At least one commenter reported prepaying utility bills with the cards without an issue this week, so my best guess is that the issue is somehow confined to transactions via an in-person point-of-sale machine.
This is also a reminder of the importance of keeping detailed records. I could see someone who is less organized getting cards mixed up and later seeing $0 balances and assuming that these had been used. While receipts haven't been of much help to folks thus far, I would imagine that having both the physical card and receipt will better position you for an eventual resolution. Here's hoping it comes sooner rather than later for those affected.
H/T: reddit, Doctor of Credit, and Miles to Memories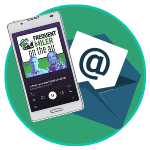 Want to learn more about miles and points?
Subscribe to email updates
 or check out 
our podcast
 on your favorite podcast platform.