American Express has announced that a new benefit will be added to the personal Platinum card from July 1, 2018 – a $100 credit each year for Saks Fifth Avenue.
You'll get $50 to spend from January to June each year and then a further $50 from July to December. That makes the benefit slightly more complicated to keep track of, but it's a nice little addition.
Similar to the monthly Uber credit, the Saks Fifth Avenue credit will only be available on the personal Platinum card. The business Platinum misses out on the love again, although the business version of the card has a lower annual fee which is presumably why it didn't get this additional benefit. Similar to the airline fee credit, you'll have to register here for this benefit first (registration opens on July 1).
I've never shopped at Saks other than for gift cards when there's an Amex Offer, so I've no idea how far $50 will get you every six months. If nothing else, it should be possible to simply purchase a $50 Saks gift card twice a year. You could then stock up on these $50 credits until you have enough for something you have your eye on, or you could resell the card for 75%+, making this benefit worth at least $75 in cash each year.
This new benefit makes it harder to decide whether to keep my wife's Platinum card for another year. Her first annual fee's due to hit in a few months (she has the Ameriprise Platinum card which has no annual fee the first year), so I'd been figuring we'd cancel or downgrade the card.
$550 is a steep fee, but with the $200 airline credit, $200 in Uber credit (which we use for Uber Eats each month) and now this new $100 benefit, the value proposition's changed. Those credits still don't total $550 even if you value them at 100% (which I don't), but the other benefits can make it worthwhile. We've been able to access Centurion lounges and Delta Sky Clubs a few times this past year thanks to the Platinum card, so this Saks benefit might tilt things in the card's favor when it comes to decide whether or not to keep it Either way, we'll be able to take advantage of the benefit once before the end of the year as it starts in a few days.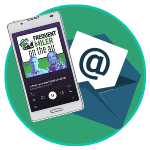 Want to learn more about miles and points?
Subscribe to email updates
 or check out 
our podcast
 on your favorite podcast platform.