As was widely reported yesterday, American Express is planning to institute a new $50 fee for guest access to Centurion lounges beginning in February 1, 2023. Platinum and Centurion cardholders will continue to enjoy the lounges free of charge, but will no longer get any complimentary guests at that point.
This change will presumably lead to less crowding in Centurion lounges, but I have to wonder if this was the ideal solution for that. It seems like a pretty customer-unfriendly move and one that puts cardholders in an awkward spot when they arrive at the lounge with a travel companion and have to pony up fifty bucks to get their companion in the door. I would imagine that it'll be a while before overcrowding is an issue again at these lounges, though given that the change here takes effect in February of 2023 perhaps they are planning for the future scenario when that changes.
There have additionally been rumors of an increase in annual fee on the personal Platinum card. Not being able to get two passengers into the lounge and also seeing an increase in the annual fee would make it hard for me to justify keeping a Platinum card long term. I have to imagine that Centurion lounge access is a key benefit for Platinum card holders who live near a lounge. Being unable to get P2 into the lounge without either paying $50 or a high annual fee seems like it would be unappealing to many. On the other hand, solo business travelers will probably be fans of this change. We'll see what happens.
Q/T: Doctor of Credit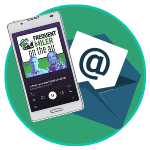 Want to learn more about miles and points?
Subscribe to email updates
 or check out 
our podcast
 on your favorite podcast platform.