Update 6/20: Reader Clara reports getting two offers over the phone: the 180K+10K  Business Gold offer AND an offer for the Business Platinum for 250K + 10K (after $30K spend in 6 months) via the authorized user addition. She was sent links to both and wasn't able to find any "once in a lifetime language" in the terms. She was then able to finish the application online. This is a different Business Platinum offer than the one that we reported was being sent via mailer last month, as that one was a straight 250K and didn't have an authorized user component. We're going to do some more digging, but in the meantime this phone option may be more widely applicable (and lucrative) than was originally thought.
Last week, we wrote about a targeted 130K welcome offer for the American Express Business Gold that's available via certain referral links in some browser configurations. That's the biggest offer that we'd ever seen on the Business Gold.
At the same time we began seeing reports of an even bigger 180K welcome offer that was being mailed out to certain Amex cardholders. Similar to the 130K offer, the 180K did have Amex's usual "once in a lifetime" language, meaning that you were ineligible for the welcome offer if you were already a Business Gold cardholder (or if you previously had been in the last 4-7ish years). The problem was that, without receiving a mailer, there was no way to try and find out if you were targeted for the offer.
That's changed, however, as Doctor of Credit is reporting that you can find out if you're eligible over the phone…and that some folks are getting an offer for an additional 10K Membership Rewards by adding an employee card, bringing the total welcome offer to 190K. I was able to get access to the 180K offer (which I declined), but wasn't offered the +10K employee sweetener.
The Deal
American Express Business Gold targeted welcome offer: Earn 180,000 Membership Rewards points after spending $20,000 within the first 6 months of card membership
Check eligibility by calling Amex at 855-531-3491, decline the first offer, and specifically ask for the 180K offer. It will be necessary to apply over the phone.
Key Card Details
Card Name w Details & Review (no offer)
FM Mini Review: This card may be a keeper for those who use the monthly credits, but keep only if you also make good use of one or two 4X categories.
---
$295 Annual Fee (Annual fee will be $375 for applications received on or after 2/1/24)
Earning rate: Earn 4X in combined eligible purchases in the two categories where your business spends the most each billing cycle (capped at $150K spend per calendar year, then 1x): Electronic goods retailers or software and cloud system providers in the U.S. ✦ Monthly wireless telephone service charges made directly from a wireless telephone service provider in the U.S. ✦ U.S. purchases for advertising in select media ✦ U.S. purchases at gas stations ✦ Transit purchases including trains, taxicabs, rideshare services, ferries, tolls, parking, buses, and subways. ✦ 3x on eligible purchases through AmexTravel.com ✦ 1x on all other purchases. Terms apply.
Card Info: Amex Pay Over Time Card issued by Amex. This card has no foreign transaction fees.
Noteworthy perks:
Earn up to $20 in statement credits each month for eligible purchases at FedEx, Grubhub, and office supply stores. Enrollment required. ✦ Monthly Walmart+ Membership credit when you use the card to pay for monthly Walmart+ membership ✦ 25% Airline Bonus: Get 25% points back after you Pay With Points for flights with your selected airline (or premium cabin with any airline) [Note that this rebate ends 2/1/24]. Terms Apply. (
Rates & Fees
)
Quick Thoughts
This would qualify as the biggest welcome offer that we've ever seen on the Business Gold…and among the largest that we've seen on a Membership Rewards-earning card period. But…is it actually better than the 130K referral offer?
I actually turned down the 180K offer, instead opting for the smaller referral offer of 130K. The reason? The spending requirement on the card is doubled to $20K over six months. That's twice the requirement of the $10,000 required for the 130K referral, but you also have twice as long to make the spend (six months instead of three), which is completely reasonable.
Normally this would be sensational. But, in comparison to the 130K offer, it effectively means that I'm spending an extra $10,000 for an additional 50,000 Membership Rewards. I can also sign-up for the 130K offer using a household referral that gives me another 15K, for a total of 145K.  That means that the extra $10K in spend only gets me 35K MR points.
3.5x MR earning is nice, but with all of the other gaudy "No Lifetime Language" offers on both flavors of Platinum and Gold, I'd much rather put that additional spend towards a second welcome offer (or towards a no-annual fee Chase Ink Cash) and be earning 10X+. I would even prefer to spend that $10K on one of my current Ink Cash cards using the 5x office supply category and take the 50,000 Ultimate Rewards instead.
It says something about the profligacy of Amex over the last two years that the opportunity to earn 3-5x on $10K in spend seems ho-hum…but that's where we are.
That said, I went into the call knowing that I had the option of the 130K offer. If I hadn't been able to find/trigger that offer, but still was able to get the phone rep to offer me the 180K, I'd have jumped at it…and I would recommend that anyone in that situation give it a shot (assuming that they're able to make the additional spend). If you haven't had a Business Gold within the last 4-5 years, it's certainly worth a phone call to check.
(h/t: DOC)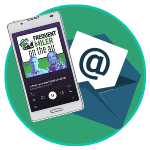 Want to learn more about miles and points?
Subscribe to email updates
 or check out 
our podcast
 on your favorite podcast platform.