Update: The offer for the Business Platinum card has expired and benefits of the card have changed. Please see our Best Offers page for a complete description of the current offer and benefits.
Last fall, when Amex unveiled enhancements to their Platinum cards (5X airfare rewards on personal Platinum cards, and game-changing enhancements to their Business Platinum Card) they stated that these changes were just the beginning.  I took that to be a promise of more good things to come, but maybe I should have taken it as a warning…
Early yesterday morning, news broke about upcoming changes to the Amex Platinum personal cards.  Full details can be found here: AmericanExpress.com/PlatinumUpdate.  Here is a summary of the changes which take effect on March 30th:
Annual fee increases from $450 to $550 (existing cardholders will keep their current annual fee until they renew their membership on or after September 1 2017)
The new card will be made out of metal
Free authorized user Gold cards
$200 Uber Credit and Uber VIP status.  Apparently cardholders will get $15 credit per month (and $35 credit in December).
5X rewards for prepaid hotel bookings made through Amex Travel.
"Expanding Global Lounge Collection"
To me, 5X rewards for booking prepaid rates through Amex Travel is hardly worth mentioning.  If you're willing to book prepaid rates (which won't earn hotel rewards), then you'll almost always do better elsewhere.  For example, you can typically click through a cash back portal to Hotels.com for 7% cash back, apply a coupon and/or earn Hotels.com rewards too.  That way you'll also earn credit card rewards (e.g. 3X with the Chase Sapphire Reserve).
And, having a metal card just means that my wallet would be heavier.  Who needs that?
Free authorized user Gold cards is good, but those cardholders don't get any of the great Platinum card benefits.
An "expanding Global Lounge Collection" may be interesting, but its unclear exactly what that means.  We do know that more Centurion Lounges are being built.  That's great, but Centurion Lounge access was already a Platinum card benefit.
So, the only meaningful changes, in my opinion, are the "enhanced" annual fee ($550 now instead of $450) and up to $200 in Uber credits spread out $15 per month (and $35 in December).  If you use Uber regularly and are 100% sure that you'll use the credits, then it seems like a good trade-off.  For everyone else, not so much.  Would you pay $100 up front for the possibility of saving $200 on Uber rides with a max savings of $15 most months?  I wouldn't.
Terrible Timing
I can't imagine a much worse time for Amex to get in bed with Uber.  After all, the Uber CEO was recently captured on video arguing with an Uber driver…
And the company has been reeling from sexual harassment claims…
And, of course, there was the #DeleteUber campaign…
And I could go on and on.  Regardless of how you feel about these issues, you've gotta admit that Uber has been having a bad year.  I'm sure Amex has had this deal in the works for a while now.  They might just be regretting it though…
What's next?
The Amex Business Platinum Card's 50% rebate when paying with points for flights (with some restrictions) has led many to suddenly consider the card to be worth its $450 annual fee.  But will they feel the same if Amex increases the Business Platinum fee to $550?  I'm guessing no.  I hope that Amex doesn't do it, but its hard to imagine that they won't.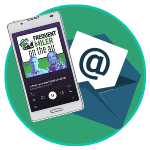 Want to learn more about miles and points?
Subscribe to email updates
 or check out 
our podcast
 on your favorite podcast platform.