UPDATE 8/21/2015: Amex has changed their terms for portal cash back. They now only allow cash back for gift card denominations of $200 and below.  As long as this restriction is in place there is no good reason to buy Amex gift cards through portals.  We will leave this post in place, though, in the hopes that the restrictions will be lifted sometime in the near future.

A number of online portals offer cash back or miles when purchasing American Express gift cards. The idea of buying American Express gift cards just to earn miles or cash back may sound boring to some, but to me it is fantastic. It's a great opportunity to run up spend on credit cards to meet minimum spend requirements, hit big spend thresholds, or just to earn regular everyday rewards.  For more, please see: Amex Gift Card Strategy.
And now, without further ado,  everything you may want to know about Amex gift cards in the form of Questions and Answers…
Q: What are the best current portal offers for buying Amex gift cards?
A: Portal rates for Amex gift cards change regularly.  Here are examples of offers that we saw in 2014:
Barclaycard RewardsBoost portal: 4 miles per dollar
Lucky Rewards: 4% cash back
BeFrugal: 4% cash back
BigCrumbs: 3.5% cash back
TopCashBack: 3% cash back
Alaska Airlines MileagePlan Shopping portal: 3 miles per dollar
Delta SkyMiles Shopping portal: 3 miles per dollar
Unfortunately, Amex gift cards have disappeared from portals a couple of times recently. Since their return, portal rates have ranged from 1.5-2.25%.
The Barclaycard's portal unfortunately also no longer offers Amex gift cards.  Check this CashBackMonitor page and this one for up to date portal offers.
Q: Will I incur cash advance fees?  Which credit cards are safe?
A: Some credit cards do charge cash advance fees.  For example, readers have reported in the past that Citibank cards incurred cash advance fees, however recently transactions have been coding as purchases. Below I've listed cards that are safe, maybe safe and not safe to use based on reader input (so, your mileage may vary).  Please chime in with your experiences and I'll add to this list:
Safe — No cash advance fee for Amex gift card purchases:
American Express
Bank Of America
Capital One
Chase
Discover
HSBC
US Bank
Barclaycard
Note:
Some banks (such as Discover and US Bank) treat Amex gift cards as a cash advance while authorizing the transaction, but it later changes to a purchase. For this reason, if you have a low cash advance limit, your purchase may be declined.
May be safe — Older reports of cash advance fees but more recent reports of not being charged a fee:
Not safe — Cash advance fee for Amex gift card purchases:
Q: I read that Chase charges cash advance fees when buying Amex gift cards. How can I avoid those fees?
A: There was a brief period in 2013 when Chase charged cash advance fees for Amex gift cards, but that has been fixed. Please see this post for more: It's once again safe to buy Amex gift cards with your Chase card.
Q: Is it safe to use a Citibank card to buy Amex gift cards online?
A: Yes & No!  In the past, purchases with some Citi cards were treated as a cash advance.  More recently several readers have reported that their transactions have coded as purchases.  It's possible that Citi handles this differently with different cards, but my advice is to play it safe before making any large purchases.
Q: Do I have to use a credit card affiliated with the portal to purchase Amex gift cards?  For example, do I have to use a Delta credit card to buy gift cards through the Delta SkyMiles portal?
A: No, you can use any credit card to pay and you should still earn points, miles, or cash back.
Q: When shopping through a portal, do I get the advertised bonus on top of the rewards automatically earned by my credit card?
A: Yes.  For example, when the Alaska MileagePlan portal offered 3 miles per dollar for Amex gift cards, you could have earned those 3 miles per dollar in addition to rewards earned automatically by your credit card.
Q: It has been three weeks since buying gift cards through a portal, but I still do not see any rewards activity on my account.  Am I out of luck?
A: Hopefully not. It's common for mile earning portals, to take a month or longer before showing any evidence of large purchases like these.  My advice: be patient.
Q: What credit card will earn the most rewards for these purchases?
A: I'm not aware of any cards that offer a category bonus for online Amex gift card purchases, so your best bet is to use the card that offers the best rewards for everyday spend.  If you're working on completing the minimum spend requirements for a new credit card, then that's a great option (as long as the card is from a bank that doesn't treat the purchase as a cash advance).  Another great option is to use a card that earns a valuable big spend bonus.  Checkout each of these pages for more information:
Q: Gift cards are limited to a maximum value of $500 (when clicking through from some portals). Is there a way to buy larger denomination cards?
A: Yes, simply log into your American Express account from the gift cards page, and you'll then see options up to $3000 in value.  If you don't want to log in, another approach is to simply click "Select a Card Design" under either the Business Gift Cards or Consumer Gift Cards menu.
Q: Will I lose out on portal rewards if I buy denominations larger than $2,000?
Maybe.  Portals introduced language to that effect early in 2015. At this point I recommend buying cards in denominations of $2,000 or less.  Please see this post for more details:  $2K denomination limit on Amex gift card cash back.
Q: Will I lose out on portal rewards if I use a discount code not found on the portal?
A: YES.  Please do not use promo codes unless the portal you use specifically says its OK. See: Promo codes to void cash back for Amex gift cards?
Q: How long will it take to earn cash back or miles from a portal?
A: This varies by portal.  With some portals, I have received miles in about a week to 10 days after purchase.  With the Alaska and Delta portals I've had to wait as long as a month.  With cash back portals, I frequently receive notification within a day or less that the cash back is pending, but it can take several months for the cash back to become payable.
Q: Can I buy business gift cards?
A: Yes, but depending upon the size of your order you may be asked to enter your Tax ID.  If you do not have a business tax ID, simply input your social security number.
Q: Do I have to use a business credit card to buy business gift cards?
A: No.  Some people have been told by Amex reps that their orders were not approved because they didn't use business credit cards to pay.  I don't believe this.  I use personal Amex cards regularly to buy business gift cards.
Q: What are the purchase limits?
A: There is a $10,000 limit on Consumer Gift Cards and $100,000 limit on Business Gift Cards per 14 days.
Q: Isn't it risky to have these cards shipped by mail?
A: Yes, there is always some risk that someone will steal your gift cards before you can get to them.  If that happens to you, I'd recommend that you call Amex immediately.  They should be able to help (I imagine this would take a lot of patience on your part, though!).
Q: Why did my order get declined?
A: There are several reasons why Amex may decline your order:
Your purchase exceeds your cash advance limit.  Some credit cards treat online Amex gift card purchases as cash advances.  In these situations, be glad that your order was declined. Cash advances do not result in credit card rewards, but they do result in unwanted fees.  Also, several readers have reported to me that some credit cards treat the purchase, initially, as a cash advance for the purpose of authorizing the charge, but then put through the actual charge as a purchase.  If your cash advance limit is too low in these situations your order will be declined.
The name and address you input in the order (billing info) do not match your name and address on your credit card.  This information has to match perfectly for the order to go through.
Random chance.  It is common to receive an email from Amex stating that they "could not verify your order information and cannot approve your order at this time."  Sometimes this can be caused by #2, above, but other times it seems to be completely random.  I swear that I've entered in the same exact information with the same credit card for payment time and again, and sometimes it is approved and sometimes declined.  I'm sure it's not truly random, but may be a function of who gets assigned to verify your order, or maybe the cycle of the moon at the time.
Q: Can I use these gift cards to load Bluebird at Walmart?
A: No.  Amex gift cards can be used as credit cards, but not as debit cards.  You cannot setup a PIN.  You cannot use them to load Bluebird, buy money orders, or pay bills at Walmart.
Q: Can I use these gift cards to load Serve online?
A: Probably not. While I've heard a report or two of people successfully using an Amex gift card as a credit card funding source with Serve, it usually does not work.
Q: Can I use these gift cards to load REDbird (The Target Prepaid REDcard) at Target?
A: No. Amex gift cards used to work to load REDbird, but that functionality ended on May 6, 2015 when Target stopped allowing credit card loads.
Q: Can I use these gift cards in-store to buy Visa/MasterCard debit gift cards?
A: Maybe.  Many cashiers have been trained to not allow this, but it is still possible at some stores and/or with some cashiers.  You may have to do some experimentation to find a place where this works.
Q: I've heard that there's an option to sign up for free shipping for 90 days. How do I find that?
A: Make sure to log into your American Express account during the gift card check-out process.  When you get to the screen offering shipping options, you should see the offer.
Q: How can I cash out these gift cards once I get them?
A: Here are some ideas:
Buy stuff you would buy anyway.
Buy Visa or MasterCard gift cards and then use the gift card PIN to cash out.
Buy merchant gift cards through online portals in order to earn extra points or cash back.
Pay federal taxes.  You will incur a 1.89% fee, but that can be partially or wholly offset by cash back earned when buying Amex gift cards.
Pay bills with Plastiq.  You will incur a 2.5% fee.
Audience participation
Do you have additional questions about Amex gift cards?  Or, do you have more information that can be added to one of the answers above?  Please comment below.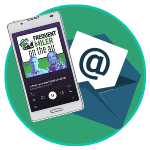 Want to learn more about miles and points?
Subscribe to email updates
 or check out 
our podcast
 on your favorite podcast platform.