Update 2/11/23: We are now seeing an increased referral limit on Hilton cards also. Those cards used to feature an annual limit of 80,000 points earned from referrals, but that limit has now been increased to 140,000 points annually. The original post follows.
A reader named Sam emailed us to alert us to the fact that some cardholders are today seeing an increased limit in the number of points they can earn when referring others to open American Express cards. While you have long been limited to earning a maximum of 55,000 points from referrals on each of your Membership Rewards-earning cards, some cardholders are now seeing an increased cap of 100,000 Membership Rewards points per calendar year from referrals from a single card.
For clarity, we're talking here about the bonus you get when you refer a friend and your friend is approved. Amex offers referral bonuses that range from 5,000 points per referral up to 30,000 or maybe even 35,000 points per referral. The catch has always been that you can only earn a maximum of 55,000 points from referrals on each of your Amex cards.
In other words, let's imagine that you you had an Amex Platinum card offering 30,000 points per approved friend and also an Amex Everyday Preferred card offering 30,000 points per approved friend and let's further imagine that you had two friends who wanted a new Amex card each. If you gave them both the referral link from your Amex Platinum card, you would earn 30,000 points from the first friend approved and only 25,000 points from the second friend since that would take you to the cap of 55,000 points per year from  that card.
If instead you shared the link from your Amex Platinum card with one friend and the link from your Amex Everyday Preferred card with the other friend, you could earn a total of 60,000 points — 30K from each card. You would have been better off referring friends from two different Amex cards since you'd stay under the limit on each and end up with more points.
Now, some cardholders are seeing a limit of 100,000 points from referrals. In my household, my wife and I both see the increased limit only on our consumer Gold cards, but a member of our Frequent Miler Insiders Facebook group reports seeing it on his Platinum card, so YMMV. Unfortunately, my wife and I only have offers to earn 10,000 points per referral on those cards, but readers in our Facebook group have reported receiving the new 100K cap on cards earning 30,000 points per referral. That's awesome!
Doctor of Credit is reporting that some people have received an email about this increased referral cap and some are seeing it online (as shown in my screen shot above) and others aren't. I wonder if perhaps some who received the email just haven't realized that the increased cap apparently does not apply to all cards.
At the end of the day, I'm glad to see the cap increased because it means the opportunity to maximize the value of your cards even more since you can refer your partner when playing in two-player mode as well as friends & family when they inevitably ask you how to travel with points and miles.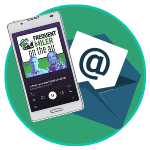 Want to learn more about miles and points?
Subscribe to email updates
 or check out 
our podcast
 on your favorite podcast platform.