Since 2018, Amex has made it possible to earn points when you refer others to Amex cards, even across card brands. That is to say that, for example, you can have a card that earns Membership Rewards points and you can refer someone to a Marriott Bonvoy card and you'll earn a bonus in Membership Rewards points when your friend opens their Marriott card (and your friend will get the bonus associated with the card that they open). This is a unique awesome opportunity that Amex makes possible since it means that you can help friends and family get the Amex card that fits their needs while earning a potentially valuable bonus yourself. We originally published this post a couple of years ago, but I have made numerous updates to add things we've learned about Amex's awesome cross-brand referrals to answer some of the most common questions / points of confusion.
Note: We do not allow referral links in the comments here and we only allow them in specific instances in our Facebook group (and then only in the threads where we have requested them). More detail on how to generate your links and where to share them within this post.
Amex's awesome cross-brand referrals debuted years ago
Years ago, it was only able to refer others to a card that you carried — that is to say that if you had a Blue Cash Preferred card, you could refer people to open the Blue Cash Preferred and earn a bonus for that referral only if they opened a Blue Cash Preferred card. However, thanks to Amex cross-brand / multi-referrals, a Blue Cash Preferred Cardholder (just as one example) can refer people to nearly any card in the Amex portfolio and earn a referral bonus. This is amazing because it means that you can hold a less desirable card, yet pick up referral credits for referring people to a more desirable card. This makes having multiple Amex cards extra awesome.
And in 2023, Amex increased the limit as to the number of points that can be earned from referrals whereby you can earn up to 100,000 points / $1,000 cash back in referrals from each of your Amex cards. A couple playing in two-player mode or someone with a large network of friends and family has the potential to earn a nice chunk of points from referrals.
How to generate your referral links
At a base level, it is fairly easy to find your own referral links. Simple log in to your Amex account and you can typically find a box between your card account information and Amex Offers with a button to "refer now".
Alternatively, if you scroll to the bottom of the page while logged in, you can hit the "Refer A Friend" link to be taken to a page where you can scroll through all of your Amex cards and pick one from which to refer.
When you click through there, you will see images of your cards in the top right corner and you can select the card from which you would like to refer others. Here you will find a clear display of how many points you'll earn and how many points your friend will earn if they open that same card — though note that you'll get the bonus listed under "you can earn" even if your friend ultimately opens a different card.
From there, you can copy your link in the bottom right corner of that screen shot (cut off) to share with your friends, but then your friend can ultimately choose the card they want. If I shared the link shown above, I would earn 25,000 Membership Rewards points when my friend is approved — whether they choose to apply for the same card (the Business Platinum in this case) or another card. Even if they choose a card that earns cash back or Hilton points or Delta miles, I will receive 25,000 Membership Rewards points if they click through that link and are approved.
Your friend can choose the card they want and you will get your bonus when they are approved
If I shared my Business Platinum card link shown above, my friend would click through it and initially see the associated Business Platinum offer. However, if they ultimately want to open a different card, they can simply hit the button that says "view all cards with a referral offer".
They can then decide whether they'd like to see all business cards or click "Looking for a personal card?" to help find the card they want.
Note that things look a bit different if you click through a consumer card link, but your friend can still easily toggle between business and consumer cards to find the card that suits their needs.
Even after choosing business or personal initially, it is very easy for your friend to toggle between both sides and scroll the list of Amex cards.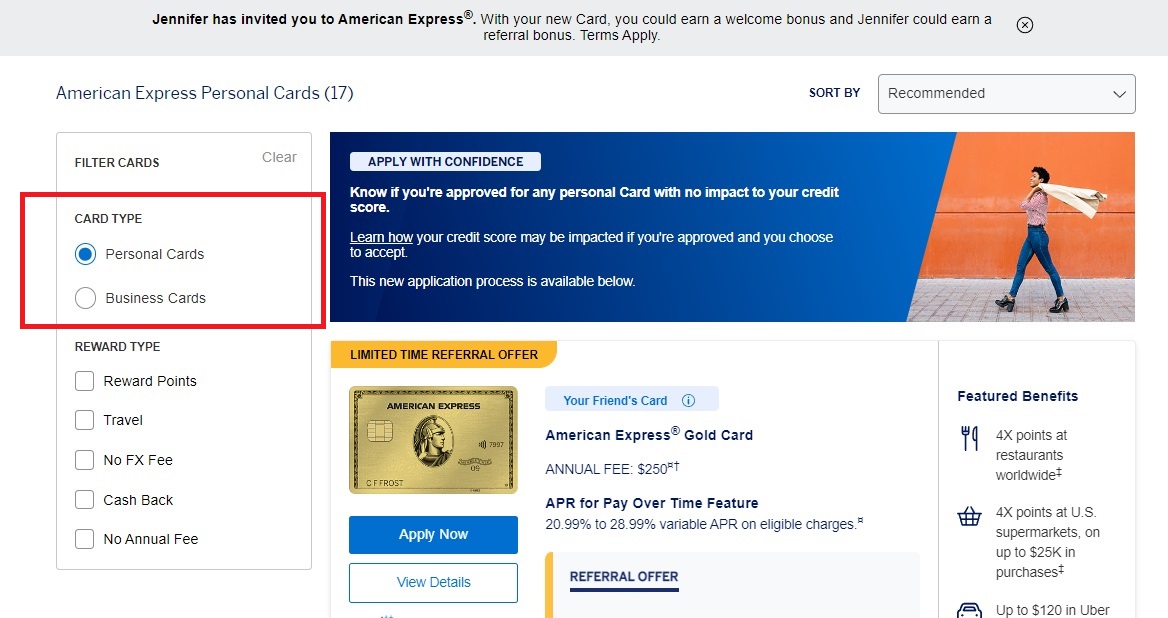 Your friend can look at all of the various categories and use your referral to open an airline card, a hotel card, a Membership Rewards card, etc.
You can even refer from a business card to a personal card or vice versa. You can refer someone to nearly any card in the Amex portfolio. Notable exceptions are that you can not earn a bonus for referring someone to a Schwab or Morgan Stanley Amex card (or other bank-branded Amex cards).
Co-branded Amex cards are limited to referring within a family (but Membership Rewards and cash back cards are not)
Unfortunately, those with a co-brand card are limited to referring within the co-brand family (which is to say that a Delta card can only generate referrals to other Delta cards), though you can cross-refer from personal to business or vice versa. Amex cards that earn Membership Rewards points or cash back are not limited in this way.
Again, if you share a link from your Amex co-branded card (i.e. an Amex Delta card, Amex Hilton card, or Amex Marriott card), your friend will only be able to choose from cards within the same family. If you instead share a link generated from a card that earns Membership Rewards points, your friend should be able to choose from all of the Membership Rewards, cash back, and co-branded cards.
Referring from your Membership Rewards-earning cards is often your best bet
The best part of Amex cross-brand referrals is that when you refer others, you receive the referral bonus based on the card from which you generate the referral link. For instance, in the past, my wife's Amex Gold card has an offer for her to earn 30,000 points for each approved referral (note that this is an old screen shot for a previous, now-expired and far weaker offer for the Gold card).
In that case, she could share that referral link with me and I can choose the card I want and she gets 30,000 Membership Rewards points (even if I choose a Hilton card or a cash back card). That's a great deal that juices up the opportunity to score a lot of points in 2-player mode.
Leverage referrals for in-house bonus points
If you're playing the game in two-player mode, you can leverage referral bonuses to earn extra points for the "home team" if you value points earned for Player 1 and Player 2 (which could be two spouses or two people who chase miles and points together).
At the time of writing, there is an offer on consumer Amex cards that earn Membership Rewards points or cash back to earn an additional spending bonus at U.S. Supermarkets when a friend is approved through your referral link. Amex periodically offers a bonus like this and it stacks with the lump-sum points bonus (like 25,000 or 30,000 points).
Imagine that my wife and I value that extra bonus at U.S. Supermarkets (which stacks on top of the existing category bonus on that card). Even if I didn't really need another Amex card, it might be worth considering opening one just to trigger that bonus. For instance, I could click through my wife's Gold card referral link and open an Amex Lowe's Business Credit Card, which features no annual fee and should not impact my 5/24 status since it is a business card.

So long as I am approved, my wife would earn her stated Gold card bonus (in her case it is 25,000 points when a friend is approved) plus the U.S. Supermarket bonus for 3 months (which is a temporary offer ending 6/7/23). In the past, I've considered opening a card like this just to help her trigger a good referral bonus like that.
It might even make sense to refer Player 2 to a card for which they aren't eligible for the welcome bonus since you'll earn the referral bonus if they are approved (whether or not they qualify for the welcome bonus).
How to share a direct link to the card they want
If you're sharing your referral link with a spouse, you can easily walk them through the process above for picking the card they want. However, if you're sending your link to a friend or family member, you may wonder whether they'll "get it right" and you'll get credit for the referral. If you're worried that the person using your link will get confused and mess something up, you can make it easier by giving them a link directly to the card they want.
Instead, you can click through your own referral link first and then navigate to the card they ultimately want. Let's say you I used my Business Platinum card to generate my own referral link, but my friend ultimately wants the Delta SkyMiles Platinum card. I could click my link, choose "view all Cards with a Referral Offer" at the top, and then choose "All personal cards".
Then I could find the Delta Platinum card and click the card name or the button underneath "Apply now" that says "View Details".

That will bring me to a landing page for the Delta Platinum offer. I can then copy the URL from the address bar and send that directly to my friend. When they click that link, it will bring them directly to the Delta Platinum offer and I'll get the 25K Membership Rewards points referral credit on my Business Platinum card when they are approved even though they opened a Delta card.
For those who are more visual, here is a video that shows the same process. I made it a couple of years ago, so the interface has changed very slightly, but it should make it easy to find what you're looking for.
Where to share your referral links
We don't allow referral links in the comments on the blog. That is first and foremost because we want the comments on posts to be a place for questions and discussion. If we allowed referral links in the comments, questions or comments about the post would get lost in a long list of referral links. Furthermore, comments with links get caught in our spam filter and require manual approval.
Similarly, we do not allow unrestricted referral sharing in our Facebook group (nor do most Facebook groups, and that isn't limited to miles-and-points groups). There are a couple of reasons for that, but the most important one is because if we did allow it, the group would quickly become a sea of referral links with all useful discussion being drowned out. With more than 30,000 people in our Facebook group, if just 10% of people shared their referral links on a given day, that would be 3,000 referral link posts. The group feed would quickly become nothing but referrals — and how long would you remain a member of the group if all you saw in your Facebook feed from Frequent Miler Insiders was other peoples' referral links? I'm sure that people would quickly start ignoring the group and Facebook's algorithm would notice and stop suggesting our content.
Furthermore, we only list the best publicly-available offers on our Best Credit Card Offers page. When we have an affiliate link to a card but the referral offer is better, we only show the referral offer (not our affiliate link). When the best offer is a referral offer and we can't generate our own referral links to it, we solicit help from our Frequent Miler Insiders group to find readers who have links to the best offer — but then only in those threads where we have requested it and only under the first comment where you find all of the other referral links. Furthermore, and this part is of crucial importance, only if you have a direct link to the best publicly-available offer.
Amex offers some cardholders the ability to refer to even better offers
For the past couple of years, Amex has offered some cardholders the ability to refer to better offers than others.
For instance, at the time of writing, the best publicly-available offer for the Amex Business Platinum card is only available via referral. Only some cardholders have the ability to refer directly to this offer.
For example, I have a couple of Business Platinum cards. Some of them point to an offer that only provides the new cardholder with 120,000 points after meeting the minimum spending requirement as you can see under "Each friend can earn".
However, I have one Business Platinum card where it clearly shows in my Amex login that my friend will instead get 150,000 points after meeting the minimum spending requirement (see the 120K crossed out and replaced with 150K).
If I share the link from that card, my friend will see the 150K offer every time they click on it.
Here's where it gets confusing: If I share my referral link that says my friend will get 120,000 points, they will usually see that offer — but they may occasionally see the 150K offer (this is particularly true if they click my link using a fresh browser or perhaps one where they have previously opened the 150K offer). For this reason, I keep multiple browsers on my computer and always check results in various browsers.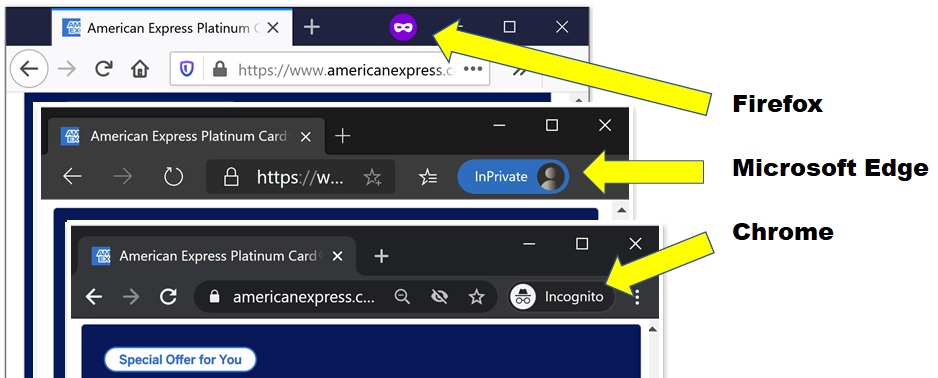 The even crazier thing is that Amex seems to target certain people (or perhaps people in certain geographic areas?) with higher offers and this gets confusing with cross-brand referrals.
For instance, if I follow steps laid out above and use my Business Platinum referral link to create a direct link to the Gold card offer (first clicking through my Business Platinum card, then navigating to "View all cards with a referral offer", choosing personal, and finding the Gold card and clicking to view details as shown in the instructions and video in a previous section), my friend will sometimes see the enhanced consumer Gold card offer (currently 90K points and $200), but sometimes only see the standard offer (60K points and $200 at the time of writing).
This makes things extra confusing with targeted enhanced offers. If your friend ultimately wants the consumer Amex Gold card offer of 90K points and $200, the only way to be sure that they will see that offer every time is to generate a link from a consumer Amex Gold card where it shows that "Your friend will receive 90,000 points" within your Amex login. If you share a link generated from a different Amex card, it may show the 90K offer sometimes, but it won't work every single time. You will want to be sure to tell your friend to keep trying until they receive the 90K offer or direct them to our Best Offers page to find a direct link to the best offer.
Amex referral caps are per card, not per cardholder
One question we get often is "Am I limited to earning 100,000 total points per year from referrals, or 100,000 points per card?". The answer is that the limit is per card.
For instance, I have an Amex Platinum card and an Amex Gold card. I can earn 100,000 points per year from referring friends with the link from my Platinum card and 100,000 points per year from referring friends with the link from my Gold card for a total of 200,000 points from referrals generated from those two cards.
For that reason, you want to be strategic about sharing your link. If you have a referral that offers you 30,000 points per person you refer, you may want to stop with that link after referring 3 friends (for a total of 90,000 points). If you refer a 4th friend from that link, you'll only receive 10,000 points for that referral. If you instead have another Amex card that offers 25,000 points per referral, you would be better off referring the 4th friend from that other card so that you can earn 25,000 points.
Obviously most people don't have capacity for unlimited referrals, but between the large bonuses sometimes offered and opportunities like our occasional referral threads (currently available for the consumer Amex Platinum and Amex Gold (only for those with direct links to the enhanced offers), some people may find themselves in position to be strategic about their Amex referrals.
Bottom line
This cross-referral capability creates the potential to generate a lot of points if you have friends/family interested in bonuses and/or you're playing in 2-player mode with a spouse/partner. You can pick up a terrific bonus for yourself while also referring your friend or family member to the best possible new cardmember offer. Keep in mind that Amex has clawed back points for self-referrals, so make sure you aren't using your own link to apply for a new card. However, sharing your link with a spouse or other friend or family member is fine and a great way for both sides to get rewarded.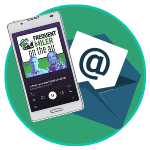 Want to learn more about miles and points?
Subscribe to email updates
 or check out 
our podcast
 on your favorite podcast platform.