UPDATE: Many who have tried this deal have had their DIRECTV payments reversed.  Please see this post for details.
Remember the Amazing Amex deal — $150 free for AT&T customers?  If you have an Amex business card and were targeted for this offer, you still have until April 15th 2015 to get your free money.  And, if you weren't targeted, here's another option…
The above offer is very similar to the AT&T offer except that with this one you have to browse to enroll.amexnetwork.com/US/en/DirecTVOPEN/ to register your Amex business card.  This is great because it makes it possible to register any Amex business card you have, even employee cards.  I was easily able to register two primary cards and two employee cards to this offer.
So what? Who has DIRECTV for Business anyway?  Well, a reader named Eric reports that he enrolled several of his Amex business cards and used them to pay his personal (not business) DIRECTV bill.  And, he did receive the $100 statement credit for the payment!
Register by January 31 2015
You have until March 31 to spend $100 with each registered Amex card, but you must enroll those cards by January 31st.  Don't forget!  Even if you don't have immediate plans to pay DIRECTV for anything, you might as well sign up just in case.
What if you don't have DIRECTV?
The easy answer is to find a friend with DIRECTV and offer to pay $100 to his bill in exchange for, say, $50.
How long does it take to get the statement credit?
Usually this varies a bit from one case to another, but here was Eric's experience when he made a $100 payment online to his personal account:
12/16 – Charge Posted for $100.00 – DIRECTV SERVICE 800-347-3288 CA
12/18 – Credit of $100 shows as posted – DIRECTV INC EL SEGUNDO  with the text  DirecTV100Back
12/19 – Thank You E-mail was sent by Amex
12/19 – While the credit shows as posting on 12/18, Eric did not  see it in his online Amex account until 12/19.
You cannot prepay more than $100
Eric tried using multiple registered Amex cards to prepay his DIRECTV service far in advance. Unfortunately, after the first $100, Eric's payments were reversed out.  So your best bet is to use registered Amex cards to pay your bill in January, February, and March, but don't try to prepay more than $100 at a time.
Eric, THANKS for all of this helpful information!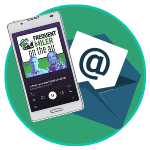 Want to learn more about miles and points?
Subscribe to email updates
 or check out 
our podcast
 on your favorite podcast platform.