Last year, American Express, in its never-ending quest to provide the most expensive coupon book in modern times, gave Platinum cardholders a monthly credit for Walmart+ subscriptions.
Walmart+ is Wally World's attempt to counter Amazon Prime. You get free shipping on items that are stocked by Walmart as well as same-day, free delivery from your local store with a $35+ order. As Stephen pointed out in his terrific post about ways to cut down on gas costs, Walmart+ members also save 10 cents per gallon on fuel at Walmart, Murphy and ExxonMobil stations.
Still, the move by Amex was somewhat mocked across the points and miles ecosphere because, well, nothing says "luxury" quite like Walmart.
Earlier this year, those Walmart credits started to look a little more sexy (temporarily) as members can get 6 free months of the streaming music service Spotify Premium (normally $9.99/month). This deal is for paid Walmart+ members only, and unfortunately only open to users who haven't tried Spotify Premium before (although there may be ways around this…see below).
The Deal
Get 6 months of free Spotify Premium ($9.99/month value) with a paid Walmart+ subscription.
Direct Link to offer (Spotify Page)
Terms and Conditions
Offer redeemable for paid Walmart+ members through May 7, 2023.
Offer applies to Spotify Premium Individual plans. $9.99/month after trial.
Cancel anytime.
Only open to users who haven't tried Spotify Premium before.
How to redeem
You must be a paid Walmart+ member before signing-up for Spotify. If you are a Platinum cardholder, but haven't yet activated your free Walmart+ subscription, go to the "benefits" tab on your Amex Platinum account:
Then, scroll down until you find the Walmart+ credit, click through and follow the prompts.
Once you've enrolled, sign-in to your Walmart+ account and then click the link to the Spotify promotion page, follow the prompts and get 6 months of Spotify Premium for free.
Quick Thoughts.
I've had Spotify for years and absolutely love it. It's a mainstay of my monthly streaming services and provides near-encyclopedic access to almost any artist, musical style or song imaginable. You can also download music to play while offline.
This offer has been around for a couple of months, but the enrollment dates were recently extended, so I thought it was a good time to remind Amex Platinum cardholders that it exists. While I'm disappointed that this doesn't apply to existing accounts, it is an excellent offer and provides a significant (although temporary) improvement to the value of a Walmart+ subscription. That said, I do wonder how many folks that would be interested in Spotify have never signed-up for the service before.
Even though it says that previous users aren't eligible, I was able to sign-up my wife, who has been on my family plan since the beginning, and receive the credit. So, I imagine that it's only tracking whether or not you're a new user by e-mail address, as opposed to household address…which could create some opportunities for current users to get 6 months free using a different e-mail (YMMV…and remember, the e-mail on your Walmart+ account must match the e-mail on your Spotify account).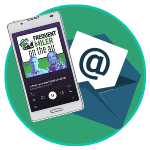 Want to learn more about miles and points?
Subscribe to email updates
 or check out 
our podcast
 on your favorite podcast platform.