Cancelling your card? Having your card cancelled for you? Where should you put your points? We get this question pretty often when people have a need to park the rest of their points for one reason or another. On this week's Frequent Miler on the Air, Greg and I discuss the best programs with which to park your points (and the worst ones) and mull over the pros and cons of each, eventually picking favorites. While we would of course first recommend finding a way to preserve flexibility through a product change, combining with a partner, or opening the right no-annual-fee card, this episode was for those times when there isn't a better option.
Elsewhere on the blog this week you can catch up on the latest in our #3Cards3Continents challenge (Stephen had a terrific Draft Day draw – can Greg or I beat him?), a nice addition comes out for Capital One cardholders, learn why you need to get on the horn for huge phone offers and more. Watch, listen, or read on for more from this week at Frequent Miler.

00:58 3 Cards, 3 Continents, 3 updates
17:31 Giant Mailbag: Comments from live stream draft audience 
21:32 What crazy thing . . . did the Curve credit card do this week?
26:05 Main Event: Where to park your transferable points
28:37 Air France / KLM Flying Blue
33:16 Emirates? No.
33:50 Cathay Pacific Asia Miles
37:26 Singapore Airlines KrisFlyer
37:50 Virgin Atlantic
40:07 Avios (British Airways, Iberia, Aer Lingus, Qatar)
43:05 Air Canada Aeroplan
48:03 Avianca LifeMiles 5
4:12 Qantas? (nope)
54:26 Our favorites
58:22 Question of the Week: What's your favorite brand of luggage? How about your favorite piece of travel-related gear?
Subscribe to our podcast
We publish Frequent Miler on the Air each week in both video form (above) and as an audio podcast. People love listening to the podcast while driving, working-out, etc. Please check it out and subscribe. Our podcast is available on all popular podcast platforms, including Apple Podcasts, Spotify, and many more.
Alternatively, you can listen to the podcast online here.
This week at Frequent Miler
With Brex recently closing the accounts of all small business owners, a number of people have asked us what to do with their Brex points. The same type of question gets posed pretty frequently about cards from other issuers as well — whether you close your account, someone else (i.e. the bank) closes it, or other circumstances necessitate closing it, you may find yourself in a situation to need to transfer points somewhere. Where to park your points is somewhat subjective, although some programs are clearly better options (and others worse). This post shares some of my thoughts on the best options, though this week's podcast features a continuation of the discussion.
Drafting the Dream: The latest 3Cards3Continents posts
This week saw draft day determine the stable of cards that Greg, Stephen and I each have to work with in order to plan an epic trip to (at least) 3 different continents. The rules prevented any two people from getting the same card and the budget prevented any one of us from getting two ultra-premium cards, but I'd say that we each put together a powerhouse wallet nonetheless. Many people were surprised to see two American Airlines cards and so few Chase cards go in the draft. Would you have picked something we didn't?
I loved reading about Greg's 40K to Far Away trip. For our 2019 challenge, we were each on a whirlwind trip on a shoestring budget. Because we were all traveling at the same time and constantly on the go between countries and time zones, it was nearly impossible for each of us to keep up with what the others were doing. I had caught bits and pieces of Greg's story, but I had completely forgotten even the details I knew (like when the roof blew off of his bus! and how *that* was the better outcome than the alternative that day!). We essentially did that challenge on what amounted to a *single* credit card bonus (or even less than some of the best bonuses these days). If Greg could put together something this incredible with 40K points and $400, I can't wait to see what he comes up with this time around.
Speaking of putting together something incredible with a single credit card, imagine what you could do with 180K or 260K Membership rewards points. Now imagine getting those points from a single credit card. I'm including this quick deal post in our week in review because the potential windfall here is too big to miss. These offers are worth a phone call to find out if you are targeted provided that you can meet the spending requirements.
This short post is just to highlight good news for the many Capital One Venture and Venture X cardholders out there: while Priority Pass has lost Plaza Premium lounges, Capital One has picked them up. Venture cardholders can use one or both of their 2 annual free lounge passes and Venture X cardholders get unlimited visits. Plaza Premium lounges tend to be a cut above most non-flagship airline lounges (in other words, they won't compete with Qatar's business and first class flagship lounges in Doha, but on average they are far nicer than an ordinary Priority Pass lounge). If you'll be passing through an airport with a Plaza Premium lounge (like, say, on that #3Cards3Continents trip :-), this could be great news.
Tim recently visited the Hyatt Regency Vancouver. While there aren't many Hyatt Regency hotels that are destinations unto themselves (Park Hyatt Hyatt Regency Hakone aside), this one seems like a terrific value. I've only ever been through the Vancouver airport, but if I get a chance to plan a trip there one day I'd be happy to spend not-so-many points to stay here.
---
That's it for this week at Frequent Miler. Keep your eye on this week's month-ending last chance deals as a number of deals will end on Thursday.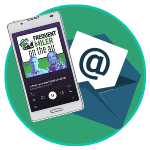 Want to learn more about miles and points?
Subscribe to email updates
 or check out 
our podcast
 on your favorite podcast platform.