I love Avianca Lifemiles. I recognize that many don't, but I do. I wrote an Avianca LifeMiles sweet spots post and I have written about the secret LifeMiles award chart and trying to crack the LifeMiles secret code. I have often noted my affinity for LifeMiles (and I'll briefly mention it again on this weekend's podcast), but it is a program that comes with caveats.
This week, a member of our Frequent Miler Insiders shared an experience that highlighted a big problem with the LifeMiles website: it doesn't always display accurate taxes & fees in the initial search results, but rather you need to have at least 40% of the miles to ticket an award to be sure you're seeing the full picture in terms of cash costs. Thanks to reader Marek for bringing this post to my attention because I see the potential for confusion and how this could turn off a beginner from a program that I assure you has more positives than negatives (it just does have some sizable negatives, and this is definitely one of them).
Avianca doesn't show the full taxes & fees in the search results
A member of our Frequent Miler Insiders Facebook group posted this week about the fact that the Avianca LifeMiles website does not include all taxes and fees until you get through to the final steps of booking. Sometimes the difference is minor, but sometimes it isn't. This is hugely problematic and something that I hope they fix sooner rather than later.
Here was the post in our Facebook group:
Hi

Long time reader, first time poster here.

First time using Life Miles. After lots of research, I found a flight that suited our needs for 12,500 miles and $12.91. As we have lots of travel coming up, we just wanted to keep our cash input minimal and I was happy to spend $38.73 out of pocket on 3 tickets. I thought I did my due diligence in confirming that the spaces available are not phantom awards and United wanted 16,500 miles for the same flight.

I transferred 38,000 amex miles to Life Miles and I was giddy when they instantly transferred.

Just went to add travelers and the taxes and fees are INSANE! The taxes are NOT $38.73, but 374.40!! There was no way for me to see them prior to transferring the AMEX miles.

What did I do wrong?!?
In one of the many responses to this thread, another group member said:
google lifemiles scam. Lots of pages talking about the drawbacks of their program
I am glad to report that this isn't a scam at all. The problem here is just that Avianca's website stinks. And that's a big problem (in more ways than just this). Note that I say this as a big LifeMiles fan, but I recognize that this is something that they should (and should be able to) fix.
Again, the problem here is that Avianca doesn't show the full taxes & fees until the final booking screen and you can't get there without enough miles to ticket the award. Of crucial importance: they don't add any surcharges apart from their own $25 booking fee per passenger, but if you haven't searched your itinerary elsewhere, you could be in for a big surprise when you get to the final payment page as described above.
Let's start at the beginning and in a few minutes we'll get to an example that mirrors the one described above.
If you search the Avianca LifeMiles website for an economy class award within the United States, you'll see that the total shows $5.60 in taxes on the search results page as shown below.
However, I know that Avianca has a $25 partner award booking fee. That flight will really cost $30.60 in taxes and fees in total. Unfortunately, you can't see the full taxes & fees until the final payment step of the booking process. If you don't have at least 40% of the miles required to book the award ticket (at least 5500 miles in this case), you can't get that far in the process.
You need to have at least 40% of the miles required to book the award in order to get through to the payment page (because Avianca allows you to use 40% of the miles required for the redemption and you effectively buy the rest of the miles during the booking process). Only on the final payment page can you see the price with all taxes and fees.
Again, in the economy example above, the difference is relatively minor. I transferred enough points into my account to have 40% of the miles necessary for that award to show what that looks like here. Note that the breakdown below assumes that I'd only use 40% of the miles required (5500 miles) and effectively "buy" the additional 8,000 miles I'd need. Ignore the LifeMiles + Money (Money Adjustment) part (that $199.17 is basically just the chance to buy the rest of the miles necessary at a discount, but it isn't relative to the point of this section). The piece that's relevant here is the Estimated taxes, fees, and LifeMiles/Airline charge for $30.60. That's the total taxes & fees on this award — not $5.60.
Again, the initial search results showed taxes of $5.60. But the final payment page has taxes and LifeMiles charges of $30.60 because you get charged the $5.60 US tax and a $25 booking fee per ticket that is added by Avianca on every award ticket.
In that case, the additional $25 fee would certainly be annoying if you were comparing against a United MileagePlus ticket that cost a similar number of miles. You wouldn't want to pay a similar number of miles and $25 in fees with Avianca, particularly when you consider the more painful cancellation policy (in this case a cancellation would cost $50 via Avianca or $0 if you had booked through United).
However, this becomes far more problematic in countries with higher taxes and fees. And after playing with this for a bit, I think the main problem is itineraries involving more than one carrier.
Avianca itineraries with more than one carrier don't display taxes accurately in initial search results (and the difference can be significant)
For instance, the member of our Facebook group that reported running into this was booking an itinerary from Germany to Croatia. Here is a look at flights from Frankfurt to Zagreb as an example:
If you look closely, you'll notice that some itineraries are listed with $77.85 in taxes (which is correct) and others with just $12.91 in taxes. The $12.91 rates are not correct. (and remember that the itineraries showing $77.85 will also be hit with the $25 Avianca award booking fee for a total of $103.85 on the checkout page).
Almost every country has a departure tax. Back in the day, I remember paying the departure taxes for Ecuador and Peru in cash at the airport (in fact, a friend who came to visit us in Ecuador was awfully thankful that he had set a cash advance PIN on his credit card when he realized in the airport that he needed cash to pay that departure tax and he had no working cell phone and his only debit card had been eaten by a machine during the visit!). These days, departure taxes are typically collected by the airline and included in the cost of your ticket.
You can read about Germany's departure taxes here. Since Croatia is in Band 1 (European Union), I believe that the German government would charge 12.88 Eur in taxes on a ticket departing Germany. However, a bunch of the example itineraries shown above connect in another country — and when you connect in another country, you will often be subject to additional taxes in that country (and perhaps a higher tax rate for departing Germany to get to that third country?). I'm not an expert in how taxes & fees are applied, but I know that in my experience booking award tickets, almost any ticket I've booked (for travel between the US and Europe) that departs or connects in Germany comes with about $100 in taxes & fees per passenger.
Sure enough, that's the case here.
Take for example one of the itineraries above that initially shows $12.91 in taxes & fees. When you expand this itinerary, you see that it includes Frankfurt to Zurich on Lufthansa and Zurich to Zagreb on Croatia Airlines. Whether you select the segments in economy or business, the taxes show $12.91 in the initial search results. I immediately know that this is wrong, but I think it is perfectly understandable that most people would expect this itinerary to have $12.91 in taxes at first glance.
When you click through to the final payment page, the total taxes & fees jump up to $100.80.
If you expand the estimates taxes, fees, and LifeMiles/Airline charges, you'll see the following:
You'll immediately notice the $25 redemption fee at the bottom (by now you expected that part). That means the total taxes on this route are $75.80. I assumed that "DE" stands for "Deutschland" and "CH" stands for "Switzerland". I didn't know what the other letter combinations were (but you'll see in a minute). Suffice it to say that those are normal taxes & fees for a route like this.
We can confirm as much by looking at other Star Alliance carriers that we know do not impose or pass along surcharges but rather only charge mandatory taxes on awards. For instance, United MileagePlus offers the same award (for a different number of miles) with the same $75.80 in taxes per passenger.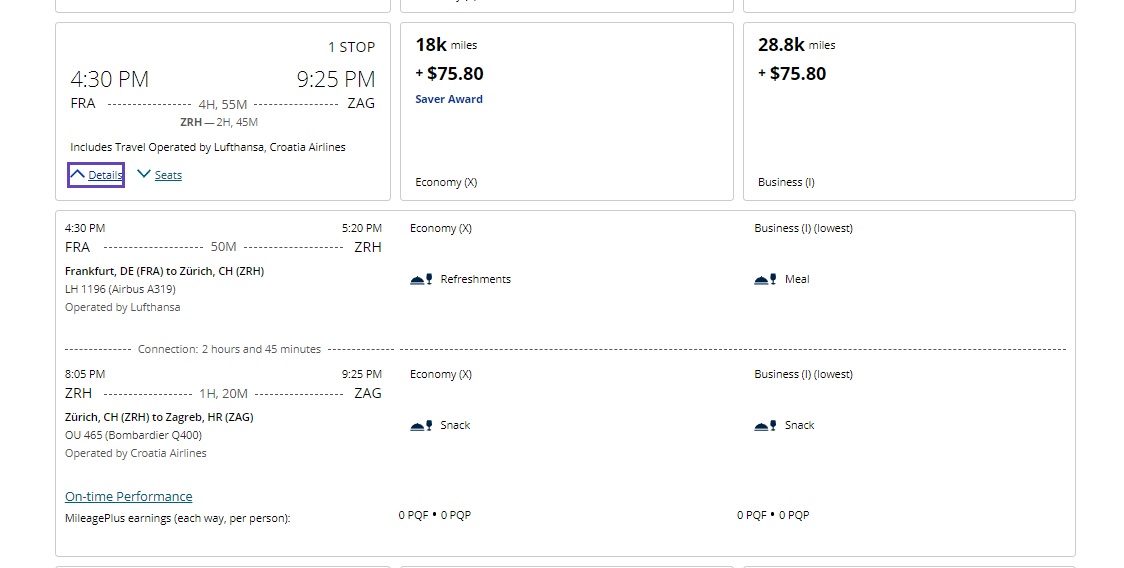 Oddly, I don't see that same itinerary via AirCanada.com, but I would generally expect to be able to cross-reference there as well (and it would be a closer approximation since Air Canada also adds a 39 CAD partner booking fee on all awards, which is just a bit more than Avianca's $25 partner redemption fee).
The main point here is that Avianca LifeMiles is not trying to pull a fast one on you: they aren't adding additional hidden fees (apart from their $25 partner booking fee), they are simply charging you the same fees paid by every single passenger who flies that route. In fact, even if you bought a cash ticket you would pay those fees, you just don't typically look at the breakdown. Here is the same itinerary for sale for $442 at Google Flights:
If we pull up that same itinerary on ITA Matrix, we can see the breakdown of the fare and taxes & fees.
You'll notice that those numbers and associated letters in the red boxes look awfully familiar. Any ticket sold on this route will include those taxes. Some airline programs will additionally tack on YQ / YR carrier-imposed surcharges amounts. For instance, if you booked the same ticket via Turkish Miles & Smiles, it would include an additional 45 EUR in carrier-imposed surcharges.
Don't ask me where Turkish gets 45 EUR instead of about $100 in surcharges seen at ITA Matrix, but that's neither here nor there: the point is that Avianca LifeMiles does not pass on those junk fees.
The problem is that they just don't accurately show the full taxes & fees in the initial search results. I don't mean to minimize that problem: it is certainly a problem. If you were booking 4 passengers on that route and you expected taxes of $12.91 x 4 = $51.64 and instead you were confronted with $403.20 (the actual $100.80 that is taxes + $25 redemption fee per passenger), that's a big difference and an unpleasant surprise. I am showing above that you'd pay most of that four hundred bucks no matter which way you booked your ticket, but it could nonetheless present some sticker shock if you had planned for fifty bucks in taxes and fees and got hit instead with four hundred.
The solution here is two-fold: if you notice a significant difference in the taxes being shown at Avianca versus other flights connecting the same two airports and/or versus what you see for the same awards at United and/or Air Canada, you know the LifeMiles total is wrong. Take the taxes you see at United.com and add $25 and that's what you can expect you should pay for the award taxes & fees with Avianca LifeMiles. Alternatively, use an award search tool and it may display the correct taxes & fees. For instance, I use Point.me and it was close. Point.me accurately showed $76 in taxes through Avianca, Air Canada, or United — it just missed Avianca's $25 partner booking fee.
Bottom line
Avianca's website kind of stinks. If you've spent much time booking (or trying to book) awards through Avianca, that much isn't news to you. But if you don't have a ton of award booking experience, you very reasonably might not recognize when the initial search results are displaying inaccurate taxes & fees. The general rule of thumb is that Avianca won't have lower taxes than any other program since those fees are government-mandated. Whatever you see in terms of taxes & fees for the same or similar itineraries at United.com is what you should expect to pay at Avianca – plus the $25 partner booking fee. In the end, the total you'll pay is most certainly par for the course — but it stinks that Avianca isn't doing a better job to maintain that course so you know what to expect before you transfer points.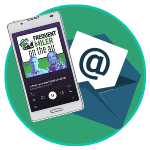 Want to learn more about miles and points?
Subscribe to email updates
 or check out 
our podcast
 on your favorite podcast platform.