I recently had the opportunity to fly ANA in business class aboard its 777-300ER from New York (JFK) to Tokyo (NRT) and then back to the US in Delta One Suites abroad its 777-200LR. Which one was the better pick? Rather than fully review either (you can easily Google either one and read a plethora of reviews), I wanted to directly compare the two in a number of categories that meant something to me. You won't read about the in-flight entertainment options since I didn't watch them on either flight, but rather I'm comparing them based on features that made a difference in our experience. It's worth repeating that both of these are good options: I think most readers would be totally satisfied with either Delta One Suites or ANA business class. I'd ultimately choose ANA over Delta One Suites without hesitation in the future, but depending on what you value, Delta might be your choice. Here's how they stack up.
Pre-flight (Check-in/lounge access): Tie
In this case, it's a tie. Both airlines have a dedicated check-in area for premium cabins with fast and efficient service. However, the airline lounges for both were pretty disappointing.
At JFK, ANA sends you to the British Airways lounge, which is small and mostly just has packaged muffins and fruit to eat. My Priority Pass instead got us into the Alaska lounge next door, which was much nicer but still had no hot food options other than soup or its pancake machine. I did make some pancakes — but, again, that was thanks to my Priority Pass membership, not ANA's contracted lounge.
At Tokyo Haneda airport, Delta shares the lounge  with numerous other SkyTeam airlines. It's quite spacious and has very clean bathrooms, showers, etc. It also had some hot food options (vegetable curry with rice, onion soup) as well as the usual croissants / muffins / etc. This lounge was better than I expected, but not good.
In either case, you can't really count on the lounge for a meal. Given that guidelines generally call for you to be at the airport 3 hours before an international flight, I'd like to be able to grab a more substantial bite before my flight than either of these two provided with their contracted lounges.
First impression / cabin aesthetics: Winner = Delta One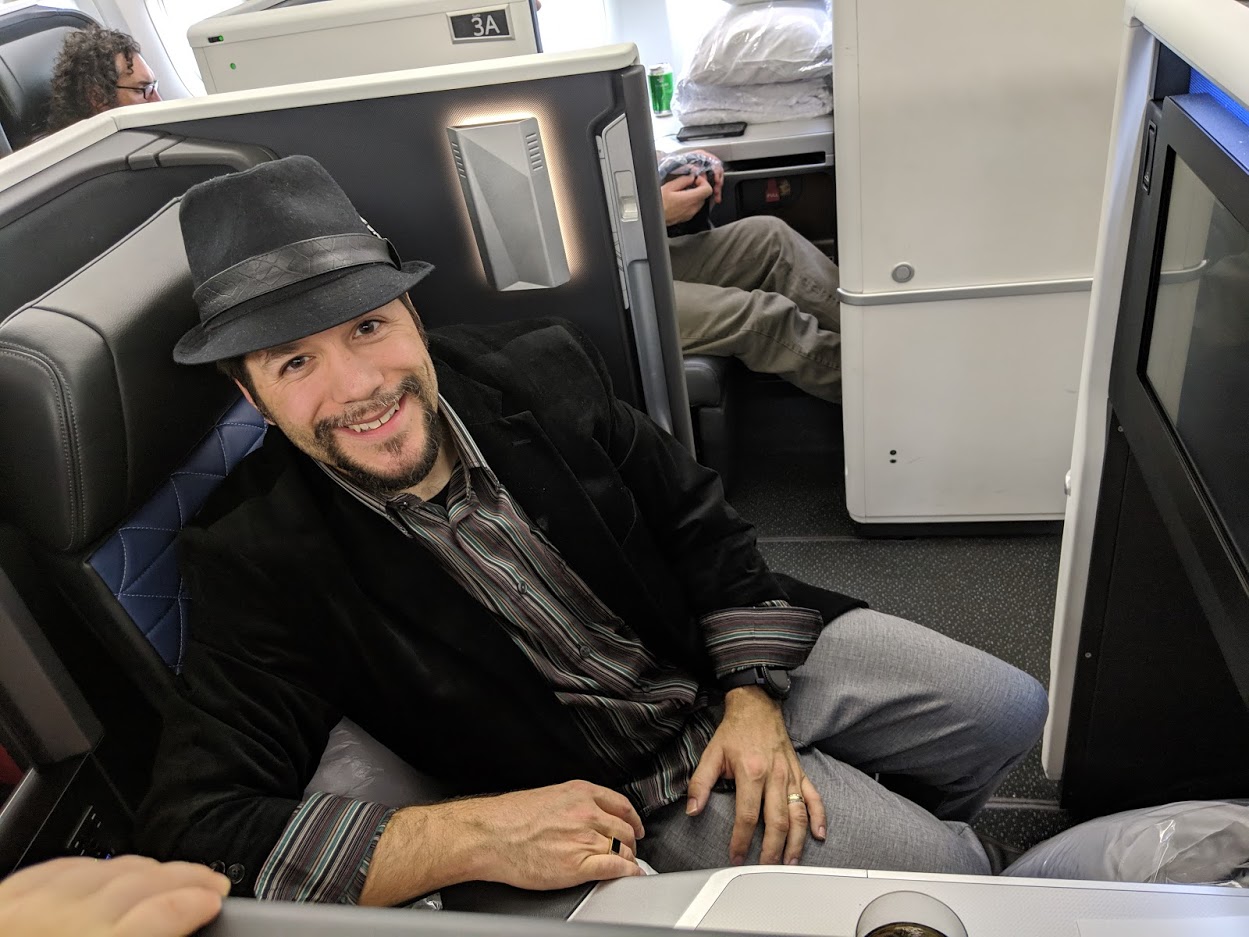 There is no doubt that the Delta One Suites look sleek and cool. I'd seen plenty of pictures and I wasn't really all that sold on them honestly. They reminded me of office cubicles with the short boxy walls. But in person, they look really nice. From the leather stitching to the ambient mood lighting, it just looks modern and cool.
The in-flight entertainment screen feels huge and it was very responsive to the touch. On the other hand, my wife hated the Delta One Suites. The boxy design made her feel claustrophobic and she thought it was not as good for traveling with a baby (more on that later).
Honestly, I feel like ANA's seats just look too simple. ANA's website looks like it was created by someone who designed Nintendo games in the 1980's and I feel like its seat hasn't been given much more attention in terms of modernizing. However, like most things we encountered in Japan, it's entirely functional and space is used well. It just doesn't look as pretty.
Seat Comfort: Winner = Delta One Suites
This is obviously a very personal preference, but if I had to pick one of the two for comfort, I'd go with Delta One Suites. I'm sure my wife would go the opposite way on this one, but I thought that the Delta One Suite's seat felt slightly wider and the leather was a bit more comfortable to me than the fabric of the ANA seat. It definitely stayed cooler than the fabric (even when I used ANA's mattress pad). I found the foot cubby on both airlines to be more cramped than it needs to be, though I'd admit that it felt more cramped on Delta (so if foot space matters to you, ANA might be the better choice by a slim margin). Delta's bedding (both pillows and blanket) were much more substantial.
But what really made the difference here was the suite door. On the one hand, it feels like a gimmick because these suites are so short that you can stand up and look over those doors. But on the other hand, they really reduce noise and traffic in the cabin. In fact, at some point during the flight, I took this picture looking down the aisle:
As you can see, all of the suite doors were closed. That meant two things: very little foot traffic / noise from passengers since everyone was cocooned in their suites and very little disturbance from flight attendants since most people weren't looking for much service. In fact, my son and I slept for just over 6 straight hours on this flight. If meals or snacks were served to my neighbors, I sure didn't notice. I think having the suite door shut kept him sleeping like a baby, if you will.
Food: Winner = ANA
Truthfully, this one is a little unfair. As I noted above, my son and I slept through a little over 6 hours of the Delta Tokyo-Minneapolis flight. We missed both the mid-flight snack and the pre-arrival meal, so I only ate the initial meal service on Delta One. I had a pasta Alfredo dish that was fine, but not memorable (not that I expected it to be when I ordered pasta Alfredo). I tried both red wines available and thought both were awful (I didn't finish either).
ANA, on the other hand, has terrific catering and solidly good wine. Here was the amuse-bouche.
And here was my salad course.
Despite having previously learned not to ever order beef on a plane, I did order the beef this time and it was by far the best beef dish I've ever had on a plane (better than in Etihad or Singapore first class cabins).
But even further than the above, ANA went above and beyond with baby meals. Baby meals can be requested by calling at least 24 hours in advance of your flight and are free of charge. The flight attendants were happy to make up an empty seat for my wife and son at meal time to serve his baby meals. Since we ordered baby meals (rather than toddler meals or something), they consisted of basic stuff: baby food jars, a banana, a soft pasta dish, rice pudding, juice boxes, crackers, etc. But there were several served throughout the course of the flight and that was really helpful for a 14-hour trip.
ANA's website also indicates that they have limited supplies of powdered milk and paper diapers on board as well, though we didn't need those things.
On the Delta One flight to Minneapolis, we ordered our son a "toddler meal" as he has been less and less interested in pureed baby food and more interested in whatever we're eating. We thought the toddler meal would be more substantial, and it was. It's healthiness was perhaps inversely related to its substantialness, but it did the trick. The funny thing here was how the flight attendant kind of excitedly served it saying, "Don't the Japanese people do such a good job preparing this?", as though the catering in Tokyo is significantly better than in the other direction, yet it didn't look quite as aesthetically pleasing as ANA's meals.
Family-Friendliness: Winner = ANA
In this case, both airlines did a decent enough job in terms of catering to our needs in traveling with a baby, but ANA had the overall edge for a few reasons.
First, service on ANA is excellent. We kind of had a lot of stuff to carry on the plane.
An ANA flight attendant noticed us struggling a bit before we even got on board and jumped into action to grab one of our bags for us and follow us to our seats. Not only did that not happen on Delta, but an attendant insisted that one of the above carry-ons would not fit in the overhead compartment even after I opened a closed compartment to show her the identical bag had indeed fit in another bin. It did fit, but the interaction certainly wasn't the same as on ANA.
Beyond that, the cabin layout on ANA is much easier for traveling with a family. Unlike the Delta One Suites, which are each a closed compartment, ANA has a very open layout. Our son could walk back and forth between our seats with ease.
ANA has a large main business class cabin with a mini-cabin in front (with just 2 rows) and behind (with about 5 rows) . We were seated in the rear mini-cabin and there were only 2 or 3 other people in our section, which made it easy to walk around the empty rows with Baby Rey to burn some energy early in the flight.
On the Delta flight, he was just on our laps / in our seats the whole time. The only option would have been to walk up and down the aisle. Passing him back and forth over the divider between seats in Delta One Suites (without kicking over any drinks, etc) was a pain. ANA was much easier in that regard.
Customer service: Winner = ANA
Until the past year, I hadn't flown Delta since the mid-1980's. Having flown many American, United, and Southwest flights in the interim and having now flown Delta a handful of times in premium cabins this past year, I can understand why people like Delta. Service is more consistently good than with other US-based carriers.
However, it just doesn't come close to matching the level of service on ANA.
On our Delta flight, my flight attendant was perfectly nice and friendly and made it clear that she would be happy to do whatever possible to make things a little easier on us. She was sincere, but she forgot to take my meal order until after most of the plane was served and said she would come back with dessert (since I finished eating so much later than everyone else) and never did. The flight attendant on my wife's side of the plane was noticeably less warm.
On ANA, the flight attendants were constantly helpful before we even realized we needed help. They made up empty seats for meal time, noticed when drinks needed to be refilled, were happy to fill a bottle for us, etc.
But what really exemplified the level of service to me was something very simple. My son absolutely passed out on my lap, but I was awake for the final meal service.
Takashi, the flight attendant on my side of the plane, initially prepared an empty seat with my meal and as I thought he might wake up. He didn't even stir when I moved around a bit and she noticed and asked if I'd like the meal served on my side table. I said sure and she put my meal on that table, where I managed to feed myself despite being in a reclined position and not having a lot of mobility. I had lasagna and there was apparently a cup on the tray with sauce, but I couldn't see it. The flight attendant noticed and stopped to tell me it was sauce and ask if she could pour it on the lasagna for me.
But the standout to me was this: in this pic, notice the drink.
I had ordered orange juice, which was served in a glass. The way I was positioned lower than that side table, I couldn't bend my arm to reach the glass (which was behind the tray / bread). It wasn't the end of the world to me as I don't generally drink much while I'm eating. But Takashi noticed that I couldn't reach it without me saying anything and she came back with the orange juice in a cup with a straw and placed it within my reach almost without me even noticing what she had done. Was that a big deal? Not at all — but it shows the way that ANA looked for opportunities to provide good service even before I realized I needed it.
Award value: Winner = ANA
ANA is a much better value in terms of award cost. I booked my ANA flight as a round trip between New York and Shanghai (I flew the Shanghai-New York leg in 2018 and this was the "return" trip) for 95,000 ANA miles round trip (an Amex Transfer partner) plus about $400 in taxes/surcharges. If I had booked ANA round trip just to Japan (rather than Shanghai), it could have cost as few as 75K ANA miles round trip. More on that in tomorrow's sweet-spot spotlight. The Delta flight was booked with 60,000 Virgin Atlantic miles plus about $60 in taxes/fees one-way. That's certainly not a bad deal, just not as good a value as ANA in my opinion (especially when you consider that I preferred ANA overall).
Bottom line
Both ANA's business class and Delta One Suites were great ways to travel between the US and Japan. I think you'd have to be fairly jaded to find either option disappointing in terms of a comfortable premium cabin experience for a long-haul flight. That said, between the great value of the ANA award chart and fantastic customer service, I'd definitely choose ANA again. Traveling with a baby that is quickly turning into a toddler, the ANA layout and great service become even more compelling for me. While it doesn't look particularly snazzy, I'd take it over the other options I've flown to and from Asia almost without hesitation. For a bargain price in terms of miles, you get great food and great service. With most business class options offering flat bed seats these days, it's those "soft product" details that really make a flight memorable — and I've been impressed with ANA on those fronts.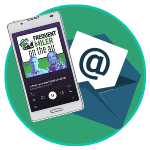 Want to learn more about miles and points?
Subscribe to email updates
 or check out 
our podcast
 on your favorite podcast platform.