A few days ago, I was surprised to find my son's new Chase Ink Business Unlimited card in our mailbox eight days after he applied for it.  He had applied for this card after being turned down for the Ebates Visa Card.  When the Chase application went pending, I figured that he most likely would be denied.  And, truthfully, until it showed up at our house I had forgotten all about it.
Background
My son is currently a sophomore at the University of Michigan (as an aside, "Go Blue!"). He turned 18 while a freshman and we quickly signed him up for his first credit card: Discover It for Students.  Here are the posts I had written about this in the past:
I was excited about helping my son build his points & miles fortune, but he was much more interested in college socializing… I mean studying.  So, his progress was slow.  He used his Discover It Student card for all of his day to day purchases, and easily raked in the annual $20 that the card offers for good grades.
In August I suggested that he sign up for multiple SPG cards (now "Bonvoy"): the Lux card and the business card.  He agreed under the condition that I handled all the work.  I did.  He was approved and earned the signup bonuses with no issues.  After the annual fees come due on these cards, he'll most likely cancel them.
Then, in December, there was an opportunity to sign up for the Amex Business Platinum card at the optimal time of year for earning multiple travel rebates and before the new higher annual fee kicked in.  I wrote about this opportunity here: On my mind, unplugged (Business Platinum Edition).  He signed up under the same conditions as before: I would do all of the work.  He was approved instantly.  I easily met the full $20K spend requirement by using his card to pay his tuition (via Plastiq) and to pay estimated taxes.
Business cards for students?
For those who like to sign up for cards primarily for the signup bonuses, business cards have advantages over consumer cards.  The biggest advantage is that most business card accounts are not usually reported to the big three credit bureaus (Capital One is a major exception: they do report their business cards to the personal credit bureaus).  This is helpful because some card issuers deny applications if you've opened a lot of cards recently.  For example, Chase has its infamous 5/24 Rule:
Chase's 5/24 Rule: With most Chase credit cards, Chase will not approve your application if you have opened 5 or more cards with any bank in the past 24 months.

To determine your 5/24 status, see: 3 Easy Ways to Count Your 5/24 Status. The easiest option is to track all of your cards for free with Travel Freely.
I'd bet that many students have businesses even if they're not aware of it.  For example, if they occasionally sell event tickets, they can legitimately call that a business.  If they mow lawns over summer break, that's a business.  My son has a website which maybe will make money someday.  That's a business.
Applying for Business Credit Cards

Yes, you have a business: In order to sign up for a business credit card, you must have a business. That said, it's common for people to have businesses without realizing it. If you sell items at a yard sale, or on eBay, for example, then you have a business. Similar examples include: consulting, writing (e.g. blog authorship, planning your first novel, etc.), handyman services, owning rental property, renting on airbnb, driving for Uber or Lyft, etc. In any of these cases, your business is considered a Sole Proprietorship unless you form a corporation of some sort.

When you apply for a business credit card as a sole proprietor, you can use your own name as your business name, use your own address and phone as the business' address and phone, and your social security number as the business' Tax ID / EIN. Alternatively, you can get a proper Tax ID / EIN from the IRS for free, in about a minute, through this website.

Is it OK to use business cards for personal expenses? Anecdotally, almost everyone I know uses business cards for personal expenses. That said, the terms in most business card applications state that you should use the card only for business use. Also, some consumer credit card protections do not apply to business cards. My advice: don't use the card for personal expenses if you're not comfortable doing so.
Why apply for a Chase Ink card?
The Discover It Student card is good for everyday spend in its first year because all first year earnings are doubled.  Now that he's past the first year, though, the card only earns 1% outside of its 5% bonus categories.
The idea that my son was earning only 1% on most spend irked me.
I considered having him sign up for the Chase Freedom Unlimited card.  This way he could earn 1.5 points per dollar for all spend.  And since his official address is still my home, he could move points to my Sapphire Reserve account in order to get 1.5 cents per point value (or to transfer to airline or hotel programs for potentially more value).  This makes the Freedom Unlimited a 2.25% everywhere card (as long as points are used towards travel via the Chase portal) with the flexibility to transfer points too.
At the time of this writing, the Freedom Unlimited signup bonus is double points for up to $20K spend (found here).  This means that $20K spend would result in 60K points.  That sounds attractive until you consider the Chase Ink Business Unlimited card…
The Ink Business Unlimited signup bonus (at the time of this writing) is 50K points after $3K spend (found here).  And, the Ink Business Unlimited offers the exact same earning power as the Freedom Unlimited: 1.5X everywhere.  So, with the business card, my son would earn 54,500 points after only $3K spend.  He would reach 60K points with a total of $6,667 spend.  That's just one third of the spend required to max out the Freedom Unlimited offer for the same number of points.
The plan is for me to handle the minimum spend requirements and then turn over the card to my son to be his primary everyday spend card.  It would still make sense for him to use his Discover card for its rotating 5% categories, but I'm not at all sure that he'll bother with it.
Going forward
I think that he's now set for a while with a very good card for everyday spend.  And while he's in school, I'll continue to help him grow his points fortune by guiding him to the best offers, primarily with business cards, and I'll take care of the minimum spend requirements on his behalf.  I'm already eying the Ink Business Cash card, a Citibank card or two, and more Amex business cards.  Once he graduates, though, I'll expect him to take over.  I'll still provide advice, of course, but I want him to learn the ins and outs of the miles and points game.
Related posts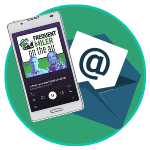 Want to learn more about miles and points?
Subscribe to email updates
 or check out 
our podcast
 on your favorite podcast platform.