This week, we have some good news on automating rewards and a reminder of some bad news regarding Globalist Suite Upgrades. Many readers have asked questions about redeeming miles with Turkish Airlines now that they are a Citi transfer partner — if you're one of them, read on for all this and more in the Frequent Miler week in review around the web, where we recap some choice reads from around the 'net.
Do you look at the screen shot above and think "Man, I'm leaving money on the table!"  If yes, you need to see this Doctor of Credit Post to learn how you could be getting ten percent back on some purchases automatically. I love automated rewards like this that require very little upkeep and maintenance and provide a useful return. Unfortunately, this isn't available everywhere yet — but if it's in your area, it's worth signing up.
---
In a guest post at Bald Thoughts, Ben Komenkul brings an analysis of a the perplexing nature of how Hyatt is awarding Globalist Tier Suite Upgrades. i just really don't get Hyatt's line of thought on this. Surely, they must have considered the fact that they may be encouraging their most loyal members to stay elsewhere to avoid earning these upgrades too soon. Hyatt has done a lot of things right for years, I just would have loved to have been a fly on the wall as they discussed how to award these upgrades and how they expected the upgrades to influence loyalty. Color me perplexed.
---
An interesting bit of news for frequent travelers to Europe brought to us by Head for Points. I hadn't realize quite how many destinations are served by Vueling, and that's not all I hadn't already realized about their partnerships. This write-up from Head for Points explains why it makes sense to keep an eye on this and link up with opportunities to earn bonus Avios, whether from flights or promotions.
---
With the recent addition of Turkish Airlines Miles & Smiles as a Citi ThankYou transfer partner, a lot of readers had questions about how Turkish award tickets, and this post from Mile Cards answers at least a few of the questions you are likely to have. Miles & Smiles looks like a very intriguing new partner with attractive rates on many routes. With some attractive rates and decent award rules, I definitely look forward to putting their chart to use and trying out the program.
---
This deal for unlimited in-flight WiFi has been covered in quite a few places, but I still hadn't realized quite how wide the coverage is in terms of the number of airlines. I have plenty of GoGo passes thanks to some Amex business cards, but I am actually flying Lufthansa tomorrow and I think this might come out cheaper than buying Wi-Fi during the flight. I plan to sleep some as it'll be an overnight, but I have a connection in Europe the next day, so I think I'm going to go ahead and hop on this deal. This could be a great deal for those who don't otherwise have access to GoGo, and would be great for international flights thanks to the range of carriers included. Of course, it doesn't include everyone — but see this post at Travel Codex for a good breakdown.
---
That's it for this week around the web. Check back soon for this week's month-ending last chance deals.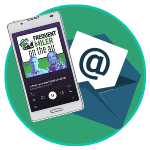 Want to learn more about miles and points?
Subscribe to email updates
 or check out 
our podcast
 on your favorite podcast platform.