If you ever use rental cars, there's a good chance that you've heard of AutoSlash. if you're not familiar with it, AutoSlash is a service where you input details of your car rental reservation and they search for cheaper options all the way up to your day of rental. This can provide significant savings without you having to manually check the price yourself every day.
AutoSlash has recently launched a paid service for hotel bookings called HotelSlash. It looks like it's a promising service that can provide some decent savings, but there are some very important aspects of the service that are worth bearing in mind, which we'll discuss below.
For the launch, HotelSlash is offering Frequent Miler readers the opportunity to receive a complimentary 6-month trial by using the link in the post below (standard public offer is a free 3-month trial). This should give interested folks ample time to check out the service and see if it's something worth paying for.
The Deal
The membership-based hotel booking service HotelSlash is offering Frequent Miler readers a complimentary 6-month trial of the new service.
There is no credit card required, so you will not automatically be charged at the end of the 6-month trial.
After the trial ends, readers who use this promo code will be eligible for a 50% discount off of the annual membership rate of $29.95.
Direct Link to Offer (Frequent Miler makes no money from this link, it's simply a courtesy for our readers)
How HotelSlash Works
There are two options for booking and tracking hotels via HotelSlash. First, you can book through them directly. The search function is almost exactly the same as AutoSlash: you enter your destination, dates and the number of people in your party. Then HotelSlash will send you an e-mail letting you know the results are ready (usually within a minute or less) and you click through the link on that e-mail to see your results with hotels, room types, etc. You're then able to book the hotel directly through the site. If the reservation is refundable, HotelSlash will then monitor it, not only with exact room matches at lower prices but also by looking for upgraded rooms or rooms with additional benefits at the same price.
Alternatively, if you've already made a reservation, you can forward the confirmation email to save@hotelslash.com. They'll then track the room rates at the hotel and notify you if your specific room type drops in price, or if a better room becomes available at the same price.
In both cases, HotelSlash won't automatically rebook your reservation if they find something cheaper. Instead, they'll email you with the cheaper options. Once you've made a new reservation, you'll have to cancel the original reservation yourself and rebook it with HotelSlash (or directly).
You can find a full list of FAQs here.
Using HotelSlash
I spent a little bit of time tooling around HotelSlash today and found it be very similar to using AutoSlash. I looked at hotels domestically, in Europe, Asia and Australia. Like AutoSlash, it's a bit of a pain to have to go through the process of waiting for the e-mail and then clicking through to see results, but it was a fairly speedy process.
Comparing the results to other free third-party services like booking.com, Expedia and Kayak, I never found HotelSlash to be more expensive for the same hotel, room-type and booking conditions. I also never found it to be more than ~10-15% below, sometimes 0-5%. They also were never better than booking direct with the corporate codes that I use.
Potential downsides of HotelSlash
For some people HotelSlash could be a good service, especially those that normally use 3rd-party booking services. Based on what limited searching I found, it seems to always be at least a break-even proposition, but was often slightly cheaper…and it has the benefit of keeping an eye on the reservation for you in the event of a price-drop. However, there's a few key considerations:
 It won't work on non-refundable reservations

Like many third-party services, the cheapest rates are all non-refundable. If you book that rate, even if HotelSlash finds something better, you won't be able to rebook.

You most likely won't get points or elite benefits

When booking directly with a hotel chain, you're eligible for earning points and elite night credits and will also receive benefits from whatever kind of status you hold. If you book through HotelSlash, it's unlikely that you'll be eligible for any of these. Occasionally, folks are able to get some benefits by adding their number at the hotel desk, but don't count on it.

You won't get cash back for booking through a shopping portal

With most hotel chains, you can click through from shopping portals to earn cashback on paid stays. It's common to find discounts of 3-10%, and you're still booking directly with the chain, so you also get elite benefits and points from the stay.

You can't use special rates or corporate codes.

Many people have access to corporate or association codes (like AAA, AARP, etc) that give them discounted rates when booking directly with a hotel chain. While AutoSlash is able to search using some of those options, HotelSlash isn't.
Quick Thoughts
I rarely use 3rd-party services for hotel bookings (for many of the reasons listed above). So, for me, the drawbacks of booking with HotelSlash negate much of the savings that it offers. Admittedly, when I do book via a 3rd party, it seems like a very competetive service, it's just not one that I would use a lot to actually book hotels (in comparison to AutoSlash, which I do use to rent cars).
However, in my case, the tracking service could prove to be valuable in its own right. I could still forward all my hotel reservations on in case they can find a cheaper rate. If that rate can be booked directly with the hotel chain, I could click through from a shopping portal again (where applicable) and still receive points, elite night benefits, status benefits, etc. I could then forward my new reservation to HotelSlash for them to track (this isn't needed if rebooking with HotelSlash directly). That alone could be worth paying for the service.
I'm looking forward to testing out that aspect of HotelSlash over the next few months and keeping track of the savings that I do or don't receive. The owners are being very generous with lengthy free trials and they intentionally make a point of not asking for a credit card when setting one up, so there's no risk of accidentally paying for a year. For many folks (including me), it will be worth starting a free trial and checking it out to see if indeed it does provide worthwhile savings.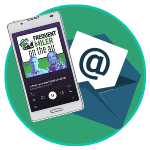 Want to learn more about miles and points?
Subscribe to email updates
 or check out 
our podcast
 on your favorite podcast platform.