There are dozens of card-linked programs out there which can be a great way to earn cashback and rewards with little-to-no effort beyond their initial setup.
It can be daunting though trying to get a handle on all of the different programs, plus not all of them stack with each other which is why we put together this guide: Card-Linked Programs & The Networks They Run On (AKA Which Programs Stack).
With so many card-linked programs available, are there some which are better than others? Beauty is in the eye of the beholder cardholder, so here's a list of the card-linked programs that are most attractive to me.
In no particular order…
1) Google Pay
Google Pay is the Jordan Knight of the card-linked world as it's the new kid on the block. The Google Pay app has been around for some time, but it was relaunched at the end of 2020 and instantly became interesting from a rewards perspective due to its new card-linked program which, in some cases, offers very generous cashback rewards.
Past deals include $30 for Walmart+ (which stacked with other offers for a profitable deal), $21 for Target, a $21 referral bonus and more. At the time of writing this post, there are some excellent deals for REI, Panera Bread, Etsy, Burger King and Warby Parker.
Google Pay runs on the Rakuten Card-Linked Offer Network (RCLON) which means it doesn't stack with other programs that run on that same network, but there are other programs and offers it stacks with.
For example, there's a targeted Panera Bread Chase Offer giving 15% back, Payce offers 5% and Visa SavingsEdge gives 2% cashback if you're paying with an enrolled Visa business card. As with other card-linked programs, it stacks with promo codes such as Panera's code WINTERBREAK which gives a $5 discount when spending $20. All those other deals can be used along with Google Pay's 15% cashback when paying with a linked card.
Google Pay can also help you lock in discounts for future purchases. I took advantage of the REI offer a few days ago as I needed new hiking boots due to the soles literally falling off the pair I'd used for the last 13 years (RIP hiking boots – may your soles rest in peace 🙁 ).
The cost of the boots and some new hiking socks came to ~$150, so I bought a $100 REI gift card at the same time to pretty much max out the $250 spend limit for the offer. I'm planning on reselling the gift card, but if I thought that I'd be shopping at REI again in the not-too-distant future, keeping that gift card would be a good way to lock in the 20% discount for future personal use.
There are a few downsides to Google Pay's card-linked offers. For starters, they've made trying to view the offers as tedious as possible. While the best offers are highlighted in the 'Google Pay Favorites' section at the top, they only display the other offers a few at a time. Tapping 'View More' only loads four more offers which means lots of tapping to view everything available. Even if you know the offer you want to use, there's no search functionality to look for a specific offer which is kind of ironic considering it's been built by Google.
The fact that it runs on RCLON has the potential to be a downside. Rakuten has its own card-linked in-store offers program which can sometimes offer very generous rates, especially when they offer triple cashback at some stores. That means it's an either/or decision with Rakuten and Google Pay rather than a both/and opportunity.
That decision is only for in-store offers though. One of the great features of Google Pay is that many of the card-linked offers are eligible for online purchases which is a little more unusual as far as some card-linked offers go. That means it'll stack with earnings from a shopping portal – even Rakuten's – because online transactions are tracked in a different way to in-store offers.
Another nice feature of Google Pay is that it's not restricted to Android devices – Apple users can also download the app from the App Store.
Speaking of which, if you're not seeing these card-linked offers in the Google Pay app, it's probably because you have the old version of the app. When Google relaunched Google Pay in 2020, it was done as a completely new app which appears as GPay once it's downloaded. The card-linked offers are therefore available in the version of the app on the right in the image below, rather than the original app shown on the left.
Something else to be aware of with Google Pay's card-linked offers is that you don't have to actually pay with the app in-store. Seeing as the offers are card-linked, you simply pay with your card. You do need to ensure that your cards are enrolled in Google Pay though, plus you need to activate the offers before you use them. Google Pay can be a bit glitchy when trying to bulk-enroll cards already saved in the app, so it's best to enroll them one at a time even though that takes longer.
2) SimplyMiles
SimplyMiles is a card-linked program which awards American Airlines AAdvantage miles rather than cashback. It runs on RCLON which means that it doesn't stack with Google Pay.
Many of the offers in SimplyMiles aren't particularly compelling due to them only offering 1 mile per dollar; Rakuten has many of the same card-linked offers but awards cashback/Membership Rewards at higher rates, so that's a better option.
One of its biggest downsides is that fact that you can only link Mastercards. I predicted at the start of the year that they'd add the ability to link Visa and/or American Express cards during 2021, but given how poor my predictions turned out to be last year, I wouldn't count on it. That therefore limits the ability to stack with other offers (like Amex Offers) and being able to maximize purchases by putting the transaction on a card which offers bonused spend in that category.
With poor earning rates in many cases and being limited to only working with Mastercards, why would this program merit a place on among my favorites? The reason is that where SimplyMiles shines is when it comes to its unique offers. For example, there are usually offers giving bonus miles at Best Buy, CVS, AARP and Darden restaurant brands like Olive Garden, Longhorn Steakhouse, etc. Best Buy in particular is a nice option because other than the occasional Amex Offer, there are rarely card-linked offers for there.
3) Amex Offers/Chase Offers
Speaking of Amex Offers, Amex Offers and Chase Offers (as well as their counterparts like BankAmeriDeals) can be extremely useful card-linked programs.
These work differently to other card-linked programs because they're offers you link to your card, rather than you linking your card to another program. However, they can offer great savings and frequently stack nicely with other card-linked programs and deals.
For example, I finally stopped procrastinating a month or so ago and signed up for Walmart+ when there was a perfect storm sunshiny day of offers. One of those was a Chase Offer giving $5 back as a statement credit.
That stacked nicely with $30 from Google Pay, $9.80 from Dosh (as they were offering 10%) and $75 from Swagbucks, all of which tracked and are currently pending. The $5 from the Chase Offer was therefore the icing on the cake, but it's just an example of how useful these kind of offers can be.
4) Dosh
Dosh is one of my favorite card-linked programs for a few reasons. One of the biggest things going for it is that it's set-and-forget – once you've linked your cards, transactions will track automatically as you don't have to activate them. It's always nice to buy stuff from Office Depot in-store and get a notification on my phone advising that I've earned $7.98 cashback for spending $398.90.
With eligible retailers including gas stations, local restaurants, Uber Eats and more, it can be a very useful program for earning cashback.
A potential downside with Dosh is that many of their online offers now require that you tap through to the retailer from the app which means you can't stack with clicking through from a shopping portal. I say that's a potential downside because there are times Dosh states that you have to tap through from the app, but they track your purchase anyway. It therefore seems like some online offers are in fact card-linked offers, so count that as a nice bonus when you get unexpected cashback.
5) GetUpside
The main focus of the GetUpside app (read more about it here) is saving you money on gas by offering cashback when filling your tank at participating gas stations.
Fuel points programs from grocery stores can often provide much greater savings on gas, but GetUpside can be useful if your local grocery store doesn't offer that kind of program and/or you don't have a warehouse club membership. GetUpside has expanded its network over the last year or two, so there are thousands of participating gas stations around the country including Exxon/Mobil, Shell, BP, Circle K, etc. When we were staying in small town New Mexico recently, we still had a bunch of options available to us.
In the past you had to upload your receipt in the app to claim the cashback, but they've made it easier in recent months. Now you just have to claim the offer at whichever gas station you're filling up at and pay with a card you've linked in the app. Due to the fact that you earn the cashback afterwards rather than getting an instant discount, that means you earn even more points on your card as your initial spend is higher. That's particularly useful for me right now seeing as I'm earning 10x Membership Rewards points at gas stations when paying with my Amex Platinum card.
In addition to the main gas savings part of the app, there are tabs for restaurant and grocery offers too. Those offers are only available in certain markets and seem to run on Figg/Empyr. If you have those available near you though, there can be some very generous offers at times such as 30% back at Burger King and more. That could be stacked with the 20% Burger King offer in Google Pay right now, as well as a targeted 15% Chase Offer.
6) Bumped
Update 12/27/22: Bumped recently closed down.
If I was writing this post a couple of weeks ago, Bumped wouldn't be getting a thumbs up from me (it would've been getting an entirely different finger). That's because last year Bumped changed their app from being an interesting and unique card-linked program to being a not-so-glorified shopping portal.
The way the original version of Bumped worked was that you chose one retailer per category with which you would earn stock when paying with cards linked in the app. That was great as it included Sam's Club, Kroger, McDonald's, Uber and a whole bunch of other retailers, restaurants and services.
Then came the change. They revamped the app and removed that card-linked loyalty element. In its place, they introduced an online shopping portal and an in-store card-linked program. Their in-store offers run on RCLON and provide poor returns – in every case I ever saw you'd have been better off using Rakuten's own in-store offers instead.
Those changes led to the app getting 1 star review after 1 star review – it was the Robinhood of the card-linked world. That feedback appeared to get their attention as they've recently reintroduced Loyalty Rewards. Loyalty Rewards is similar to the original – and much better – card-linked program where you got to pick your loyalties.
This new version is even better in some ways. Although there's no longer a grocery store option, there are more categories, more participating retailers in the categories and the warehouse clubs category has been increased from 0.5% to 1%.
Bumped allows you to earn a maximum of $250 in stock per category per year. While $250 might not sound like a huge limit, that's based on 1% back in stock which means it's good on up to $25,000 of spend per category per year. While you're not going to max out the entertainment category with $25k of spend per year by paying for your one selected streaming service, that spending threshold might be achievable at Sam's Club or BJ's Wholesale Club.
Honorable Mentions
Those six apps and websites are some of my favorite card-linked programs, but there are a few others that I feel deserve a mention for one reason or another.
Rakuten In-Store
Half of the card-linked programs I listed above run on RCLON (Google Pay, SimplyMiles and Bumped). As mentioned earlier, RCLON is short for Rakuten Card-Linked Offer Network and it's what also powers Rakuten's own in-store card-linked program.
That didn't quite make it on to the list of my favorite card-linked programs, but in many cases Rakuten's own offering is better than Google Pay, SimplyMiles and Bumped. At a lot of retailers, Rakuten's program offers a better return on a day-to-day basis, especially if your account is set up to earn Membership Rewards rather than cashback.
Even better, Rakuten often offers double and triple cashback at select in-store retailers which can provide returns in excess of those you'd get from shopping online having clicked through from a portal. For example, last weekend they offered triple cashback at a dozen different stores. The in-store rate for New Balance was 12%/12x versus 1.5%/1.5x for online purchases. Clarks was 18%/18x in-store versus 4%/4x online and Aeropostale was 6%/6x for in-store versus 4%/4x online.
One of the great things about the available stores for Rakuten's in-store offers is that many of the retailers are clothing and shoe stores. That gives you the opportunity to try on items first to make sure they fit and then get rewarded for purchasing them in-store, rather than ordering them online when you get home and having to wait for them to be delivered, just so that you can earn cashback through a portal.
It's the nature of these retailers which is why they didn't make it on to my main list. I'm not a clothes horse – I live in cargo shorts, Old Navy graphic tees and flip-flops for most of the year. The ~$150 I spent on hiking boots and socks the other day at REI was more than I spent on shoes and clothing for myself all of last year. Rakuten's in-store offers therefore don't do me much good, but they deserve an honorable mention because for many people the rates you can get for in-store purchases can be excellent.
Rewards Network Dining Programs
I used to love the various dining programs run by Rewards Network. While you can only have any given card enrolled in one of the programs at a time, each program offers bonus miles/points when signing up for the first time and, in most cases, spending $30 for the first transaction and writing a review. The more transactions you have each year, the more miles/points you earn per dollar.
Back when we had a home, our favorite local bar participated in the program. It had a pet-friendly patio and the weather in Portsmouth, VA meant it was usually warm enough to sit out there with our pup from April to November. As a result, we'd earn a few dozen miles or points at a time with zero effort which is always a nice way to increase your balances.
It's been a while since we've earned any miles or points with any of the dining programs though. I think Longboards dropped out of the Rewards Network program shortly before we set off on our road trip and I hardly ever give a second thought to checking the programs in each place we visit. Our card lineup has changed a lot in the last four years, so I've no idea if any of our cards are even enrolled in any of the dining programs we'd previously registered with.
Anyway, all this to say that Rewards Network dining programs can be nicely rewarding and are worth registering for, especially if you dine out (or order take out) a lot. The programs therefore deserve an honorable mention because it's simply my laziness which probably resulted in us missing out on bonus miles and points for the last few years by not adding new cards and not enrolling in dining programs we'd not used before.
Payce
I'd heard the Payce app mentioned numerous times over the course of the last few years, but I never got around to signing up. That is, until I put together the guide to card-linked programs and downloaded it for research.
I've only had it on my phone for a week and so haven't gotten around to putting it to the test yet. Its biggest initial downside is that they don't use Plaid to allow you to bulk-add credit cards from each bank as that's by far the most convenient way to link cards in programs such as these. Instead, you have to manually enter each card one-by-one which is tedious, especially if you're someone who likes to maximize bonus points on each purchase and so would need to link numerous different cards depending on the retailer or restaurant.
On the positive side, the app seems to have a great selection of participating retailers where you can earn 5% cashback for in-store transactions including Staples, CVS, Home Depot, Office Depot, Kohl's, Panera Bread and many more. You're limited to $5 cashback per month per retailer, so that limits how rewarding the app will be, but if you'll be buying anything at these retailers anyway, that's some quick and easy cashback once your cards are enrolled.
The reason Payce gets an honorable mention rather than a place in my list of favorite card-linked apps is because I haven't used it yet beyond exploring the app a little. I've therefore no idea how reliable their tracking is. The app only has 3.1 stars out of 5 out of 21 reviews in the Play Store and several of those reviews suggest the tracking isn't great. Even when a transaction does track, for some users it sits as pending for several months. I'm therefore filing Payce under "Great if it tracks and eventually pays out, but I won't count my chickens".
Question
Those are all my favorite card-linked programs, but how about you? Do you feel the same or are there other card-linked programs you prefer? Let us know in the comments below.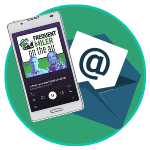 Want to learn more about miles and points?
Subscribe to email updates
 or check out 
our podcast
 on your favorite podcast platform.