In episode 52 of our Ask Us Anything Live, we answered questions about how much credit card companies know about what you're actually purchasing (28:12), how to convince partners/spouse's to participate in the miles and points game (32:59), and the best points hotels in Hawaii (42:08). (Many of you chimed in with your own points hotel experiences on Instagram as well.) At the end of the episode, we reserved a little time to sort out some details with our upcoming 2023 team challenge. (45:20)
Watch the full episode here:
Click the timestamp to navigate directly to a specific question within YouTube:
04:11 – Outside of Hyatt, what are your top 3 most frequently redeemed transfer partners over the last few years?
06:56 – For Nick, what was the name of the canyoneering place you went to in Cebu?
07:58 – Hi Greg, since you just booked your first Vacasa vacation rental stay, do you anticipate incorporating Vacasa stays into your future domestic travel plans? P.S. Welcome to the Vacasa club 🙂
10:47 – How many of you got an email from AMEX today for guess access to the longe despite not spending $75k?
13:39 – With the American Airlines Loyalty Points earning period ending on February 28, what are your plans for the Loyalty Points Game in 2023?
18:45 – I am thinking about getting the Citi Premier in order to unlock all of Citi's transfer partners. do you think I should open the Citi Premier or wait to see if Citi releases new credit cards?
20:15 – For any or all… What's the one flight product you haven't taken or hotel that you haven't stayed at that is at the top of your list? Follow up, why haven't you done it yet?
25:00 – Stephen, I'm going to Mardi Gras next week. Staying at the Eliza Jane hotel on Hyatt points. Any recommendations for things to do? I feel like I remember reading you visited during Mardi Gras.
28:12 – Based on "Don't use AMEX to buy gift cards" How detailed do credit card companies know what I bought?
30:30 – i"m planning to cancel IHG card to be able to apply for new 175k bonus. How long do I need to wait after canceling before I can re-apply?
31:53 – best way to use 90k thank you points now
32:59 – how did you guy's convince player 2 to come on board to the points game?
38:20 – Do you get prorated refund when you upgrade to CSR from CF and downgrade after a couple of months of holding CSR?
39:00 – What's the best move after the 1st year of Capital one Venture? Cancel or upgrade to Venture X?
42:08 – Best hotels in hawaii on points?
45:20 – Frequent Miler 2023 Team Challenge updates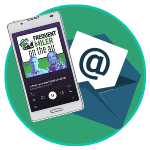 Want to learn more about miles and points?
Subscribe to email updates
 or check out 
our podcast
 on your favorite podcast platform.