Frequent Miler readers are likely familiar with the Rewards Network dining programs, which allow you to earn airline or hotel miles when you dine out at certain restaurants. These programs used to be significantly more lucrative than they are today, but it's still useful to make sure all your credit cards are stored in at least one of these programs. That way you'll be pleasantly surprised when a dozen extra miles pop up in your account once in a while.
However, the one way you can still pick up some significant miles in these dining programs are with the sign up bonuses. While the frequency varies, there are routine signup bonuses of 500-3,000 miles for each program. For instance, as of this writing, the Delta program is offering 2,500 Skymiles for your first dine, while American, US Airways, and United are at 2,000 miles each.
However, the issue with the signup bonuses is that once you officially sign up, you only have 30 days to complete your first dine, which must total at least $30 in a single transaction (this is sometimes $25-$40 depending on the terms of the sign up bonus). That's not an enormous amount to spend at a restaurant, but it's not fast food money either. Also, since the list of eligible restaurants is limited, you have to plan ahead to have a substantial meal at a specific restaurant before you run out of time.
Now, I don't know about you, but I don't normally schedule my restaurant outings 30 days in advance. Sure, on occasion I'll plan a meal ahead of time with a group of friends, but more often our process of choosing a restaurant commences roughly 20 minutes before eating, usually with someone in the group asking "so… where do you guys want to eat?" If I informed my friends I was going to consult the Dining Rewards Network website before answering that question, I probably wouldn't keep my friends too long. At the very least, they'd stop dining with me.
But here's a simple trick you can use to pick up a few dining bonuses at your favorite restaurant while spreading that $30 requirement out into several small meals.
The answer is gift cards, but…
The Rewards Network never receives an itemized listing of your meal. Rather, the system tracks your credit card usage and flags when it sees a charge at a restaurant on its list. As long as the charge covers the minimum amount required for the sign up bonus, you'll get the bonus miles.
Therefore, the key is to find restaurants on the Rewards Network lists that carry gift cards. Of course, the problem is that Rewards Network restaurants are often local establishments and your favorite neighborhood dive bar "Angry Hogs" might not proudly issue gift cards with their logo of two drunken pigs embossed on them.
The good news is there are also usually more than a few chain restaurants on the dining networks and finding them is relatively easy.
How to find eligible chain restaurants
Since many chain restaurants are places with cheap meals, we can simply use the filtering function of the dining website to restrict our search to restaurants with an average bill of under $10.
Trying a search like that in Los Angeles gives us, among other choices, a series of Wendy's restaurants…
The results will vary from city to city so you're not going to find a half dozen Wendy's in every locale. But there'll be other options. Here's a Denny's in Dallas…
Or if we're in the Miami area, we can come up with some Cold Stone Creamery locations….
The simple process
Once you've found a restaurant that sells gift cards, head on over and buy one for $30 (or whatever is the minimum amount required to release your sign up bonus). A few days after you've purchased your gift card, the Dining Rewards Network will send you an e-mail informing you that it tracked your dine and reminding you to write a review of the restaurant. It is important that you complete the review. You will not get the sign up bonus unless you also complete the review in a timely manner.
But that's all you have to do.  Within a week after completing the review, you should see the bonus miles appear in your frequent flyer account, along with the miles for the actual dine as well.
Note that some restaurants only count one dine per month and others restrict the days they offer dining miles or cap the monthly amount they will credit to dining programs.  So be sure to click through the restaurant name on the list to check their terms and conditions.
Also, sometimes dining programs will offer large targeted bonuses, such as 10,000 miles for ten dines of $40 each within a specific timeframe. This gift card trick will work for those bonuses as well, though it means you'd have to buy $400 worth of gift cards which might be more trouble and expense than it's worth. But it can be a better option than trying to complete ten $40 dines in a short span of time.
With at least half a dozen dining mileage programs, this trick makes it easy to pick up several thousand extra miles across multiple programs.  Just a small bit of effort will get you a gift card that can be used anytime at any location in the chain and a few extra miles in your loyalty accounts.

Loading ...
Other Recent Posts From The "Bet You Didn't Know" Series:
What to do when British Airways doesn't show partner availability
Never miss an Amex Sync deal with Offersbot
Elite Credit Card Customer Service
Find all the "Bet You Didn't Know" posts here.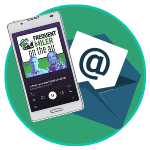 Want to learn more about miles and points?
Subscribe to email updates
 or check out 
our podcast
 on your favorite podcast platform.