Google's Flight Search, often referred to simply as Google Flights, has quickly become my preferred search tool for airline flights. Perhaps you're surprised to hear that. Maybe you're even shaking your head. Google Flights? Really? Why?
There are plenty of airline search tools out there, so at first glance it doesn't seem as if Google Flights has anything new to add. Yes, it uses some of the same search algorithms embedded in its more powerful sister site ITA Matrix (also owned by Google), but otherwise it seems like just another flight search engine.
Yet there are two major features of Google Flights that put it a cut above the others, especially when it comes to advanced multi-city itineraries.
It's fast!
I mean, not just fast. Ultra fast. Unlike other search engines that display a splash page while you wait for them to retrieve results, options start popping up instantly as soon as you type your search parameters into Google Flights. Change the search date and the revised choices are only a second away. Want to go one-way instead? Click the one-way button and the prices adjust immediately.
And it doesn't stop. As you start to review the search results, more flights keep popping up as Google Flights finds all the possible permutations. I'm telling you, this thing is so quick that sometimes I feel like it starts to show me flights before I've even finished entering my search info.
The "Book with…" buttons.
This is the secret to booking extreme itineraries with Google Flights. Much like ITA Matrix, you can't buy airline tickets directly through Google Flights. You can only find the flights you want, at which point you have to buy the tickets either at an online travel agency like Orbitz or Expedia or at the airline website itself.
But there's a super quick way around this. Once you've assembled your itinerary, a set of blue buttons appear at the bottom of the page that allow you to proceed to the airline website to book your ticket. They'll read "Book with American" or "Book with Orbitz" and will show the corresponding price in the blue box.
At first I figured those blue buttons would just take me to the airline search page where I'd have to recreate my itinerary from scratch. But I was wrong. Click on a blue button and not only will you be taken to the airline website, you'll also find your entire itinerary perfectly rebuilt from your Google Flight selections, priced and ready for purchase.
Doesn't sound like a big deal to you?
OK, let's take an example. Over at Travel Codex earlier this week I wrote about a Delta mileage run that involved stops in nine cities. When I pieced it together in Google Flights, it looked like this (you can click on the image to make it bigger)…
Now, I dare you to try and re-create this itinerary on delta.com. In fact, I attempted to do just that and delta.com responded with this…
OK, maybe I'm exaggerating, but suffice it to say delta.com errored out almost immediately. It simply couldn't price such a complex itinerary. But when I instead clicked on the "Buy with Delta" button on Google Flights, this magically appeared…
Look at that. It's a thing of beauty. It makes me want to cry, and not just because I'd be flying in coach for four straight days.
So the next time you're searching for flights, give Google Flights a shot. It's well worth your time, because it won't take up much of it.

Loading ...
Other Recent Posts From The "Bet You Didn't Know" Series:
Tricks to using Virgin Atlantic miles to fly Delta
How to silence the Walmart MoneyCenter Express
5x for physical Sears gift cards
Find all the "Bet You Didn't Know" posts here.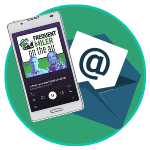 Want to learn more about miles and points?
Subscribe to email updates
 or check out 
our podcast
 on your favorite podcast platform.