When I'm getting off a flight, I'm fanatical about collecting my carry on stuff. I double and triple check around and under my seat, in the seat pockets, everywhere, to make sure I have all the items I came on board with before I deplane.
And yet somehow I occasionally leave an item behind. I don't know what it is about airline seats, but all those nooks and crannies manage to pilfer at least one of my possessions from time to time. Fortunately it's usually something cheap and not worth retrieving, like an old pair of headphones or a DVD copy of "Bill and Ted's Excellent Adventure."
But on a recent flight from New York to Los Angeles, I managed to lose my iPad Air. It was late and at the end of a long day of cancelled flights and missed connections, so I didn't even know it was missing until I opened my backpack at the hotel. I eventually realized I had left it on the plane. I had been sitting in one of American's A321T lie flat business class seats, so the seat itself had been folded in and out during the flight, likely obscuring the iPad somewhere underneath.
Needless to say, losing an iPad wasn't the same as losing some 1980's movie. It was expensive and I really wanted it back. But I figured it was highly unlikely I'd ever see it again. Still, I halfheartedly called American, fully expecting to be told that my iPad was gone to that great laundry sock heaven in the sky.
A voicemail was the only thing that answered at American's Lost and Found Department. But to my surprise, it didn't matter, because the voicemail informed me that American – like all the legacy carriers as it turns out – has entirely automated their Lost and Found process so that everything happens online.
And to my complete shock, it's actually pretty good.
Online Lost and Found at American.
If you've left an item on an American Airlines flight, an American gate, or an Admirals Club, you'll want to head to this link…
AA Lost and Found
https://www.chargerback.com/reportlostitemcbembed-aa.asp?customerid=6392
You might be surprised to note that link doesn't have aa.com in it. That's because American has farmed out their Lost and Found to Chargerback, a company that specializes in handling lost and found services. American isn't the only airline using Chargerback, which you'll see in a moment.
Once at the Lost and Found page, you'll enter the specifics of your item using the drop down menus.
They cover pretty much any item you can think of, but of course there's an "Other" category if you lost something unusual. The drop down menus change depending on what you've selected so far, so when I chose "Electronics" as the type of item lost, I could then enter more specifics about exactly what kind of device was missing.
And once I picked "iPad" a specialized window appeared asking for details about my particular iPad. If you know the serial number, you can enter it here, but it's not required. You can even tell them what kind of screen saver you have installed.
This window changes depending on what item you selected. I tried testing a few different items just to see the windows. My personal favorite was the window I got when I chose "Cash" as my lost item…
Once you've described your item, you enter the rest of the details, including the date you lost it, the city you last saw it, and so on. You'll also include your contact info here, which is important because Chargerback will text and/or e-mail you with updates as the search goes on.
I submitted my lost and found report and within a few minutes I had both an e-mail confirmation and a text message confirming my report had been received.
Finding your item and shipping it home.
I still didn't have a lot of hope that my iPad would be found, but I did feel a little better knowing that at least I had submitted a report. Doing it online helped because it felt documented and not as if I had just told some sleepy guy at the baggage office who promised to keep an eye out for it just to get rid of me.
But lo and behold, just two days later, a miracle e-mail arrived!
As you can see, from here I had the option to either pick up the iPad myself, have it shipped back to me, or have American toss it (not likely!). By clicking the "Hold For Pickup" button, I learned the iPad was at LAX, and since I had already flown onward and wasn't planning to go back through Los Angeles, I instead requested American to ship the iPad back to me in New York.
Now, as wonderful as American was to find my iPad, I (correctly) didn't expect they'd ship it back to me at their own cost. But the process of having the iPad shipped was incredibly easy. When I clicked the "Return To Me" button, Chargerback already had a FedEx shipping cost of $35.81 ready for me. All I had to do was confirm my address and provide a credit card.
Once that was all done, I immediately received an e-mail receipt, and a few hours later, tracking info on the FedEx package…
Shipping is done by 2-Day FedEx, so I made the shipping request on Thursday and was thrilled when this arrived on Monday!
Delta, United, and Southwest have similar systems.
I can only speak from experience about American's system, but other airlines offer online automated retrieval of lost and found items as well. United's reporting system is at this link…
United Lost and Found
https://www.chargerback.com/ReportLostItemCBEmbedbu.asp?customerid=2474
Notice anything about that United link? It also uses Chargerback, so the process is the same with similar questions.
In fact Chargerback handles lost and found for several different airlines, including American, United, Sun Country, Allegiant, and TAP, as well as hundreds of hotels and even amusement parks such as Six Flags.
On the other hand, Delta uses a different third-party system run by NetTracer, which also services multiple airlines. You can report your lost and found item here…
Delta Lost and Found
https://live.lostandfound.aero/client/delta/landing.do
As you can see, the Delta system asks similar questions as American, so I'm guessing it works roughly the same way.
Southwest uses the NetTracer system as well. File lost and found reports for Southwest here…
Southwest Lost and Found
https://live.lostandfound.aero/client/southwest/lostform.do
Obviously there's no guarantee with any of these services that you'll be able to retrieve your lost item. But hopefully these links will help the next time you accidentally leave something on the plane. And if anyone finds a Blu-Ray of the "Bill and Ted" sequel, I seem to be missing one of my copies…

Loading ...
Other Recent Posts From The "Bet You Didn't Know" Series:
•  JetBlue Blue Flex Fares Are Cancelable, But NOT Refundable
•  How To Look Up Your Priority Pass Guest Policy Online
•  A New Way To Book Flights Directly From ITA Matrix
Find all the "Bet You Didn't Know" posts here.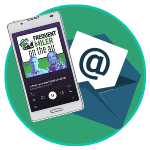 Want to learn more about miles and points?
Subscribe to email updates
 or check out 
our podcast
 on your favorite podcast platform.