Last week Greg wrote about wrapping up his #30kToNowhere experience and I'll be doing the same next week over at Travel Codex. Like Greg, I'm also now considering going for the full 100,000 flown miles in 2015 to keep Executive Platinum status all the way through to February 2017. I had a lot of fun and with the miles I've already accumulated plus my scheduled travel, I'd probably only have to do an extra 40,000 miles or so. So it might be feasible if I can find some decent cheap flights and some fun folks to fly with again.
But during the #30kToNowhere runs, I did briefly get bumped back to reality when, right before the first flight, I asked Greg in my usual smart aleck Devil's Advocate way: "Whose bright idea was it to do these mileage runs in and out of Philadelphia in the middle of the winter???" Only after Greg reminded me it was my idea did I decide to focus instead on eating my first class upgrade velvet cake dessert.
The winter of my discontent
In any case, my weather-related luck only held out until my last week of flights, when I ended up getting re-routed on not one but two different legs. One of them was a reroute that took me from NYC to Las Vegas through Chicago instead of Philadelphia. That meant I was 434 miles short for that trip because I wouldn't get the 500-mile minimum for the flight from New York to Philly.
On the other reroute, I was ticketed for L.A. to New York, again via Philadelphia, but the PHL to LGA leg was cancelled. To US Airways' credit, when I called them to rebook, the agent couldn't make changes to my ticket because it turned out another agent was already proactively rebooking me on a nonstop from LAX to JFK.
Of course if I were traveling like a normal human being, that would be terrific news. But as I tweeted at the time…
Luckily, an answer for my dilemma was quickly provided by Ben Turnbull…
I don't know if I had forgotten this trick or just never knew in the first place, but Ben is correct and that leads to today's tip. If you're involuntarily rerouted and the miles you receive for the reroute are less than the miles you would have gotten under the original ticket, you can request credit for the planned itinerary instead of the substituted one.
In this case, since I was crediting all my flights to US Airways, I waited until the miles posted with the rerouted flights, then called and asked to be credited for the original flights instead. The agent asked me for my reservation numbers and was then able to immediately see the original routing. The phone call took a total of maybe 5 minutes and the credit showed up instantly on my US Airways account.
An added bonus. Or is it bonuses?
However, it also led to a nice little extra surprise…
The LAX to PHL and the PHL to LGA flights are the original routing credits. But notice that the LAX to JFK rerouted flight did not get retracted. Not sure if it was an oversight by the agent or a computer glitch, but I ended up getting credit for both the original flights and the rerouted ones.
And here's the icing on the cake…
My other rerouted flight from LaGuardia to Chicago was on American, so the computer also gave me credit on American as well. Just a reminder that when you get rerouted on airlines that are not the original ticketed ones, you might have a chance to double dip. This is definitely a "your mileage may vary" situation, but don't assume it's out of the question.
If you'd like more info on getting original routing credit with airlines other than US Airways, MileCards.com has a great rundown on the procedures with all the other legacy carriers. So make sure you get every last mile you paid for, and maybe don't fly in and out of Philly in the middle of February just for fun.
Not to say Philly isn't lovely. It's very nice. In fact, if you're going to visit a city for only 90 minutes, I think Philly would be very near the top of my list.

Loading ...
Other Recent Posts From The "Bet You Didn't Know" Series:
Updates on US Airways MC, 1 point transfers and more
Prevent miles from expiring with 1 point transfers
Access the US Airways upgrade list by app and web
Find all the "Bet You Didn't Know" posts here.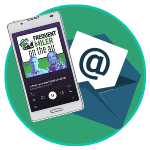 Want to learn more about miles and points?
Subscribe to email updates
 or check out 
our podcast
 on your favorite podcast platform.