I'm a little peeved at Greg the Frequent Miler today. As you know, Greg is heading off to the ultra luxurious Necker Island tonight and he'll have lots of photos and videos from there to share with us all next week. But that's not what I'm upset about. Actually, I think that's a great story and I'm really looking forward to seeing Greg's blog posts about the culmination of his challenge.
But back when Greg booked this trip with 1.2 million Virgin Atlantic miles and mentioned the price included two people, I asked him who his guest would be and he emphatically responded "I'm taking the most important person in my life with me."
Sweet! I figured that meant I was gold — I was going to Necker Island with Greg. So you can imagine my disappointment when I called him a few days ago to find out what time we were meeting up to hang with Ricky B. and Greg seemed surprised to have to explain that the most important person in his life is his wife. Not me. Huh.
So I'm writing today's "Bet You Didn't Know" column from here in the boring old United States of America with our never-ending traffic jams, fast food joints, and elections. But it's fine. Not a problem at all. I'm fine.
OK, let's get to it so I can go sulk in the corner.
Prepaid gift cards with small balances
If you buy merchant or prepaid gift cards such as Visa and Mastercards, eventually you'll face a situation where only a small balance remains on a card, sometimes less than $1. This can be frustrating, so some time ago Greg wrote a post explaining the various ways one can liquidate or "finish off" these small amounts.
One of the more popular methods from this list is using up the small balances by purchasing Amazon gift cards. When you buy gift cards at Amazon, you're given a list of preset amounts to choose from, but you can also enter your own amount.
As you can see, the minimum amount to buy these gift cards is just $1, so many people like to go this route to liquidate their small Visa and Mastercard gift card balances. Once you've purchased the Amazon gift card and received the gift card code by e-mail, you can simply add the code back to your own Amazon account to make the funds available for purchases.
As of 6 months ago, Amazon starting allowing customers to use Amazon gift card balances to purchase any other third-party gift cards they sell, which at this point is a very impressive list. Of course, you can also use the balance to purchase anything Amazon sells. The only option that's not available are goods bought on other sites using the Pay with Amazon service, which does not allow Amazon gift card usage. But otherwise, it's pretty much anything you can find on Amazon.
But there's an easier way.
Many folks don't realize that you can skip this entire gift card step and load funds directly to your Amazon account. The option is called "Reload Your Gift Card Balance" and you'll find it in the Amazon Wallet section of the "Your Account" tab at Amazon, as well as several other places around the site.
When you reload, again you'll be presented with similar preset amounts but the chance to enter your own amount. This is where you'll find another advantage over buying a regular Amazon gift card. While the minimum amount for purchasing gift cards is $1, when reloading you can enter as little as 50 cents.
From this point just add your prepaid gift card to your payment options using the "Add a card" link at the bottom of the screen. Amazon will ask you for the name on the card, which might seem a little tricky when using a prepaid card that says something like "A Gift For You" as the cardholder name. But I've found you can just enter your own name here and Amazon will accept it, even if you haven't attached your name to the card at the prepaid gift card site.
Make sure the correct card is chosen from your list of cards, confirm the amount you're loading (I've noticed the amount can switch back to a default after adding the prepaid card, so definitely check your work), then click the "Reload" button at the bottom and you're done!
A few minor cautions.
You might be wondering if Amazon won't like customers using prepaid gift cards in this manner. Well, there's no question that Amazon allows and even encourages prepaid gift cards to be used for reloads. If you look at the main splash screen for reloads, you'll see they even specifically mention prepaid gift cards as an option.
But as far as reloading small amounts from multiple cards in a short timeframe, our friends Will and Chuck over at Doctor of Credit have some experience with this, and through trial and error Chuck has reported that purchasing 10 multiple small Amazon gift cards in a row was the maximum he was able to do safely. After that, there's a chance your account will be locked for a security review, which may or may not be a pain to deal with.
Note that other folks have been able to do more than 10 cards in a row, but it's a YMMV situation, so it seems smart to keep it to 10 or less at a time. I had no issues at all draining 10 cards in about 40 minutes last week.
In the past some folks have also reported having a $1 hold put on their prepaid gift card when they first added the card to their Amazon account as a payment method. I didn't have that problem with my recent reloads, so I'm not sure whether that is still happening or if it's no longer an issue. If you do end up with a $1 hold, all you have to do is wait a few days for the hold to drop off, then go back to Amazon and process the reload normally.
Finally, you can use the reload option to add to your Amazon balance using any regular credit card as well, which could be useful if you need to make a certain number of transactions in a month. Reloads count as standard purchases for most cards, so this can be a good way to meet your transaction requirement without spending a lot of money.
The only question left now is what I should buy at Amazon with my $17.30 balance. Maybe a t-shirt that reads "My boss went to Necker Island and all I got was this t-shirt from Amazon with a reloaded gift card balance." I'll bet they sell those. Amazon has everything.

Loading ...
Other Recent Posts From The "Bet You Didn't Know" Series:
•  Is Chase Using Bulk Fares for Sapphire Reserve Tickets?
•  Sears Shutdown, RadPad Issues, and Southwest Standby
•  Left an Item on the Plane? Use the Online Automated Lost and Found
Find all the "Bet You Didn't Know" posts here.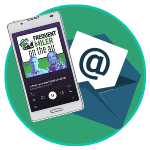 Want to learn more about miles and points?
Subscribe to email updates
 or check out 
our podcast
 on your favorite podcast platform.