United and Hertz have brought back a popular promotion worth more than 5,000 United MileagePlus Miles per rental for those targeted.
The Deal
1,500 bonus miles per mid-size or larger rental (available to everyone)
3,000 bonus miles with every rental through January 31, 2018 (targeted)
Additional bonus based on Elite or Cardholder status (I'm a MileagePlus Explorer cardholder, so my offer is for an additional 750 miles — you may get up to 1,250 based on status
The terms state you must use promotion code (PC) 305023 and discount code (CDP) 62455, though according to Rapid Travel Chai, you do not need to use that CDP code.
My offer and recent experience
This offer comes via email from sender "MileagePlus Partner" with the subject line "Limited time offer: Earn up to 5,250 miles per car rental and save up to 40% on base rates". Hertz and United are repeating an identical offer that was out during the summer, once again giving me the chance to earn 5,250 miles per rental for being a Chase MileagePlus Explorer cardholder. I took advantage of the offer a few times during the summer promotion and received the miles from all but one of those rentals so far (just the most recent missing – I expect it will post). My rentals were for airport pickups and I used the PC and CDP listed above (though you may have access to a better CDP). While the miles post as separate chunks (500 for being a United MileagePlus member, 250 for being a cardholder, 1500 for a mid-size or larger car, and 3000 as the bonus offer in my case) and they often post to your account on separate days, Hertz backdates all of them to the day of your rental so you can clearly correlate your miles with the proper rentals.
The United CDP certainly does not seem to yield any huge discounts, though I often find the miles to offset the price difference versus other rental companies even if you do not have access to a better discount. Depending on how you value United miles and your need to beef up your mileage balance, it could definitely be worth finding a car to rent for a day just for the miles. The above rental was actually a 2-day rental that cost me about $75. While I could have probably saved $20 if I had chosen to rent with someone else, I think 5,250 miles for $20 extra was a good trade. As I know I'll put the miles to good use, I felt that the 5250-mile rebate made the $75 cost an overall wash for me. And I definitely didn't maximize that rental — as Stefan at Rapid Travel Chai points out, I could have both used a different CDP and returned the car after day 1 and picked up a new car for day 2 under a separate rental to earn an additional 5,250 miles. Stefan has a number of other valuable tips to share on this deal as well, so I encourage you to read his post if you're interested in maximizing this promotion.
Bottom line
This promotion worked out well for me last time around and did a good job of steering some business from National, normally my preferred rental company thanks to the Executive status I enjoy courtesy of my Business Platinum card. I have a few upcoming rental needs and I'm excited to have two great promotions from which to choose between this one and National's One Two Free.
What do you think? Did you receive this promotion, and will it make you rent from Hertz this quarter?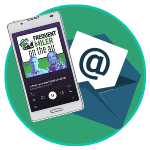 Want to learn more about miles and points?
Subscribe to email updates
 or check out 
our podcast
 on your favorite podcast platform.