IHG reached out to me the other day to offer me points and Milestone Rewards so that I can try out features of their new elite program.  They had previously gifted me Diamond status, but this new offer had me wondering anew when it is and isn't appropriate for me to accept gifts like these.  The purpose of these gifts is obviously to influence me to publish nice things about the brand.  If that was the whole story, then I should turn them down.  I'm in a position where I can influence people and so it's not fair to let companies influence me with gifts, right?  But there's more to the story that makes the answer less obvious…
Prior gifts
Several years ago, Nick and I were invited to Marriott's launch party where they announced details of their award program merger with SPG.  I never thought of it as a gift at the time, but it was a seriously expensive party with big-name entertainment and great food and drinks.  I don't know about Nick, but I had a lot of fun.  During the party we met and talked at length with the VP in charge of the new loyalty program at that time.  We learned extremely valuable details about the new program that we were able to pass along to our readers for their benefit.  And we gained valuable contacts who were able to answer our future questions.  As a result, there's no doubt in my mind that our accepting the gift of the party invite did much more good for our readers than harm.
More recently, Nick and I accepted gifts like this from Bilt (the company that offers rewards for paying rent).  First we were invited to the Bilt owner's estate on Moskito Island in the British Virgin Islands.  That was described as an opportunity for Bilt's leadership to learn from rewards experts like me and Nick (along with a number of other bloggers and social media personalities).  Later we also accepted an invite to Bilt's big launch party in New York.  In these cases, we certainly tried to learn info that could be helpful to our audience (as was the case with Marriott's party), but it hasn't really worked out that way.  Instead, I believe that we have helped influence Bilt to make their product more rewarding.  For example, Bilt employees have asked us which transfer partners would be most valuable to add to their program.  I think that's great and I wish other reward programs would engage with us in a similar way (but they don't).
Nick and I also accepted gifts from Spirit Airlines when they launched their Free Spirit rewards program.  They gave us each Gold status and sent us a bunch of Spirit swag.  Coincidentally, the first (and maybe only?) time we made use of Spirit Gold status was on the flights we took to get to Moskito Island to meet with Bilt (we had to pay for the round-trip travel ourselves).  I had never before flown Spirit and probably wouldn't have done so if it weren't for the gifted Gold status.  This then made it possible for me to create useful content such as my post comparing Delta and Spirit.
Gifts I've turned down
It doesn't happen often, but sometimes a company offers me a gift in exchange for writing a post.  In every case, I've turned them down.  For example, many years ago Silvercar offered me a free rental in exchange for reviewing the service.  I said no thanks and eventually paid for a rental myself so that I could review them.  In other cases I've asked whether the gift could be a prize for readers rather than a gift to me.  In some cases that happened and in other cases not.
When a gift includes a demand (e.g. "write a post"), I've always turned it down. But I'm not really sure why.  Accepting a gift like this is arguably less likely to bias me than accepting affiliate commissions on credit cards (which I do).  In the former case, there's no downside to me writing a negative review (other than perhaps losing out on future gifts), but with credit cards a negative review can mean significant loss of revenue.  Yet, my team and I never hesitate to write negative things regardless of our business relationships.  If we think something stinks, we say so.  If that then means losing affiliate commissions, then that's fine.  We work hard to separate the business of the blog from our editorial content.  There has never been a case where we've let our business relationships influence our content.
Disclosures: when and how?
Disclosing credit card affiliate relationships is easy.  We post our business relationship clearly at the top of every page that includes affiliate credit card links.  Disclosing gifts intended to influence us to like a brand is trickier.  Yes, we should let our audience know when we've received gifts of elite status, parties, or whatever, but when, how, and how often should we do so?  For example, should we say something about Moskito Island every single time we mention Bilt?  That seems like way too much.  But each time we receive a gift of meaningful value we probably should report it in some way.
I don't have the answers here… just the questions.
Back to IHG
I previously accepted the Diamond status gift because I figured that it would give me a chance to try out IHG's new elite perks as soon as they were live.  Since then I realized that my treatment experience might not match other people's.  There's always a chance that they flagged my account in some way to let hotels know to treat me differently.  Or IHG could watch my account to see what hotels I book and could contact those hotels directly to ensure that I have a great stay.  I'm not saying that I think any of this is likely, but it is possible.  And it's possible regardless of whether I accept additional gifts.
I want either myself or a Frequent Miler team member to accept IHG Milestone gifts such as a suite upgrade and lounge membership.  I think it would be great to be able to report experiences with these things sooner rather than later.  That way readers will have a better idea of whether it's worth spending their way to Diamond status (for free breakfast) or mattress running to 20 nights (for a suite upgrade), or to 40 nights (for lounge membership).  If the benefits don't work out all that well, then we'll report that (and we'll know that we didn't get special treatment from IHG).  If they do go very well, we'll discuss the possibility that the results were biased when we report the details.  And, either way, we will fully disclose the gifts in any posts about stays that took advantage of them.
Will we be subconsciously influenced to write and say nice things?  I'm aware that that's possible but… 1) I believe that everyone on the FM team is pretty good at remaining critical despite influences like these; and 2) By posting this post (the one you're reading now), it will be pretty hard to get away with being unduly nice to IHG going forward.  I know that our audience will keep us honest.
Wrap up
Thanks for putting up with my meandering musings.  I don't have a definitive answer to when we should or shouldn't accept gifts.  I very much respect organizations like Consumers Union that refuse to take anything for free, but that's a level of rigidity that I don't aspire to.  I want to do what's ultimately best for our audience, and I believe that accepting gifts sometimes helps get us there.
What do you think?  Is there a better way to think about when we should and shouldn't accept gifts?  Please comment below.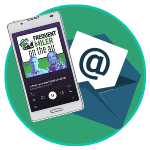 Want to learn more about miles and points?
Subscribe to email updates
 or check out 
our podcast
 on your favorite podcast platform.