American Express' new prepaid product, Bluebird, is now available and yes, it appears to be "all that". In the battle between banks for prepaid card supremacy, Bluebird has changed the game by making checking accounts unnecessary and by eliminating virtually all fees. For points and miles collectors, Bluebird appears to have changed the game by opening the gates to a world of almost unlimited points and miles.
Getting Bluebird
The easiest way to get a Bluebird account is online via bluebird.com. Click the "register now" button and when asked if you have a starter card, click "no". Signing up for a card is free and does not affect your credit score. If you have an Amex Serve account, you are required to cancel that account before you can get a Bluebird account.
Bluebird Features
Here are some of my favorite Bluebird features:
No fees. No transaction fees, no load fees, no withdrawal fees, no bill pay fees, no foreign transaction fees, etc. ATM fees may apply (see next bullet)
No fee MoneyPass ATMs. For the no fee ATM option, you must setup direct deposit to your account. Go to MoneyPass.com to find MoneyPass ATMs near you. If you use a non-MoneyPass ATM, or if you don't have direct depost, then you will be charged $2 per withdrawal (fee is waved until Nov 4, 2012). You may withdraw up to $500 per day and up to $2000 per month.
Vanilla reloads. Like the regular American Express Prepaid cards, the Bluebird can be loaded via Vanilla Reload cards. You may load up to $1000 per day and up to $5000 per month.
Swipe reloads. Another option for reloading Bluebird is to bring your card to a Walmart register. American Express says to "simply present your Bluebird Card and cash (or other accepted tender type) at a participating retailer." I asked an Amex rep if Walmart would accept credit cards for payment and he said that yes, some Walmart stores do accept credit cards for swipe reloads. There is no fee for a swipe reload. Just like Vanilla Reload cards, you may load up to $1000 per day and up to $5000 per month. Once I get my Bluebird card I'll have to run over to Walmart to try this out! UPDATE: Only debit cards work to for swipe reloads. Credit card swipe reloads do not work.
$10K balance limit. You can keep up to $10,000 on one account. This may be the answer to those looking to pay very large bills with a prepaid card.
Pay bills. You can use Bluebird to pay bills either through the Bluebird website or the Bluebird mobile app. Bluebird provides a list of available Payees. If your payee is not listed, you can enter their name and address and a check will be sent. There is no fee for this service. Check payments are limited to $5000 per month.
Debit payments. While I can't find proof of this online, I asked an Amex rep if the Bluebird could be used as a debit card in situations where credit cards are not accepted. The example I gave was someone who wanted to pay their property tax online. He said that, yes, under those circumstances the card can be used as a debit card. I believe that Amex prefers that we use the card as a credit card (since they receive higher merchant fees that way), but that it can be used as a debit card as well. Of course, I look forward to testing this soon. UPDATE: This does not seem to work
Send money. Bluebird allows you to send money for free to other Bluebird cardholders. You are limited to $2500 per transaction and $2500 per month.
Withdraw funds. There is no fee to transfer money from Bluebird to a linked checking or savings account. See the FAQ for details.
Check capture. The Bluebird mobile application can be used to take pictures of checks to deposit to your account. Check capture is limited to $2000 per day and $10,000 per month.
There are a few not so good features:
Debit reloads. You can setup a debit card to load your Bluebird account online. You will be charged $2 per load and you are limited to $100 per day and $1000 per month. In other words, you will be charged a minimum of 2% for loading via a debit card. Thumbs down Amex.
Online Credit reloads – Not. The older Amex Serve product allowed limited loading via credit cards. Bluebird does not have this feature. I was told by an Amex rep that customers said they didn't want that option.
Direct deposit required for free ATM use. MoneyPass ATMs are free only if a direct deposit has been received in the past 30 days. I would like Bluebird better if they didn't have this requirement! I wonder what types of transactions qualify as "direct deposit"?
What about points & miles?
While Bluebird doesn't provide rewards directly, you can earn points and miles indirectly by using a points-earning card to load Bluebird. There are three possible ways to do this (that I know of):
Find a Walmart that allows you to load Bluebird with a credit card. This may take some trial and error.
Find a store that lets you buy Vanilla Reload cards using a credit card. Office Depot stores are the best option I've found. To see how incredibly lucrative this can be, please read "One card to rule them all." For help with finding an Office Depot near you that carries Vanilla Reload cards, please see "Where to buy Vanilla Reload Cards."
Walmart stores that don't accept credit cards for reloads may accept debit cards instead. If so, it would be worth trying a card like the SunTrust Delta debit card to see if it can be used to load the Bluebird via a "swipe reload" and earn miles.
Points for cash. Points for bills. Points for taxes.
If you succeed in finding a way to load Bluebird via a points-earning card, then your opportunities for earning points and miles appear to be virtually unlimited. For example, here are some ways you can earn points & miles that are not available with a credit card alone:
Pay bills where the payee does not accept credit cards (e.g. mortgage, rent, etc.)
Pay federal taxes via debit (less than $4 per transaction)
Take out money via ATMs
Send money to friends
Withdraw money to your bank when you receive money from a friend
etc.
Be responsible. Go slow.
American Express is always on the lookout for suspicious behavior. If a person adds money to Bluebird, and then withdraws it all (via ATM, bill pay, linked bank account, etc.), that would look suspicious. American Express does not make money from these types of withdrawals, so with a pattern like that they're not going to like you very much! If you do too much of this, I believe American Express will close your account.
My recommendation is to make Amex happy by using the card often for regular credit transactions. Use the various withdrawal and debit options in moderation.
More information
For more information about Bluebird, you can find the membership agreement here, and FAQs here. Also, see these follow-up posts: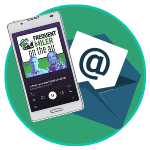 Want to learn more about miles and points?
Subscribe to email updates
 or check out 
our podcast
 on your favorite podcast platform.