Last weekend I had the awesome opportunity to present some of my wacky point-earning ideas to almost 500 new friends. We were at the Chicago Seminars, which is an annual event for frequent travelers / travel hackers. You can read about my experiences at the seminars here; or read Mommy Points' top ten highlights here; or read Mile Value's recap here (with photos!).
For those who didn't make it to my presentation, I'll give you an outline in this post. For those who did make it, you may find this post helpful as a reminder and/or for the embedded links to many resources.
What and why
Gift card churning is the art of buying and liquidating gift cards for the purpose of earning extra points and increasing credit card spend. Here are a few reasons it may be worth your time:
Meet sign-up bonus minimum spend requirements
Get credit card big-spend bonuses
Earn hundreds of thousands of extra points and miles
Earn high level airline and hotel elite status
Types of gift cards
In order to understand gift card churning, its necessary to understand the different types of gift cards. Merchant gift cards are the ones that can be used only at specific merchants (e.g. StarBucks, Marriott, etc.). Bank gift cards are those that are branded with Visa, MasterCard, or American Express logos and can be used almost anywhere just like credit cards. Prepaid products are very similar to bank gift cards in that they also work like credit cards. One of the ways they differ is that some prepaid products are reloadable and therefore can be more convenient than regular gift cards.
From 20K to 800K
Consider a person who spends about $20,000 per year with his/her point-earning credit card. That person most likely earns between 20K and 40K points per year. In this presentation I showed how, with some effort, this same person can pump up their point earnings to 400K to 800K per year. And, that is in addition to any points earned from credit card sign-up bonuses!
How its done
The key is to take full advantage of the best points earning portal promotions and credit card bonus categories. And, to creatively "manufacture" additional credit card spend by buying and liquidating gift cards…
Gift card churning techniques
Through gift card churning, it is possible to increase regular 1X or 2X earnings to 5X, 10X, or more. Here are some of the techniques I described in the talk:
Buy gift cards for points. Leverage shopping portals and credit card bonus categories.
Double dip. When shopping online, get more portal points via a classic double dip (buy gift cards through a portal, and then use gift cards through a portal), or by leveraging both a shopping portal and credit card bonus category.
Triple dip. Get even more points by combining a credit card bonus category with a classic portal double dip.
Upgrade. Sometimes the best point earning opportunities are for gift cards that you don't really want. In some cases it's possible to use those gift cards to buy better gift cards.
For an idea of which merchants allow portal points for gift card purchases, and which allow gift card upgrades, please see the Frequent Miler Laboratory. I realize that the above descriptions aren't enough to get you started if you're new to this. There's simply too much complexity and nuance to cover in a single post. If you need help, be patient: read this blog regularly, subscribe to my free beginners newsletter, and/or ask me for help.
Interim summary
By learning to capitalize on the above techniques, it should be possible to average between 5X and 10X across everyday spend. So, the hypothetical person I mentioned earlier should be able to earn 100K to 200K points per year with their $20K spend!
Spending more
There are many ways to increase credit card spend without increasing your overall annual budget (at least, not by much). I described several approaches:
Spend creatively. Use bank gift cards and prepaid cards (for which you earned points to acquire) to pay taxes, mortgage, rent, insurance, healthcare, etc. Also consider coordinating events with friends and colleagues. Pay for the events yourself (ideally, with a gift card!) and ask participants to reimburse you.
Buy & sell merchandise. If you're willing to take the risk of buying and selling merchandise, you can greatly increase your spend and point earnings all at once. At the seminar, HansGolden showed us the tricks of the trade. If all goes well, he will follow up with a guest post or two on the Frequent Miler site.
Buy & liquidate gift cards. While the point multipliers aren't usually as high as with buying and selling merchandise, buying and liquidating gift cards can be a great option. Prepaid cards, in particular, offer an easy path towards increased spend and 5X points everywhere (see, for example, "One card to rule them all").
The path to 800K
If our hypothetical gift card churner were to use the above tricks to increase spend by $5000 per month, he/she would spend $80K per year. By averaging 5X to 10X, he/she would earn 400K to 800K points per year. As icing on the cake, one could use the increased spend to get big spend bonuses from credit cards. For example, one could use the Delta Reserve card to reach or increase Delta elite status; or use either the Citi Hilton or Amex Hilton Surpass card to reach Hilton Diamond elite status; and so on.
Advice and resources
Learn the basics. If you're new to "travel hacking", sign up for my free newsletter. You'll receive an email once a week that goes through the basics.
Get a good credit card. For many of these techniques you need a credit card that offers great category bonuses. My favorite is the Chase Ink Bold or its twin Chase Ink Plus. You don't need to have a "real business" to get one of these business credit cards. For details please see "How to sign up for the Ink Bold". If you are unwilling or unable to get a Chase Ink card, see "Preparing for Miles" for a full list of cards that offer great earning potential.
Go slow. The techniques outlined above take time and patience to master. Start small and build up as you gain confidence. "800K" earnings is just an example. Many people will never feel comfortable with the lengths it would take to get there. That's fine, do what works for you. Others will take things much further. If you fall into the latter camp, just please realize that there are serious potential hazards. All large financial transactions involve some risk. Plus, while the methods outlined above are perfectly legal, they may look like money laundering activities to auditors. There is a real risk of having your accounts shut down. See, for example, "Why Chase cancels accounts (and how to protect yourself)."
Maximize portal shopping. Here are some helpful posts and tools:
Read "How to ensure your portal points." Portals and merchants don't always perfectly track your portal use. Read this post to learn ways to ensure you get the points you are due.
When shopping online, find the best portal for the merchant you plan to shop with. Here are my favorite portal finders:

Cashback Holics: In my experience, this is by far the most accurate portal finder, but it doesn't include airline or hotel portals. Fortunately, it does include my favorite portal: the Ultimate Rewards Mall (listed on this site as "Chase.com").
Ev'Reward and NerdWallet Shopping include both cash back and airline/hotel portals. Unfortunately, neither is very accurate.

When shopping via the Ultimate Rewards Mall, note that Chase occasionally offers different bonus points depending on which card you log in with (e.g. Ink, Freedom, or Sapphire). Luckily, HikerT updates this list every month to show the bonus multipliers side by side.
Read my blog at the beginning of each month. Each month, the Ultimate Rewards Mall lists new monthly specials. I'll report on each one and describe how to leverage each deal. See, for example, "Ultimate Rewards Mall October Edition."
Buy gift cards for points. Buy cards you know you'll be able to use. When buying through an online portal, keep in mind that not all merchants will give points for gift card purchases or gift card use. See the Frequent Miler Laboratory to see what works and what doesn't.
Sell a few items. Wait for the next "mega" shopping deal in which you can earn 20X or more (through double dipping or otherwise). Buy a few low priced items that you think you can resell, and try selling them on Amazon and/or EBay. If you're new to selling, it can be scary and confusing at first. By starting with a few relatively inexpensive items you can learn the ropes with little risk. For an overview of how I go about finding items to resell, see "Hunting for deals."
Wrap Up
The outline above should give you an idea of what my presentation covered, and maybe even get you thinking about how to earn more points and miles. For those who attended my session in Chicago, was this summary a helpful reminder? For those who missed it, was this post useful?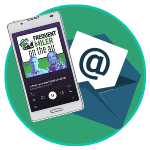 Want to learn more about miles and points?
Subscribe to email updates
 or check out 
our podcast
 on your favorite podcast platform.