Ain't no Bonvoy like a Marriott Bonvoy. Many of us had unused Marriott Suite Night Awards (SNA's) that had previously been extended during the pandemic but that were due to expire on June 30th. Last week, Loyalty Lobby reported some unexpectedly consumer-friendly news from the folks at Marriott: those SNA's had been extended to December 31st. Presumably, this was due to a decided wave of grumbling from Bonvoy members still sitting on stacks of expiring certs.
I checked my account and, sure enough, the one SNA that I had with an expiry of June 30th had been extended. A couple of other FM team members had theirs extended as well. It's rare that Marriott surprises us with joy, so we were grateful for it this time.
Not so fast, Bonvoy members. Marriott evidently saw our delight and said, "this cannot stand."
Less than 24 hours later, we got a note from Marriott saying that the extensions had been in error and they were going through affected accounts "re-expiring" SNA's because they were "unable" to extend them further…which was odd because they had already been extended.
Quick Thoughts
I gotta say, I'm perplexed by this edition of #bonvoyed. Marriott SNA's aren't exactly high-value. You can only apply them at select brands (even hotels within those brands can decide not to participate) and each certificate is only valid for one night. They don't clear until a maximum of five nights before a stay and so don't usually take up inventory that would otherwise be sold. Indeed, the most common complaint about them is how difficult it is to get them to clear.
I get that Marriott evidently made a mistake by extending these certificates. That said, I would think that when they discovered it, the first response would be to just let the extensions ride and bask in the goodwill that the mistake created. To go back and re-expire them retroactively seems unnecessary and attracts even more stink-eye from members who thought that Marriott had done them a solid. It's a customer-unfriendly move that just doesn't seem to have much upside.
Enjoy those SNA's, Marriott. Maybe you'll have better luck using them than we did.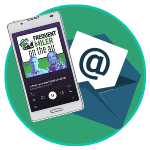 Want to learn more about miles and points?
Subscribe to email updates
 or check out 
our podcast
 on your favorite podcast platform.