Every time an annual fee comes due on a credit card, I make a decision as to whether to keep, cancel, or downgrade the card.  Are the benefits that the card offers worth the annual fee?  If not, the card should be ditched.  It turns out, ironically, that I'm currently planning to cancel or downgrade a number of my favorite cards…
Chase Ink Plus
A few months after I started this blog in 2011, Chase overhauled the Ink family of business cards and added outstanding category bonuses: 5 Ultimate Rewards points per dollar for office supplies, phone, internet, and cable (each type of Ink card also offered a few 2X categories, but these varied a bit by type of Ink card).  This change vaulted Chase Ink cards to the top of my favorite cards list.  I use the cards to pay my phone, cable, and internet bills.  And, of course, I use the cards for every purchase (including gift cards) at Staples or Office Depot / OfficeMax.  It turns out that Ink cards are also a great option for buying select gift cards from eBay (see A new way to increase rewards beyond 5X).
So, why cancel?  I actually have two Ink Plus cards right now (Those with multiple businesses can sign up for Ink cards for each business and get the signup bonus each time).  Obviously, there's no reason for me to pay the annual fee for both cards.  My plan, instead, is to signup for the no fee Ink Cash card which has the same 5X category bonuses.  The Ink Cash is limited to $25K of 5X spend per account year whereas the Ink Plus is limited to $50K.  In the past, when it was possible to buy $500 Visa cards or even $500 Vanilla Reload cards with a credit card at Office Depot, that extra $25K of eligible 5X spend was crucial.  Now, I'm sure I can make do with the $25K limit.  I'll also juggle cards and signup bonuses so that, between my wife and I, at least one of us will have an active Ink Plus or Sapphire Preferred card at all times.  That way, we will always have the option of transferring our Ultimate Rewards points to various supported airline and hotel programs, or Amtrak.
I'll wait until the annual fee is due before cancelling each Ink Plus card.  I'll also make sure, first, to stop earning points on the card at least one statement cycle before cancelling; and I'll transfer all of my points that are associated with that card to another Ultimate Rewards card (such as the Ink Cash or Freedom) in order to keep the points safe.
Chase Sapphire Preferred
The Sapphire Preferred card continues to have one of the best, consistent signup bonuses, especially for personal cards.  As far as rewards for spend, this card offers 2 valuable Ultimate Rewards points per dollar for all travel and dining purchases, and 1X elsewhere.  For those looking to simplify with a single credit card for all spend, I'd put this card high on the list of recommended cards… but only if the cardholder will take full advantage of the card's transfer partners for high value redemptions: United, Hyatt, Southwest, Amtrak, etc.  Most others would do better with a no fee 2% cash back card (e.g. Citi Double Cash or Fidelity Investment Rewards) or the Barclaycard Arrival Plus which effectively earns 2.2% towards travel.  Many would even do better with the no-fee Chase Freedom card, thanks to its rotating 5X categories.  In my case, I'm willing to juggle multiple cards in order to get the best return for my spend, so I almost always have a card available that will earn as much or more than the Sapphire Preferred for any given purchase.  I don't currently have a Sapphire Preferred card myself, but my wife has one.  In order to avoid the card's $95 annual fee, my plan is to downgrade her card to the no-fee Chase Freedom card.  This way she'll have two Freedom cards and there will then be more opportunity to take advantage of the card's quarterly 5X category bonuses (which are limited to $1500 spend per quarter, per card).
Chase IHG Rewards Club Select
Chase's IHG card has long been my favorite card… for keeping in a drawer.  In my opinion, the card offers poor value when used for spend, but… for only $49 per year the card gives you: A free night stay every year at any IHG property in the world; IHG Platinum status; a 10% rebate on awards booked with points; etc.  The free night alone makes this card well worth the annual $49 fee.  So why cancel?  Simply this: my wife and I signed up for the card at different times of the year and so our free night certificates expire at different times.  For the purpose of booking two night stays, it would be more convenient if our certificates had the same expiry dates.  And its worth pointing out that IHG free night certificate eligibility overlaps a bit each year.  If we wanted to do a four night free stay each year, we would be able to book it all at once during this overlapping period… if our certificate dates were lined up.  It's been more than 2 years since my wife or I received a signup bonus for this card and so, by Chase rules, we can qualify for new signup bonuses.  That's why I'm thinking of cancelling both of our cards.  We can sign up again, at the same time, to earn new signup bonuses and to align our free night certificates into the future.
Barclaycard Arrival Plus
This is a tough one. It's hard to beat 2.2% rewards across the board (update: now 2.1% since they lowered the rebate from 10% to 5%).  Plus, I'm a fan of the card's built-in PIN capability for use internationally where chip & signature cards aren't accepted (primarily automated kiosks).  I even make good use of the free Tripit Pro membership that comes with the card (update: TripIt Pro is no longer offered automatically).  That said, at any given time, I tend to have cards in my wallet that offer more than 2.2% value for my spend.  This is true anytime I'm working on meeting minimum spend requirements for a new card, for example.  And, for the next 6 months, my Citi Forward card is giving me a minimum of 3 points per dollar for all spend, thanks to a very generous retention offer (detailed here).  So, while I really don't want to cancel this card, I don't think it makes financial sense for me to keep paying the annual fee.  Luckily, there have been many reports from readers who said that Barclaycard offered to waive their annual fee when they called (UPDATE: there are now many more reports saying the opposite — they won't waive the fee).  If they do that for me, I'll gladly keep the card for another year.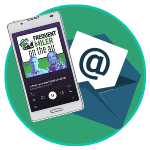 Want to learn more about miles and points?
Subscribe to email updates
 or check out 
our podcast
 on your favorite podcast platform.