In 2021, I was excited when Capital One finally approved a new card application for me.  After years of trying, I was approved for the Venture card which had a 100K offer at the time.  Two months later, though, Capital One suddenly shut down my account.  I hadn't done anything suspicious with the card, I had simply used it for everyday spend, but they shut me down anyway.  As a further kick in the teeth, they cashed out the rewards I had earned to-date for only a half cent each.  Ouch.
Now, they've done it again.  My wife has the Venture X card and she had added me as an authorized user.  A month later, Capital One said "not so fast!" and shut down my new card.  For some unknown reason, they really, really don't like me.
My 2021 Venture card closure
Two months after signing up for the Venture card, the card suddenly and without warning stopped working. When I logged into Capital One, I saw that my account was labelled as "Restricted".  The notice came by mail a week later.  It said that they didn't like activity observed on a past or present Capital One account:
We're writing to let you know that this Capital One credit card account has been closed for the following reason:

Capital One has observed activity on a past or present Capital One account that is not consistent with the bank's expectations for account activity.

Unfortunately, it can't be reopened, and we are not able to offer additional information about this decision.
You can read all about my first shut down experience here: Capital One shut down my account and gave me only a half cent per mile.
Following the shutdown, I tried many avenues to get Capital One to clarify why they shut me down and to try to change the cash out from half a cent per Mile to 1 cent.  All of those efforts went nowhere.
My 2023 Venture X (authorized user) closure
In October, my wife added me as a free authorized user to her Venture X card.  The purpose was simply so that I would have access to Capital One Lounges when not travelling with her.  I tucked the card into my travel wallet which resides in my go-everywhere backpack and figured that I would take it out only when visiting an airport with a Capital One Lounge.  Then, a month after opening the card, my wife received a curious email from Capital One:
Subject: A recap of your request for a new card

We're working on your new card request.

Thanks for calling us to request a new card for your account ending in XXXX.

Because of This
We immediately shut down your card and issued you a new one.

Don't Worry
Your card number has been deactivated so fraudsters can't use it. You'll receive an email when your new card is on its way.
Weird!  She certainly hadn't requested a new card.  The account number referenced was the one associated with my authorized user card, so I started to worry that they may have shut me down and that it resulted in this strange email.
Later the same day, Capital One sent another email:
Subject: You've removed an Authorized User

You've removed an Authorized User.

Hi XXXXX,

You (or an Account Manager) have successfully removed an Authorized User from your credit card account ending in XXXX.

As a follow‑up, you should confirm that the Authorized User's card is destroyed.

If you have questions, please call 1‑800-CAPITAL (1-800-227-4825).
At this point I was pretty sure that my authorized user card had been shut down.  We logged into my wife's account to see if there was any info there, but there was not.  I didn't see any point in calling.
About two weeks later, a snail-mail letter finally arrived:
Dear XXXX,

We're writing about a recent change to your Capital One credit card account. GREGORY DAVIS-KEAN has been removed as an Authorized User of this account for the following reason:

Capital One has observed activity on a past or present Capital One account that is not consistent with anticipated account activity based on Capital One's account opening and ongoing due diligence.

Please inform them to stop using the account immediately and to destroy any cards associated with it.

Here's what you need to know:

The decision is final, and you should not attempt to add GREGORY DAVIS-KEAN back to the account.
As the Primary account holder, you can continue using your account as described in your Capital One Account Terms.

If you have questions, feel free to call us at 844-710-0373. Thanks for being our customer.

Sincerely,

Capital One
Customer Care Team
There you go.  Whatever "observed activity" got my Venture card shut down apparently was egregious enough to cause this authorized user card to get shut down too.  Something about my name being in all caps seems extra-ominous.  And the letter came with a veiled threat towards my wife "you should not attempt to add GREGORY DAVIS-KEAN back to the account."  I imagine "OR ELSE!" at the end of the statement.
Why do they keep shutting me down?
I don't know why Capital One hates me so.  I didn't use the Venture X at all, and I didn't use the Venture account in 2021 in any questionable ways.  And I don't have any other Capital One products.  The only other Capital One product I've ever had was an ING Orange online savings account that was bought by Capital One whereby it became a Capital One 360 account.  Years ago (Jan 4, 2015), Capital One forcibly shut down that account.  That time I did do some weird stuff completely by accident and so they shut me down without giving me a chance to explain my error.  Fair enough.  Today, are they continuing to punish me for my (accidental) sins from 7 years ago?  That's my best guess.  That's my only guess.
Weird stuff that got my Capital One 360 account shut down in 2015:  I don't remember the exact details, but I remember the gist of what happened.  I had a Bank of America account linked to my 360 account.  Somewhere along the way, I changed the type of account I had with Bank of America and they gave me a new account number.  I forgot to update the account number linked within my 360 account.  Then, one day, I initiated a transfer of funds from BOA to 360 (or maybe the other way around — I can't remember).  The transaction appeared to go through, but then later was reversed.  I discovered the reason: I hadn't updated the old BOA account number.  So, I updated it and tried the transaction again.  Boom.  Capital One shut down my 360 account.  And now, apparently, they'll continue to shut down my Capital One accounts until the end of days.
Mixed Feelings
Obviously I'm disappointed about Capital One shutting down my authorized user card.  But its not a big deal.  The only time I expected to use it was when I was at an airport that has a Capital One lounge and when my wife (or a friend with a Venture X card) isn't with me.
On the plus side, we were previously walking on eggshells with my wife's account.  I wondered if they would figure out that we're together and punish her for my 2015 sins.  We made sure to cash out her rewards at a penny per Mile as soon as they were earned so as to avoid the possibility of only getting half a cent per Mile as was done to me in 2021.
Now, though, they seem to have implicitly accepted my wife's account as legitimate.  The fact that they only shut down the authorized user card and not her primary card was great news.  As long as she doesn't try to add me again as an authorized user, or fraternize with me in any way, her account should be safe.  Whew.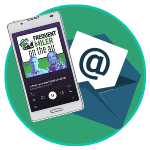 Want to learn more about miles and points?
Subscribe to email updates
 or check out 
our podcast
 on your favorite podcast platform.