In April, I was super excited when Capital One finally approved me for a credit card.  By some miracle, I got in on the 100K Venture offer despite the fact that Capital One had rejected all of my previous card applications year after year.
Capital One finally liked me.
The offer I had signed up for was for up to 100K "Miles": Earn 100K with $20K spend in 12 months, or still earn 50K with $3K spend in 3 months.  Once the card arrived, I used it for all of my daily spend except when other cards offered good bonus categories.  In other words, this became my go-to "everywhere else" card when I couldn't earn 5x for dining, 4x for grocery, 8x for gas, etc.  To-date, I had earned the 50K portion of the signup bonus, but I was still working towards the full 100K.  I had many more months to complete the remaining spend.  I thought.
I never used the card for anything anyone would consider questionable.  Really.  I know you don't believe me because Nick didn't believe me when I told him.  But it's 100% true.  I never used the Venture card to buy a single gift card or to pay friends or to fund a gambling account or anything else remotely sketchy.  I've gone over and over my statements, and seriously can't see a single purchase that a card issuer wouldn't like.
But Capital One found something somewhere that it didn't like.
On June 25th, Capital One unilaterally closed my account without warning.  I discovered the offense on July 1 when I received an email from a subscription service saying that my card couldn't be processed.  I then logged into Capital One and saw that my account was labelled as "Restricted".
I called Capital One.  I didn't learn anything from from the call other than that my account was closed and that I would receive a letter.  And that the result was final.  End of.
The letter, when it came a week later, said that they didn't like activity observed on a past or present Capital One account:
We're writing to let you know that this Capital One credit card account has been closed for the following reason:

Capital One has observed activity on a past or present Capital One account that is not consistent with the bank's expectations for account activity.

Unfortunately, it can't be reopened, and we are not able to offer additional information about this decision.
The worst part of all of this is what Capital One did with my rewards.  Rather than letting me transfer the "miles" to airline miles or hotel points, they automatically used my points at a half cent each to partially pay my credit card balance.  Yep, they converted nearly 60,000 hard earned "miles" to just short of a paltry $300.
Why was I shut down?
I don't know.  I didn't use the Venture account in any questionable ways.  And I don't have any other Capital One products.  The only Capital One product I've ever had was an ING Orange online savings account that was bought by Capital One whereby it became a Capital One 360 account.  Years ago (Jan 4, 2015), Capital One forcibly shut down that account too.  That time I did do some weird stuff completely by accident and so they shut me down without giving me a chance to explain my error.  Fair enough.  Today, are they continuing to punish me for my (accidental) sins from 6 years ago?  That's my best guess.  That's my only guess.
Weird stuff that got my Capital One 360 account shut down in 2015:  I don't remember the exact details, but I remember the gist of what happened.  I had a Bank of America account linked to my 360 account.  Somewhere along the way, I changed the type of account I had with Bank of America and they gave me a new account number.  I forgot to update the account number within my 360 account.  Then, one day, I initiated a transfer of funds from BOA to 360 (or maybe the other way around — I can't remember).  The transaction appeared to go through, but then later was reversed.  I discovered the reason: I hadn't updated the old BOA account number.  So, I updated it and tried the transaction again.  Boom.  Capital One shut down my 360 account.
What's next?
I'm not going to try to get my account reopened.  If Capital One doesn't want me as a customer, then I don't want to be their customer.  But I'm not happy about what they did with my rewards.  I'm going to push back to see if I can get a different outcome.  A half cent per mile is just not okay.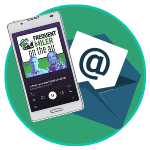 Want to learn more about miles and points?
Subscribe to email updates
 or check out 
our podcast
 on your favorite podcast platform.