If you're like me, you have lots of stuff that ought to be with you when you travel.  When preparing for a trip, it used to be a bit stressful trying to ensure that I had packed the right ID cards, credit cards, lounge passes, etc.  And, invariably I'd realize later that I got it wrong.  For example, I've previously forgotten to bring a hotel gift card that I had planned to use when checking out.  Similarly, I once forgot my Amex Platinum card for accessing an airport lounge (but that particular lounge let me in after giving them my Amex Platinum credit card number which I keep electronically for such purposes).
I completely eliminated this particular stress of travel a few years ago when I bought a simple travel wallet.  My travel wallet contains all of those fit-in-a-wallet things that I might need when traveling.  The only exceptions are the cards that I keep in my everyday wallet (which also travels with me), and travel things that don't fit in a wallet such as a spare phone charger, ginger pills for motion sickness, etc. (these stay in my travel backpack).
I keep my travel wallet at all times in my travel backpack.  That way, my travel wallet is always with me when I travel.  I never travel without my travel backpack!
What to put into your travel wallet
ID cards that you don't keep in your everyday wallet.  Your passport, for example.
Foreign currency for those countries that you visit often.
Credit cards that are useful when traveling, but not for everyday spend (hotel cards, Amex Platinum cards, cards that refund incidental airline fees, etc.)
A debit card with no foreign exchange fees and which refunds ATM charges (but only if you don't keep it in your everyday wallet)
Airport lounge access cards, such as Priority Pass
Public transportation cards (e.g. metro card)
Travel related gift cards
Discount cards
Membership cards
Here are specific examples found in my travel wallet:
ID Cards
Credit Cards I use for travel, but not at home
Lounge Access Cards
Public Transportation Cards
Gift Cards, Discount Cards, and Miscellaneous Other Stuff
Wallet recommendations?
At the time of this writing, I don't have a specific recommendation for a travel wallet that you can buy.  The one I have is good enough, but doesn't have a change purse which would be very helpful with foreign currency.  I'd also like one with more card slots.
What about you?  Are you happy with a particular wallet that we can recommend?  Please comment below.
Update: Our own Stephen Pepper highly recommends a brand called "Big Skinny".  Here's our Amazon affiliate link to the Big Skinny passport wallet selection.  Also check out his post about his wallet on his No Home Just Roam blog: Review: Big Skinny Wallet With Zippered Pocket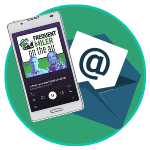 Want to learn more about miles and points?
Subscribe to email updates
 or check out 
our podcast
 on your favorite podcast platform.