Choice Hotels has opened registration for its next promotion which is valid for stays from March 7 to April 26, 2020. As with most of their promotions over the past couple of years, it offers 5,000-8,000 bonus points when staying twice within the promotion period.
The Deal
Stay twice with Choice Hotels between March 7, 2020 and April 26, 2020 and earn 5,000-8,000 bonus points.
Key Terms
Registration required at www.choicehotels.com/freenight before the first qualifying check-out.
The promotion is only available to members of the Choice Privileges® Rewards Program who register for this promotion, and then make two separate qualifying stays at participating hotels (WoodSpring Suites® hotels and Ascend Hotel Collection® all-inclusive resorts, among others, are not participating) with arrival between March 7th, 2020 or later and both stays completed by April 26th, 2020.
A "stay" is any number of consecutive nights at one hotel regardless of check-ins or check-outs. A "qualifying stay" is a stay that is during this promotion at a participating hotel through a qualifying channel (see Qualifying Channel, below) that is eligible to earn Choice Privileges points.
Most stays are eligible to earn Choice Privileges points EXCEPT: rooms booked at rates below $40 USD per night, certain hotel initiated promotions, reward night stays, complimentary rooms, rooms paid for as part of a convention or meeting, rooms booked through a travel agent or third party online retailer including online travel agencies, wholesale packages, group tours, and stays booked using the employee discount or the friends and family discount.
Stays at vacation rental property locations and Choice Hotels® properties in the following countries are excluded from this promotion: Japan, Norway, Sweden, Denmark, Finland, Iceland, Lithuania, Estonia and Latvia. You must maintain an address in the U.S. (includes U.S. territories) or Canada to be eligible.
Registered members will be awarded a minimum of 5,000 to a maximum of 8,000 bonus points after the second qualifying stay. The number of bonus points awarded depends on the number of base points earned from the two separate qualifying stays, with points varying by hotel. The total of base points plus bonus points awarded, however, will be at least 8,000 points, which is the number of points required for a future free night at over 1,000 Choice hotels worldwide.
Members must book stays via ChoiceHotels.com, the Choice Hotels mobile app, or 800.4CHOICE. Stays directly booked through Book by Google are also eligible, if the member adds his/her Choice Privileges number to the reservation prior to check-in. Corporate travelers may book through their online booking tool, GDS, or with a travel agent; however, reservations booked through Egencia's Preferred Rate Program do not qualify for promotional bonus points.
Choice Privileges member number must be provided upon check-in. To be eligible to earn bonus points, members must set their earning preference to Choice Privileges points in their online account. Any change made to earning preference will remain in effect after the promotion has ended, unless the member changes it.
Allow 72 hours from check-out for points to post. Request for bonus points made by members who did not register for the promotion will only be considered up to 60 days after the promotion ends; request thereafter will be automatically denied.
Quick Thoughts
If you've taken advantage of this type of Choice Hotels promotion before, you probably know the drill by now. Choice will award you with 5,000-8,000 bonus points after you've stayed with them twice, awarding you enough bonus points to ensure that you earn at least 8,000 points through base points and bonus points combined.
To give an example of how it works, let's say you book two separate one night stays costing $75 each before tax. Choice Privileges awards 10 base points per dollar spent, so after the two stays you'd have earned 1,500 base points ($75 * 2 nights * 10 base points per dollar). With this promotion, Choice guarantees that you'll end up with at least 8,000 points, so they'd award you 6,500 bonus points.
An alternative scenario is that you book a couple of two night stays where each night costs $100 before tax. Your two sets of two nights would earn you 4,000 base points ($100 * 4 nights * 10 base points per dollar). The promotion states that you'll end up with at least 8,000 points, but also that the minimum number of bonus points you'll earn is 5,000 points. In this particular scenario, you'd therefore earn 5,000 bonus points as bumping you up to 8,000 points would mean you'd only be earning 4,000 bonus points.
One of the important terms to note is that rooms costing less than $40 aren't eligible for this promotion. That's a shame as it can sometimes be possible to find super-cheap rooms at Choice brands which might otherwise have made this promotion worth a mattress run. Having to pay at least $80 plus tax makes it a little less mattress run-worthy.
In the past, I believe it was possible to earn bonus points from this type of promotion more than once during the promotion period. For example, if you stayed four times you'd earn two sets of bonus points, staying six times meant you'd earn three sets of bonus points. I'm not seeing anything in the terms this time around specifically including or excluding additional stays from earning bonus points, so I'm not sure what you'd earn if you did stay at least four times by April 26.
If you'll be taking advantage of this promotion, remember to click through to Choice from a shopping portal – here are the current rates. There are a number of other portals that Cashback Monitor doesn't list though, such as Ibotta, Upromise, Acorns and possibly more. None of those three are currently offering more than 2% cashback, but I feel like I remember seeing Acorns offering 5% in the past and Ibotta sometimes increases the rate they offer for Choice Hotels reservations to as high as 10%, so it's definitely worth keeping an eye on those if you're not planning on making a reservation straight away in case those rates get increased.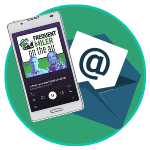 Want to learn more about miles and points?
Subscribe to email updates
 or check out 
our podcast
 on your favorite podcast platform.