In September, I started an experiment with the Citi Prestige card.  I knew that its benefits were changing drastically as of October 19th and so I wanted to see if I could double up.  Specifically, could I earn the $200 airline fee credit before October 19th and then earn the new $250 air travel credit after October 19th?  I finally have the answer: no.
That said, I've still come out way ahead…
Background
If you'd like to catch up on the details of what I've written so far about this experiment, please read the following:
$700 Experiment = $500
Before October 19th, the Prestige card offered cardholders up to $200 in airline fee reimbursements.  As of October 19th, cardholders now receive up to $250 in air travel credits.  The latter is not only a bigger dollar amount, but it is easier to get too.  All air travel qualifies, including airfare purchases.  Before October 19th, reimbursements were specifically for fees such as checked luggage.
My hope was to earn $200 before October 19th, $250 after October 19th, and then another $250 in 2015 for a total of $700 cash back.  That would be a nice haul in exchange for the card's $450 annual fee ($350 if you have a CitiGold account).
As I reported before, the pre-October 19th $200 airline fee reimbursement came in as expected.  After that, I just had to spend $250 or more after October 19th on airline related stuff and wait for my next statement to close.  Well, my statement finally closed and I have the final answer:
Citi counted the original $200 reimbursement towards the $250 of air travel credit available this year, so I only ended up with a total of $250 for this year.  This is exactly what Citi representatives told people when they called to ask.  It doesn't surprise me at all that they limited my total to $250 altogether.  What really surprises me is that the call center agents knew the right answer.  In my experience, the chance of getting a right answer, from any company, about something as esoteric as this is close to zero.  This time, though, Citi agents got it right.  Good job Citi!
Overall, I won't get $700 worth of statement credits from this one application, but I will earn $500, so that's still very good!
Important note: As you can see in the image above, Citi resets the clock on Airline Fee credits on a date based on your statement cycle rather than the calendar year.  Why this is important: If I had waited until late December to put airline spend on the card, the reimbursement would have counted towards next year's total rather than this year's and I would have missed out on some of the reimbursements.
Flight Points post and boost my earning rate
One of the features of the Prestige card that disappeared on October 19th was the ability to earn Flight Points.  Flight Points were earned when you used the Prestige card to pay for flights.  Before October 19th, I earned Flight Points by booking a number of long distance award flights.  Now, with my latest statement, the points are visible to me:
As you can see above, I earned 34,004 Flight Points and about half were converted to ThankYou points.  In order to convert the rest to ThankYou points I need to match the remaining Flight Points with an equal amount of points earned on my Prestige card.  Theoretically that would mean that I would have to spend another $17,620 in order to covert the last of my Flight Points to ThankYou points.  That said, I discovered something interesting in my latest statement…
The number of Flight Points transferred to my ThankYou account corresponds to the number of points earned in 1X, 2X, and 3X categories in my latest statement plus only the base earnings in my previous statement.  So, it appears that Flight Points now get matched to all ThankYou points earned on spend.  That means that, while my Flight Points last, my Prestige card earns ThankYou points at the following rates:
Airlines, Hotels, & Travel Agencies: 6X (usually 3X)
Dining and Entertainment: 4X (usually 2X)
Everything else: 2X (usually 1X)
Wow.  That's really good!  I wish I had earned a lot more Flight Points!
Bumping the signup bonus to 60K
You may recall that when I first considered signing up for the Prestige card, I convinced myself that the 30K bonus which required $2K spend was better than the 60K bonus which required $15K spend.  In reality, the 30K bonus was the only one realistically available to me since the other requires visiting a Citi branch office.
Flash forward a bit to the time when I realized I had about 30,000 Flight Points on my account.  I suddenly realized that this Prestige card had become my single best option for non-category bonus spend (and I now know that it is, by far, my best option for airline, hotel, and travel agency spend!).  And, so, I realized that the 60K offer with $15K spend really was the better offer for me.
I called up Citi and told them that a friend of mine had signed up for the 60K offer (which is true, see this post), and I asked if I could be bumped up to that offer.  The agent on the phone couldn't help me directly, but she was able to give me instructions, as follows:
Fax a copy of the 60K offer to 1-866-799-5591
Include a cover letter with your Prestige credit card number and a message asking Citi to review your account for this 60K offer
Wait 10 business days for a written response, or call the number on the back of your card in a few days to check on the status.
So, I did all of the above.  I wrote the cover letter as described and I sent in the image that I downloaded from Rapid Travel Chai's post.  I used FaxZero.com to send the fax from my laptop, for free.
Yesterday, I called Citi to check on the status.  Success!  I've been bumped up to the 60K offer!  Specifically, since I've already earned the 30K signup bonus, they added the second part of the offer to my account: earn 30,000 points after a total of $15,000 in purchases within the first 12 months.  Well, that will be easy!  I'm only about $1500 away right now!
Next steps
Due to the timing of my Prestige application, I still have nearly a year to use the global companion ticket benefit.  The idea behind the companion ticket is that the cardholder can buy one round-trip flight and add on a companion for free.  In reality, cardholders have found that the companion is charged pretty high fees so that the benefit became more of a two person discount than a true buy two for the price of one type of thing.  Now, Citi is in a transition state where the usual website for booking these flights is no longer available.  I think it is possible that they will therefore handle the companion ticket differently.  Will it become a true two for the price of one deal?  We'll see soon…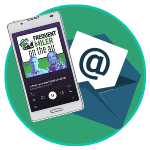 Want to learn more about miles and points?
Subscribe to email updates
 or check out 
our podcast
 on your favorite podcast platform.