Over the past couple of weeks, I had the chance to enjoy some time in Hawaii, which is truly one of my favorite destinations in the world. I recently said that before I went to Hawaii for the first time years ago, I imagined it to be like a celebrity crush: easy on the eyes, but you're probably not going to fall in love. Of course, I was wrong and Hawaii turned out to be one of the few places to which I would be happy to return again and again. This time around, I made it a point to check out Hyatt properties with the aim to be able to compare the experience for those looking to use Hyatt points to visit Kauai or Maui. I wrote about the Grand Hyatt Kauai the other day and a few readers wondered how it would compare with the Andaz Maui and the Hyatt Regency Kaanapali on Maui. The short story is that I found the Grand Hyatt Kauai to be leaps and bounds ahead of either Maui property for my purposes and tastes, but I think each property had its strengths and weaknesses that might appeal more to others. Here's how the Andaz and Hyatt Regency compared in terms of their own strengths and weaknesses.
Strengths of the Andaz Maui
It's a great place for a romantic getaway. On this trip, I think I discovered that I'm just not much of an Andaz guy, but I have to give the Andaz the nod if you're looking for a romantic Hawaii getaway. The Grand Hyatt Kauai and Hyatt Regency Maui are huge resorts that feel less intimate and they have many features that appeal much more to families. The Andaz certainly has a more adult-oriented atmosphere with its smaller infinity pools, the doors behind the bed that part for a window view into the shower, and its general ambiance.
Breakfast isn't the legend it once was, but it's still better than most domestic chain hotels.
I'm of two minds on breakfast here. It certainly beats club lounge breakfast at the other two properties at which I stayed, but then it definitely should at $120 for two people (note that an 18% gratuity is included for Globalists / Guest of Honor stays and is not charged at check out). I really enjoyed the juices and the creative juice "shots" at breakfast (with combinations like ginger / honey / lemon / pineapple juice / cayenne pepper in one shot, etc). The selection of fruit is wide and fresh (you'll in fact see someone slicing papayas, mangoes, dragonfruit, etc). On the other hand, it feels a little cheesy to see the store-packaged bagels sitting on the shelf over the toaster and cheesier yet that they charge $26 for a bagel and lox made with one of those bagels and other ingredients found on the buffet. Still, we ate plenty to sustain us throughout the day (I think we skipped lunch each day we stayed at the Andaz).
Free GoPro rental and snorkel equipment are available at the Andaz Maui.
I made use of both of these benefits of the resort fee (which you do not pay on award stays) just to try them out. GoPro rental was simple enough, I just had to sign a waiver. The concierge showed me how to use their GoPro 5 (I have an earlier model). One thing that made my heart flutter a bit was signing that I agreed to pay $500 if I lost or damaged the camera. I was planning to bring it in the ocean snorkeling. That replacement cost seemed awfully high for a $200 camera if something happened in the water or I got robbed. In hindsight, it would probably make more sense to just buy one before your trip with a card that offers good purchase protections and sell it after for a small loss – see: Buy to rent: Enjoying travel gear without buyer's remorse. The snorkel equipment was kind of interesting in that our friends who were also staying at the Andaz were told that the snorkel equipment can be rented for free but can not be taken off grounds (they were told they'd need to buy equipment to take it off grounds). When I rented it, I was asked if I was going out right away and if I was a good snorkeler since the water was pretty rough there at the Andaz. I just said that we weren't going out right away. The rental was supposed to be returned by 3:30pm. I didn't end up returning it until the following morning and I was not charged. It's worth noting that you are perhaps not supposed to bring the equipment off grounds.
At any rate, it was nice being able to rent these things for free at the Andaz Maui, whereas we needed to pay to rent a pool floatie for our son at the Grand Hyatt Kauai.

I think it was worth the $14 to rent this for the day at the Grand Hyatt Kauai, but free stuff was nice at the Andaz Maui.
Weaknesses of the Andaz Maui:
Globalist benefits. While there was a suite available when we checked in, we were told that they weren't allowed to give that particular suite to Globalists for free. The upcharge offered was $300 per night. We declined. On our last Andaz Maui stay (a couple of years ago), a standard pool suite was available online, yet when I called to apply a Globalist Suite Upgrade, the availability was mysteriously pulled while I was on the phone. I thus wasn't surprised that we weren't offered a free suite upgrade at the Andaz Maui, but after a few nights in the massive suite we were given at the Grand Hyatt Kauai (see my review of that property for pictures), the ocean view in an otherwise ordinary king room that was facing a bunch of other buildings didn't feel like an upgrade. That said, the Andaz did also send a really nice welcome amenity that included local snacks, truffles, and a book accompanied by milk and cookies for my son. That was really nice.
However, we were there with another couple who was also on a (separate) Guest of Honor stay and they received a room with 2 double beds and no ocean view. They were told that there wasn't even a room with a king bed available for them (the standard room booked was 2 double beds, so they got what was booked, but no upgrade at all).
Vibe. This is highly subjective and it's probably more me than the Andaz. Surely, some people love the Andaz Maui. I'm just not one of them. After 2 stays a couple of years apart, I just don't get a welcoming vibe from the place. The breakfast servers are very enthusiastic, but overall I think I'm just not cool enough for the Andaz vibe. I'm really only basing that on stays at the Andaz 5th Ave and Andaz Maui. That Andaz Papagayo still looks pretty darn nice, so maybe there is room for my opinion to change here.
Location. I don't love the Wailea area. The beach wasn't swimmable the entire time we were there and while you can rent bicycles at the Andaz, there didn't seem to be much in the area.

The surf was pretty rough the entire time we were in Maui this time around, so we didn't actually get in the ocean here at the Andaz.

Apart from a small open-air shopping center down the road and an Island Market that made for a cheap dinner one night, there isn't much nearby. It's a shorter drive from the airport than Kaanapali and a shorter ride to get on the road to Hana, but if you're looking for off-property restaurants / shopping / etc, you're better off in the Kaanapali area. On the other hand, if you're looking to be a little more secluded and have your own privateish slice of Maui, the location of the Andaz may be a positive for you.
Strengths of the Hyatt Regency Maui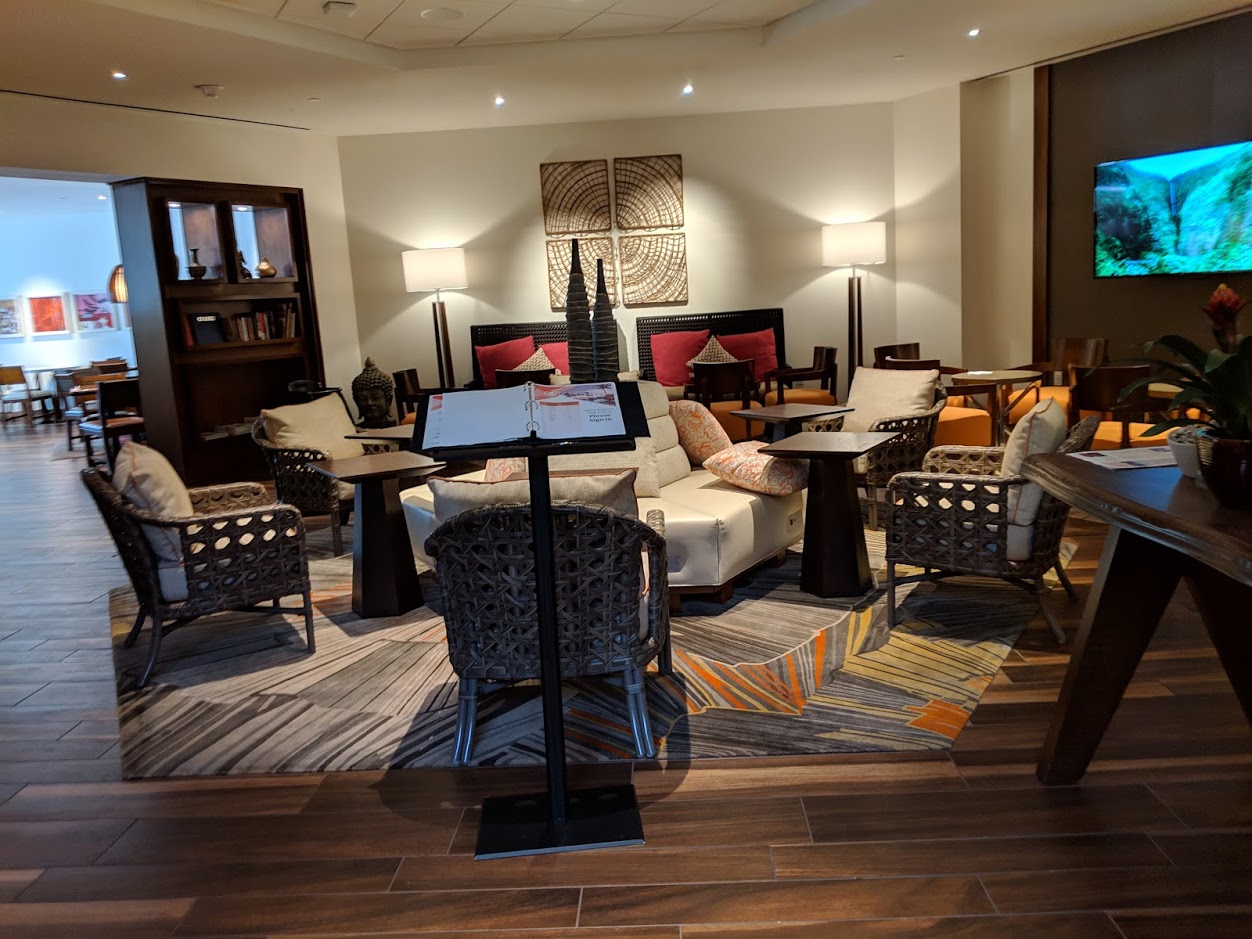 The club lounge staff is fantastic. They were warm and friendly and made an effort to interact with guests daily. I've been in a lot of hotel lounges. The people working this one were unusually warm.
Globalist guest of honor benefits were awesome.
We were given an upgrade to a 1-bedroom oceanfront suite on a high floor. Furthermore, the hotel really went above and beyond in terms of welcome amenities. Way beyond. There was a solid chocolate statue (that I'm still gnawing my way through today), chocolate covered fruit, a basket filled with local treats like caramel corn, macadamia nuts, Maui chips, juice, etc.

And then there was this in the crib that was set up in the room before arrival for our son:

Yeah, he's now got his own Hyatt Regency Maui robe and slippers set. That was awesome!
Of course we got club lounge access and did not need to pay for valet parking since it was a Globalist Guest of Honor stay. Both of those things add up to a nice savings in Hawaii.
There is plenty of family activity.

This is the smaller Residence Club pool. We could see it from our room, but never actually made it here. The pools on the Regency side are larger.

There is a lot to do with kids here. The swimming pools are huge and we stumbled on a few kiddie areas with slides, a basketball hoop, etc — though parts of the pool area were 9′ deep according to the signs, so you'll want to pay attention to where you're playing. They also have penguins in the lobby area and do a daily penguin feeding in the morning, which was cute. There are tropical birds — both in a walkable habitat and in the lobby area. And that's to say nothing of the daily scheduled activities. There was plenty to do that I could imagine coming back someday with two kids and having a blast.

One of the pool areas on the Regency side.

It has self-service laundry.
Unfortunately, it isn't free (both the Andaz Maui and Grand Hyatt Kauai offer free self-service laundry). You'll pay $3.50 per load to wash and another $3.50 to dry. You'll also need to buy or bring your own detergent / fabric softener (those things were provided for free at the Andaz Maui – I can't recall whether or not they had them at the Grand Hyatt Kauai). But when you're traveling with a youngster, this can be huge. And it was.
Club lounge food quantity. I was pleasantly surprised at the quantity of food provided in the club lounge. We ate lunches out during our stay and had appetizers / desserts in the club in place of dinner and we were fine with the quantity of food. I should note here though: breakfast could be a little weak. More on that below.

Hyatt Regency Maui weaknesses:
Club lounge food quality. It's fine. And in Hawaii, it can save you a lot of money having breakfast here, maybe getting a coffee during the day and/or enjoying evening appetizers or desserts. But coming here after having recently stayed at the Grand Hyatt Kauai made the differences stand out.
The pineapple tasted like it came from a can (no idea whether or not it did), the salsa served with nachos one night was kind of watery, etc. It wasn't terrible — on the contrary, we ate in the lounge in place of going out to dinner (which is difficult to do with a 1 year old anyway) and we were fine. But it wasn't great. If we were staying for a week rather than just a couple of nights, it probably would have gotten old. It's also worth noting that we were told that hot eggs (like scrambled eggs on the buffet) are only available on the weekends. Weekdays had no hot dishes other than oatmeal for breakfast.
The Hyatt Residence Club salespeople are out in full force. We had to walk past the timeshare salespeople every day. We only had to say no one time, but I imagine that a couple traveling with a baby aren't the ideal target for a 2-hour sales pitch. Maybe they take "no" just as easily from anyone, but the number of times I saw someone sitting down with them leads me to believe that they draw some folks in with free luau tickets or golf.
The hotel is dated. Honestly, I'm kind of surprised that they try to sell people on timeshares at a place that is showing its age so much.  The carpets aren't in great shape (though we did see workers carrying in replacement hallway carpeting one day), walls in common areas show plenty of scratches, etc. It's certainly not run-down, but neither is it hard to believe that it's been there since 1980. It's a fine resort for a fun family vacation at the beach, but it's not a luxury property. The people, service, and family activity (and of course its location on Maui) stand out rather than the property itself.
Comparisons to the Grand Hyatt Kauai
In comparison to the Grand Hyatt Kauai, I thought that the Andaz Maui had a much more intimate / romantic atmosphere. Because it is smaller (and there aren't conventions happening, etc), it perhaps felt more exclusive if that's what you're going for. On the other hand, the rooms at the Andaz Maui are a little odd. Between the peekaboo doors behind the bed with a view into the shower, the flat sink that's just hard to clean out after you brush your teeth, and the way the shower is open to the bathroom on two sides (hard to explain or show in pictures, but there's a space inside the shower where there should be a wall but isn't), it's just kind of an odd setup. The modern touch-button controls for the lights and window shades are kind of cool, but aren't backlit at all, so I turned all the lights on a couple of times when I just wanted the light over the night stand, etc. The Grand Hyatt Kauai felt much more luxurious to me.
The Hyatt Regency Maui costs fewer points (20K versus 25K for the Andaz Maui or Grand Hyatt Kauai) and is similar in size/scope to the Grand Hyatt Kauai. I found it to be a lot easier to get around the Hyatt Regency Maui than the Grand Hyatt Kauai (where I was constantly lost and it took 15 minutes to walk anywhere). I think the Hyatt Regency served more variety of food in general, but the quality was definitely higher (and more consistent with overseas club lounges) at the Grand Hyatt Kauai. The Grand Hyatt Kauai also seems much better maintained — the grounds and facilities look fantastic. I think I'd read some reviews saying the hotel is a little dated, but I didn't find that to be the case at all — certainly not as compared with the Hyatt Regency Maui (in fairness, the Hyatt Regency Maui is 11 years older and on an island that receives more visitors). The Hyatt Regency has some more for families / kids with its penguins and bird sanctuary, but the Grand Hyatt Kauai certainly has enough going on as well.
Bottom line
If I went back to Hawaii again (and with Southwest's announcement seeming more and more imminent all the time, I hope to get the chance to do so), I'd probably skip both Maui properties and stay at the Grand Hyatt Kauai (and/or return to The Big Island). I like Maui, but I just don't think that I'd spend 20K or 25K points per night for the Hyatt Regency or Andaz Maui again after staying at the Grand Hyatt Kauai for 25K per night. Of course, as was pointed out in the comments last time, there are plenty of other places to stay. Perhaps next time on Maui I'd try an AirBnB or another resort.